Generative AI in companies
Generative AI in companies
Generative AI (GenAI), the type of artificial intelligence (AI) capable of generating text, images, code, and even designing objects in response to requests (or 'prompts'), has emerged and advanced rapidly over recent months. Like most companies, the members of Futura-Mobility saw these new tools that are likely to disrupt the world of work coming. Right now they are exploring possible uses of GenAIs.
During a members-only think tank session on September 8, 2023, participants shared their use cases and questions, as well as the anticipated risks and opportunities of these emerging tools.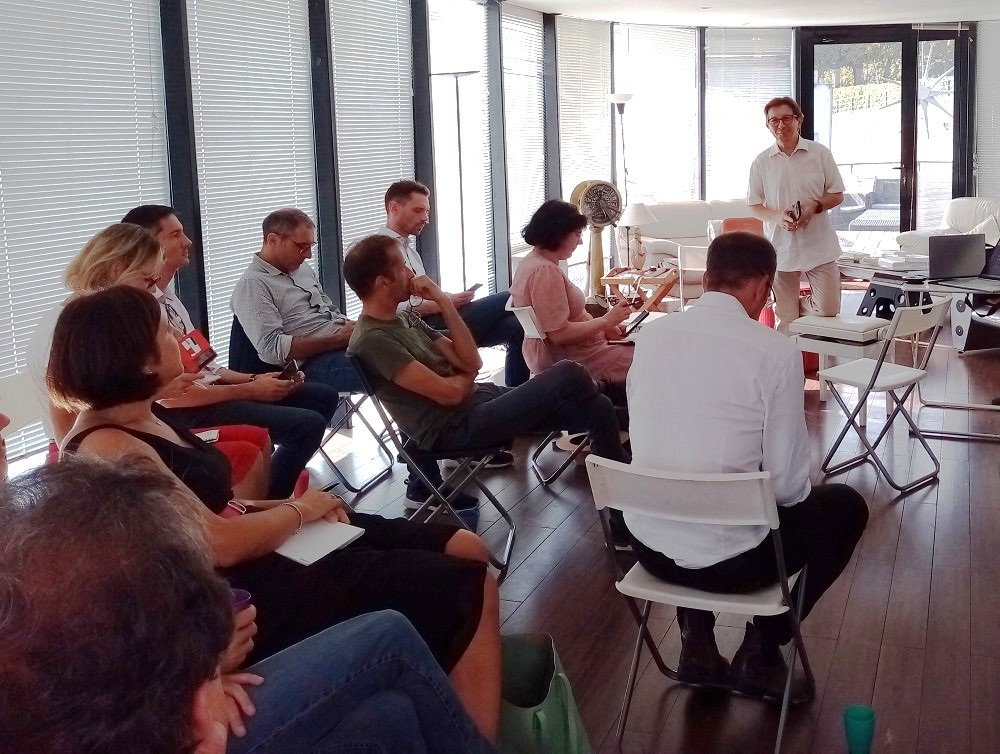 Consensus emerges on one point: "we have to get on with it!" Indeed, all the companies present have already started. Today, they admit to being in the early stages of using GenAI, in an exploratory phase that often begins by asking the business units about potential use cases (hackathons, questions, workshops, etc). In this terra incognita, companies are both aware of the opportunities – optimising functions and processes, gaining in precision or saving time – and the risks and challenges associated with this new tool – responsibilities, security, confidentiality, copyright. Their watchwords? Curiosity, caution, and questioning.
With regards policy, the companies have adopted two different positions. Some have chosen openness: employees use GenAI tools freely, then a central team studies the use cases and potential issues. Others have opted for caution and provide their teams with a secure, closed platform with controlled internal data to prevent data leaks or even 'prompts' that could reveal a lot about the company's strategy.
The intellectual property of what is created using GenAI sparked debate during the session. Who owns the texts, concepts, images, code, or anything else a company creates using these tools? At the moment, responses from providers on this issue vary and are not entirely conclusive, given the lawsuits already filed on this topic. Moreover, on September 7 this year, Microsoft announced its decision to assume legal responsibility for any copyright violations related to content generated by the AI software it sells to businesses.
Generative AIs are making their way into the business world – but what for?
One use cases highlighted during the session was analysis of company document databases to perform various specific tasks: finding information in a large database; restructuring poorly presented information; identifying contradictions in documents (e.g. for tenders); and making technically complex information, typically handled by experts, intelligible to a wider audience.
Many employees could potentially make use of this function: ranging from sales teams decrypting tender documentation to marketing creating chatbots to interact with customers or enhance the traveller experience. Human resources could also benefit by simplifying access to internal HR information or highlighting gaps between skills and internal job requirements. Finally, any business unit team could benefit to quickly find information in a particularly extensive document database or to make technical information easier to understand.
Generative artificial intelligences also offer several benefits in the field of computer programming. They can boost the productivity of developers by accelerating code creation or reducing errors – AI can help avoid common mistakes like syntax errors and typos.
Generative design is another use case that sparked interest among participants, with two applications foremost in mind:
Creating non-existent but plausible data from existing situations. For instance, to feed deep learning AI or simulation tools to generate rare or hazardous situations (e.g., a child falling on the road), or altering the weather or setting of a scenario – transforming winter into summer, a city into the countryside, and so forth.
Generating innovative concepts based on a problem to be solved. Artifical intelligence can produce a design that engineers might not have thought of. The challenge here is that right now not all designs created by AIs are necessarily feasible on an industrial scale. To address this issue, 3D printing could prove a solution.
This function is destined for engineering, design, simulation, and modelling teams.
It's just the beginning…
We are indeed at the early stages of GenAI in business, yet the use cases discussed during the session already showed awareness of the potential for achieving productivity gains in intellectual tasks. Everyone knows that tomorrow's most successful companies will be those that have harnessed the full potential of these AI tools in general, and GenAI in particular.