Singapore, a model for our future cities? Overview of Futura-Mobility's learning expedition
Singapore, a model for our future cities? Overview of Futura-Mobility's learning expedition
The learning expedition to Singapore, for members of the Futura-Mobility think tank, kicks off on Monday 28 November 2022. The driving question being 'could Singapore could be a model for our future cities?' Organised with Catherine Berthillier from Shamengo, the week-long visit explored every kind of mobility, as well as the distinctive urban planning of this city-state.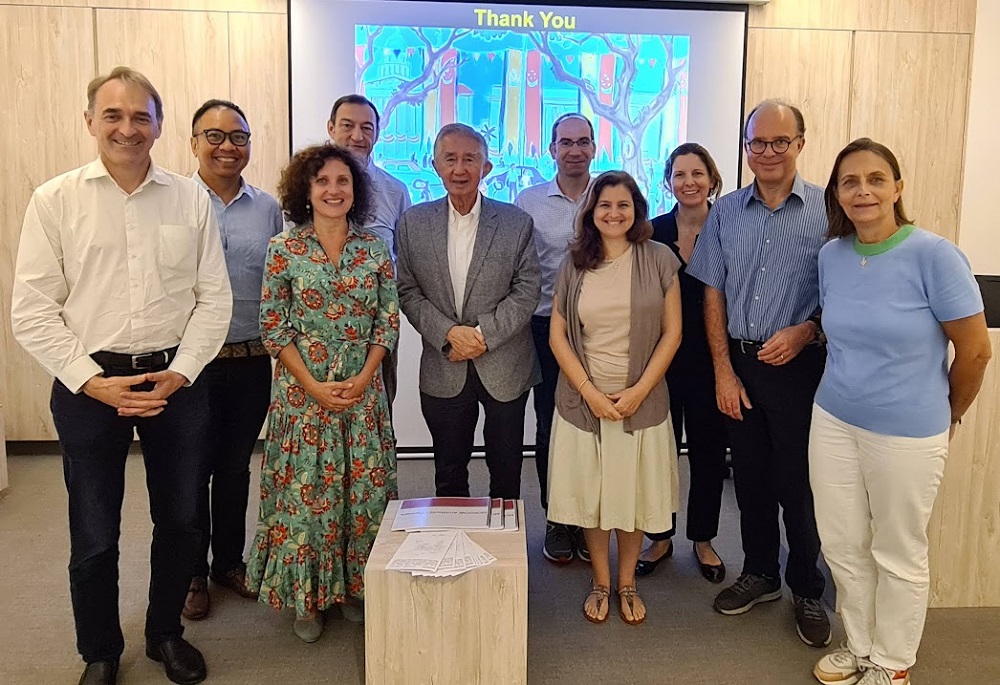 Care, harmony … and close surveillance
What strikes you immediately on arriving in Singapore is the extremely high level of security. Moreover, the first visit was to the AETOS control centre, AETOS being one of the three forces in charge of keeping law and order. Apart from conventional security of major events, the organisation is mainly tasked with monitoring the city. Police operations on the ground are actually quite rare.
The measures are impressive, with cameras everywhere in this city of 5.6 million inhabitants, including in buildings and shops; sensors on lifts, in public toilets…; cameras in police vehicles can be viewed in real time; surveillance drones criss-cross the city – one even flew over some members of the group when visiting Marina Bay on the first night.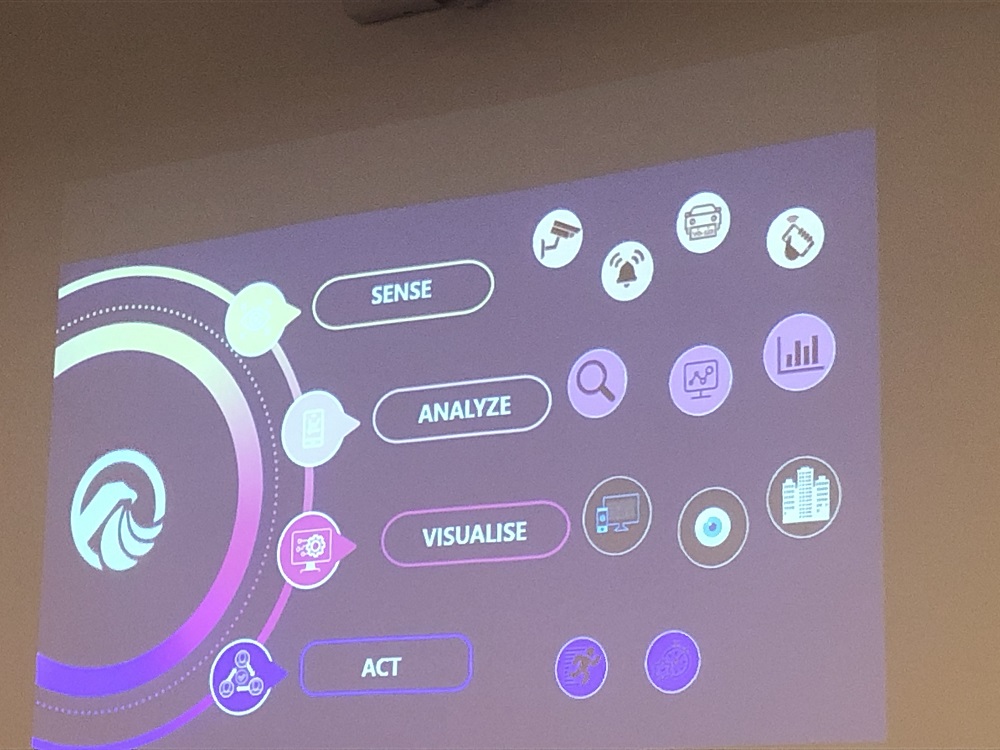 Some buildings are even modelled in 3D to make monitoring easier for operators. The monitoring system is not individualised but collective, with an alert system in place (e.g. an alert when people visit public toilets at night) so operators can focus on the specific area and check available images or indicators.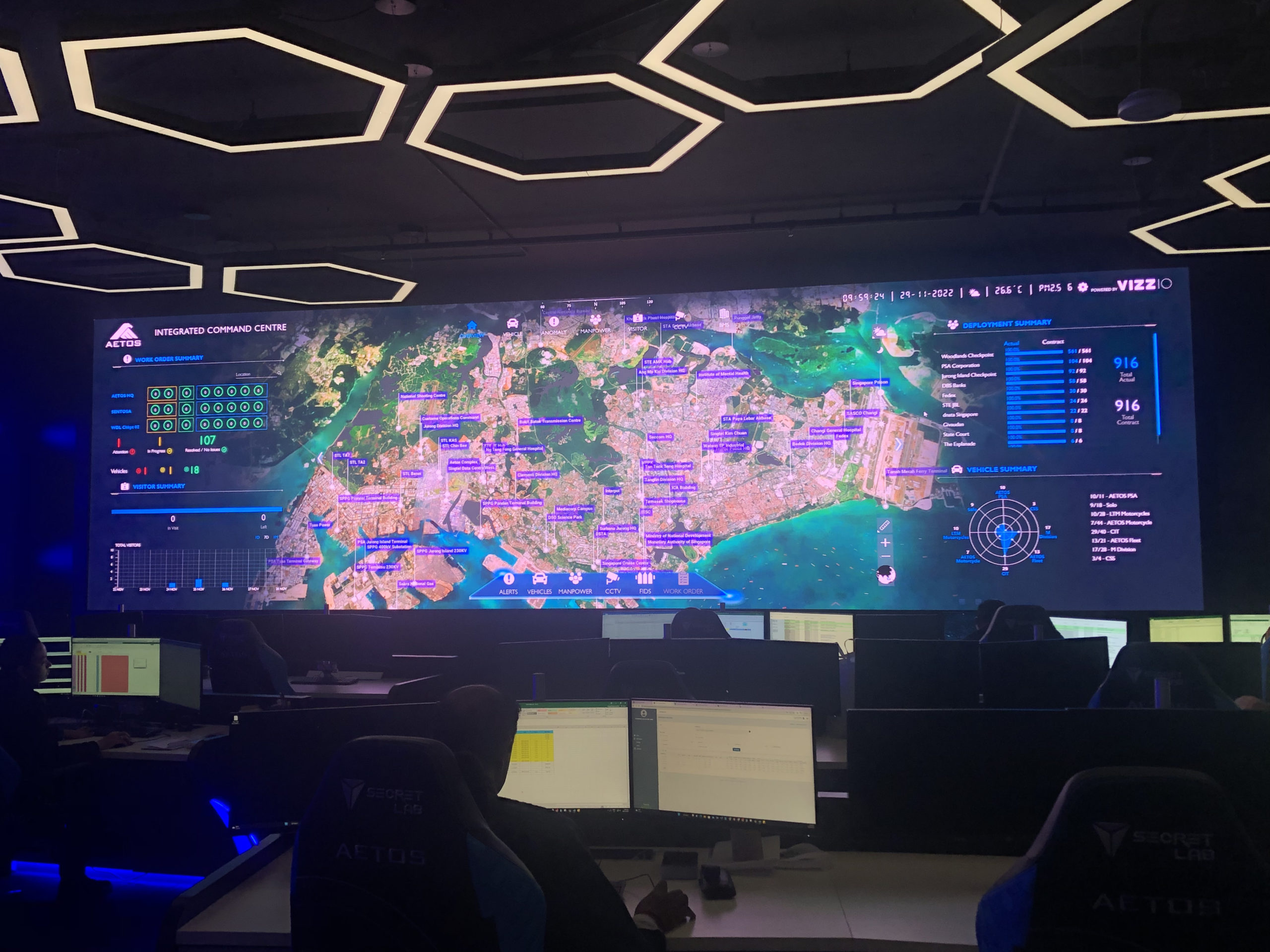 This extraordinary surveillance system, coupled with a tough government crackdown on crime, like calls for corporal punishment as well as capital punishment for drug possession or trafficking, deters offences and crime.  It's unlikely a thief will get away with it!
Cultural aspects also play a part in helping curb violence.
Appeasement and equilibrium between ethnic and religious groups is strictly organised so everyone can live in accordance with their customs and in harmony with others. Thirteen percent of Singapore's population are ethnic Malays, 74% of Chinese origin, and 9% of Indian origin – the ethnic group is marked on their identity card. To safeguard 'religious and cultural harmony', it is against the law to speak ill of another religion or ethnic group.
We are Singapore - Official Music Video 2018 - source NDPeeps
In large housing estates, like HDB (Housing and Development Board) properties, this balancing of populations is organised and maintained. For example, a Malay can only sell their flat to a Malay.
What we would call 'delation' in English – which in Singapore refers to informing on a wrongdoing by somebody else – is encouraged.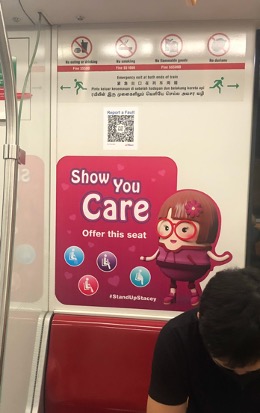 So Singaporeans accept – or are obliged to accept – a high level of surveillance of individual behaviour for the sake of collective welfare. The government is highly protective of its population in many spheres, like health and employment. In Singapore, care and close surveillance go hand in hand.
It would be difficult to transpose this way of living to Europe, it seems. One only has to remember all the controversy over vaccinating against Covid-19…
Well-accepted rules and standards in transport  
In transport, these cultural aspects make possible what would seem difficult in France. There is plenty of signage providing travellers with many injunctions (see photos below).
Trials and testing to ease congestion on a particular line or smooth out peaks in transport are fine tuned and roll-out rapidly, whereas in France it would take several months and a vast communications campaign in the hope of  achieving minimal results. pour espérer obtenir le moindre résultat.
Accessing the metro is, of course, via simple barriers since no one would dream of committing fraud.  There are orderly queues for boarding buses. And it is not unusual to see passengers putting their cell phones on the seat next to them or opening their wallets to count change…
Also in the metro, awareness films on how to behave in the event of an attack or robbery are played on a loop.
With regards ride hailing, drivers can report a passenger who is coughing but not wearing a mask (in which case the passenger receives a text message from the company suggesting he or she make a doctor's appointment). They can even make the passenger leave their vehicle.
Singapore, the 15-minute city imagined in the 1970s 
The city-state gained its independence in 1965, after being rejected by the Malaysian peninsula because of the many conflicts between the various ethnic groups living there. At that time, Singapore was mainly slums, with no running water, sanitation, or electricity.
The Futura-Mobility members on the trip were privileged to meet Dr Liu Thai Ker, the urban planner in charge of shaping the city of Singapore in close collaboration with Prime Minister Lee Kuan Yew, who ruled until 1990. In the 1960s, a number of principles were rapidly drawn up to guide operations: a humanistic approach to make the city responsive to the needs of the people; a scientific approach to make technology work for the people; and an artist's eye to bring 'romance' to the city, to foster love for the city.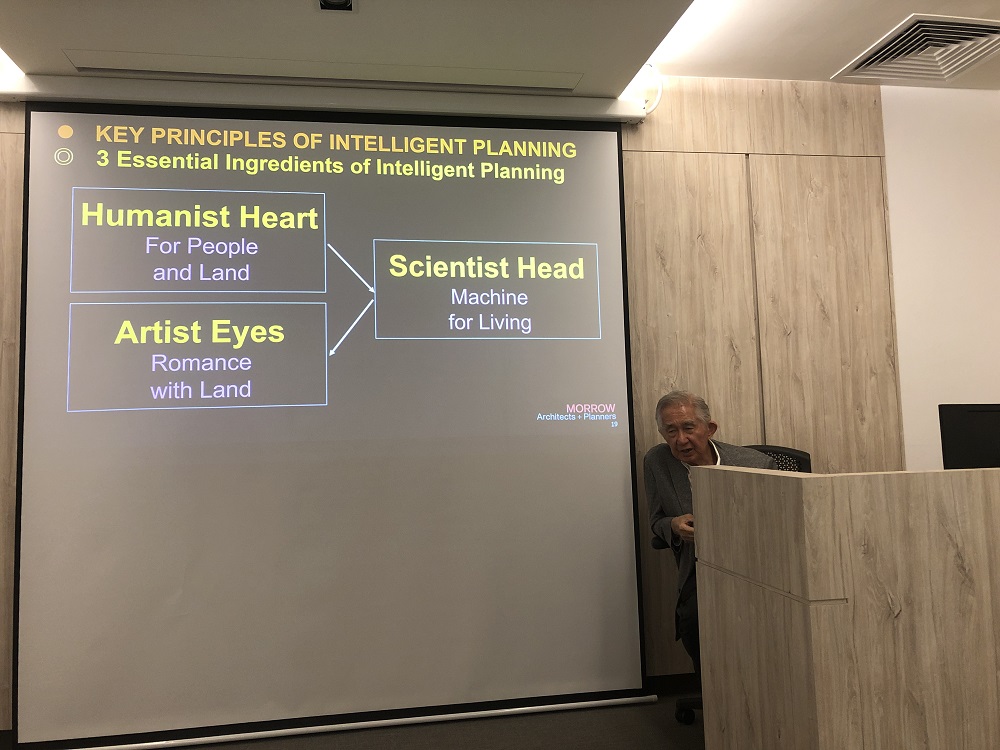 The land was quickly bought up 100% by the State, which gave Dr Ker free rein for urban planning. The  Housing and Development Board removed the people living in the slums. Today 80% of Singapore's population live in government-built flats, with state support on offer to purchase the properties.
Large natural areas have been preserved, especially to the west of the peninsula. Nature reserves, parks and urban green spaces cover some 28% of Singapore's land area. The rest of the city is very green, with a law requiring, for instance, all developers provide the same amount of green space in the vertical or rooftop areas as that on the ground where the building is being constructed. Some structures, such as the Parkroyal Collection Pickering Hotel, even have double the amount of garden space to ground.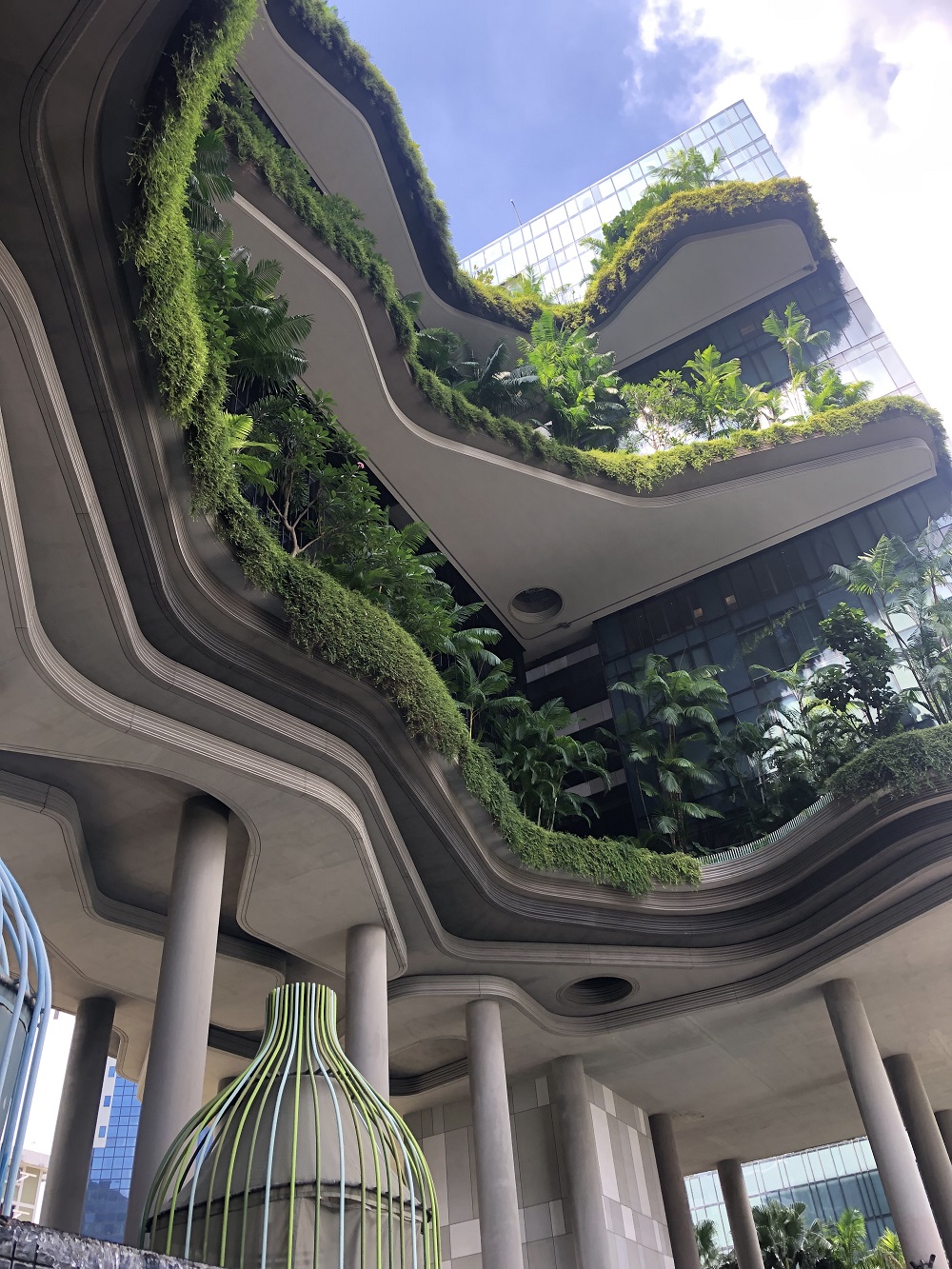 The road layout is standardised with two tree lanes.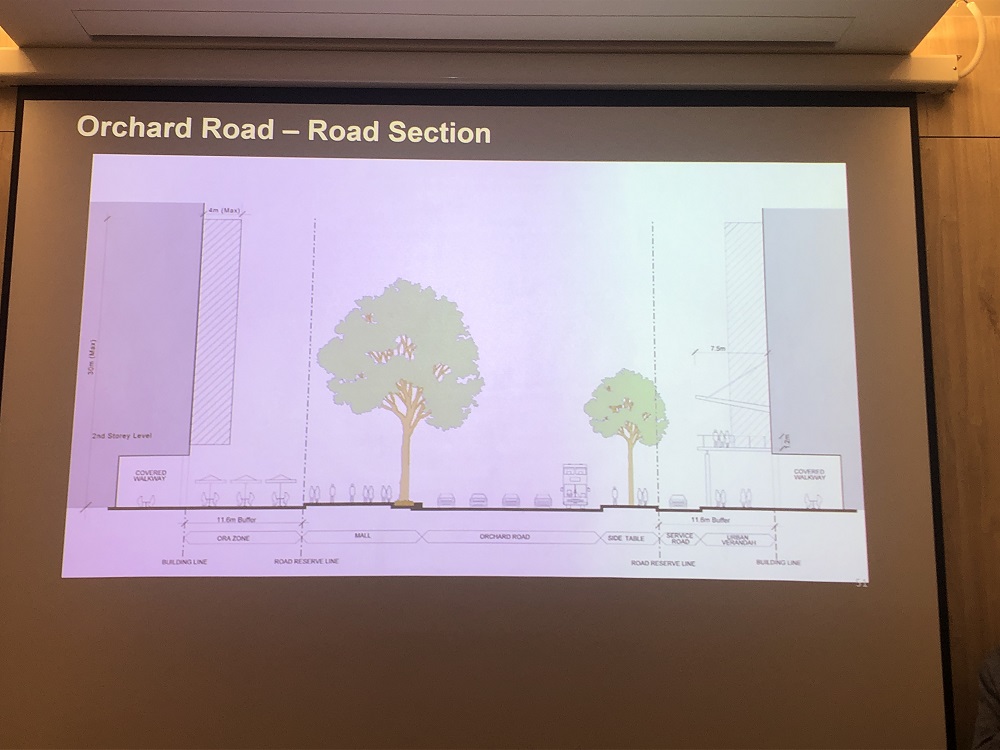 For what remained to be built up, Dr Liu Thai Ker divided the city into administrative regions,  in turn divided into urban development zones (the 'new towns'), which are separated into districts. Each new town has a centre, as does each neighbourhood.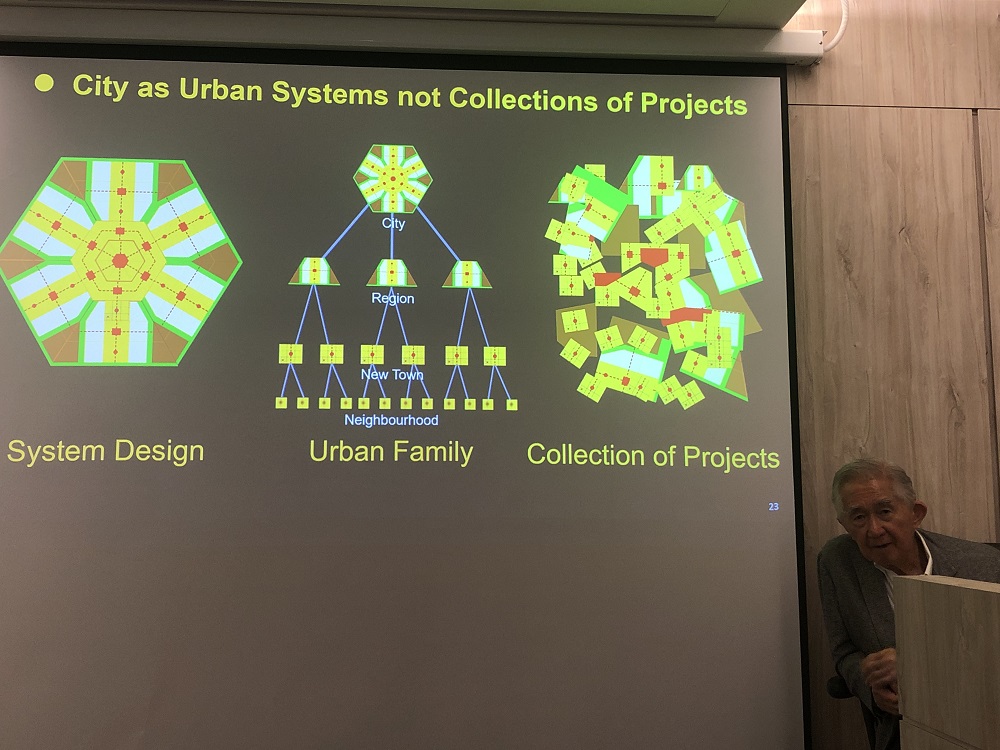 In each of these districts, basic services have been made accessible, as well as residential housing and activity areas (offices, commercial centres, industries, etc.). As Dr Liu Thai Ker explains, "if you don't provide local services, you create a lot of traffic between residential areas on the one hand and work or commercial areas on the other. We wanted to limit travel to avoid congestion." So Singapore invented and built the "15-minute city" long before the 21st century!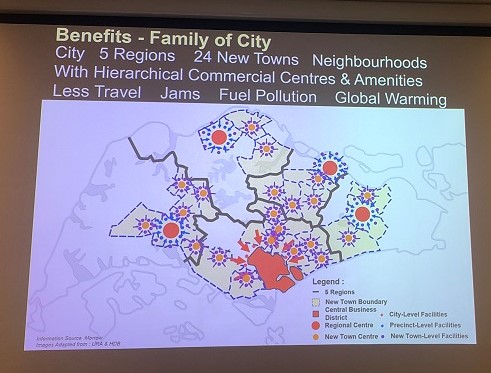 The highway network has also been designed with five levels of roads irrigating the districts: 'expressway', 'major arterial road', 'minor arterial road', 'local road', and 'service road'. Urban deliveries can only use the latter so as not to disrupt traffic.
Regarding public transport, the centres of the 'new towns' have been linked up via metro (MRT = Mass Rapid Transit) since 1985. The districts are served by buses connecting to the metro stations. "The bus routes allow flexibility, since you can change the routes or frequency if necessary," explains Dr Liu Thai Ker.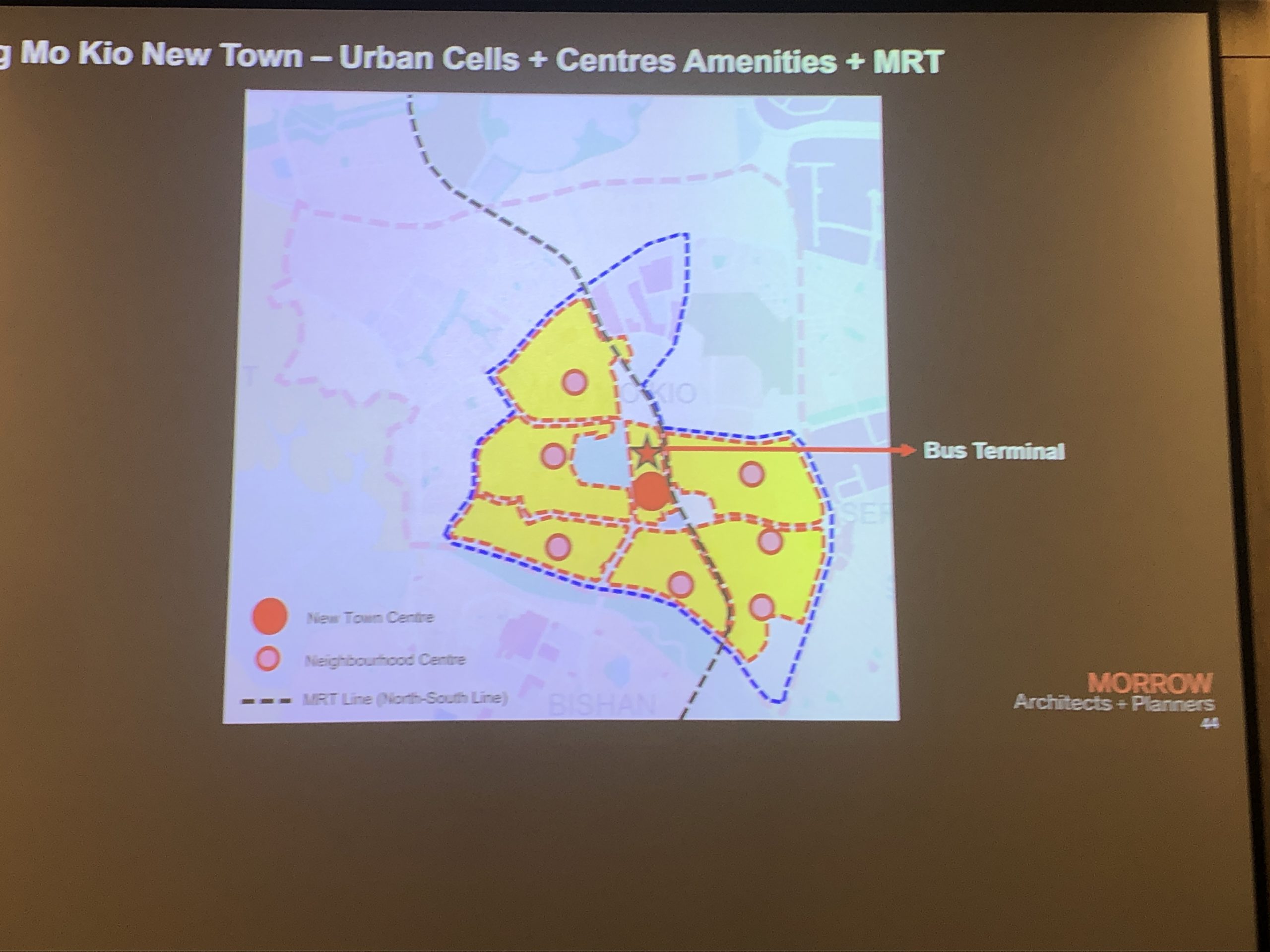 The presence of cars is heavily regulated. The number of licences for owning and driving a vehicle in Singapore is limited and they are granted for 10 years only. They are hugely expensive, just as exorbitant as the taxes on  imported cars (120%!). Buying a car in Singapore costs at least three times the price of a new car. In addition, there is a bi-annual road tax and an urban toll (ERP = Electronic Pricing Road), the first in the world, set up in 1975. This toll works with a government GPS box installed in each vehicle, encouraging drivers in real time to avoid this or that congested road, where travelling will be more expensive. Billing is automatic. So in Singapore, few people have private cars. On the other hand, ride hailing and taxi services are widely available and used.
Singapore, a testing ground for innovations
The government of Singapore is making great efforts to attract foreign investment. So between the high level of security, absence of corruption, tax incentives, and English spoken by all, many multinationals have located their headquarters for Asia in Singapore. The instability of Hong Kong has led to a number of companies, notably banks, moving their headquarters to the city-state in recent years, which in turn has led to pressure on local prices and wages.
Singapore's education system is based on memorising. Mathematics is traditionally one of its strengths. Teaching does little to encourage analysis, perspective-taking and so capacity for innovation. Nevertheless, the two main universities are now trying to adapt students' skills to the job market. Attracting foreign talent is also an opportunity for transferring skills.
The job market is extremely tense in Singapore because the government is pushing companies to employ Singaporeans first. This incentive is monitored and companies segmented into three categories on a 'watch list': white, grey or black depending on the extent to which they comply. Black-listed companies are not allowed to hire! This means competent Singaporeans are a rare and expensive resource, and they use this advantage to eventually change companies. Businesses struggle to recruit. The company H3 Dynamics, which the Futura-Mobility group also met during the trip, has, for instance, had to relocate part of its activities to Toulouse in France in order to expand its team.
The population is extremely tech-savvy and so rapidly adopts innovations. The authoritarian government makes it possible to organise trials and testing quickly, while also being very keen on feedback from the people and innovative companies. For instance, the members of Futura-Mobility met with the company Volocopter. As well as Paris for the 2024 Olympic Games, Singapore will be the first territory to test the German eVTOL aircraft on a tourist circuit and then on connecting route with Malaysia, initially always with a pilot who can take over the controls if necessary.
So the territory remains highly innovative, more so by facilitating testing for innovations coming from abroad.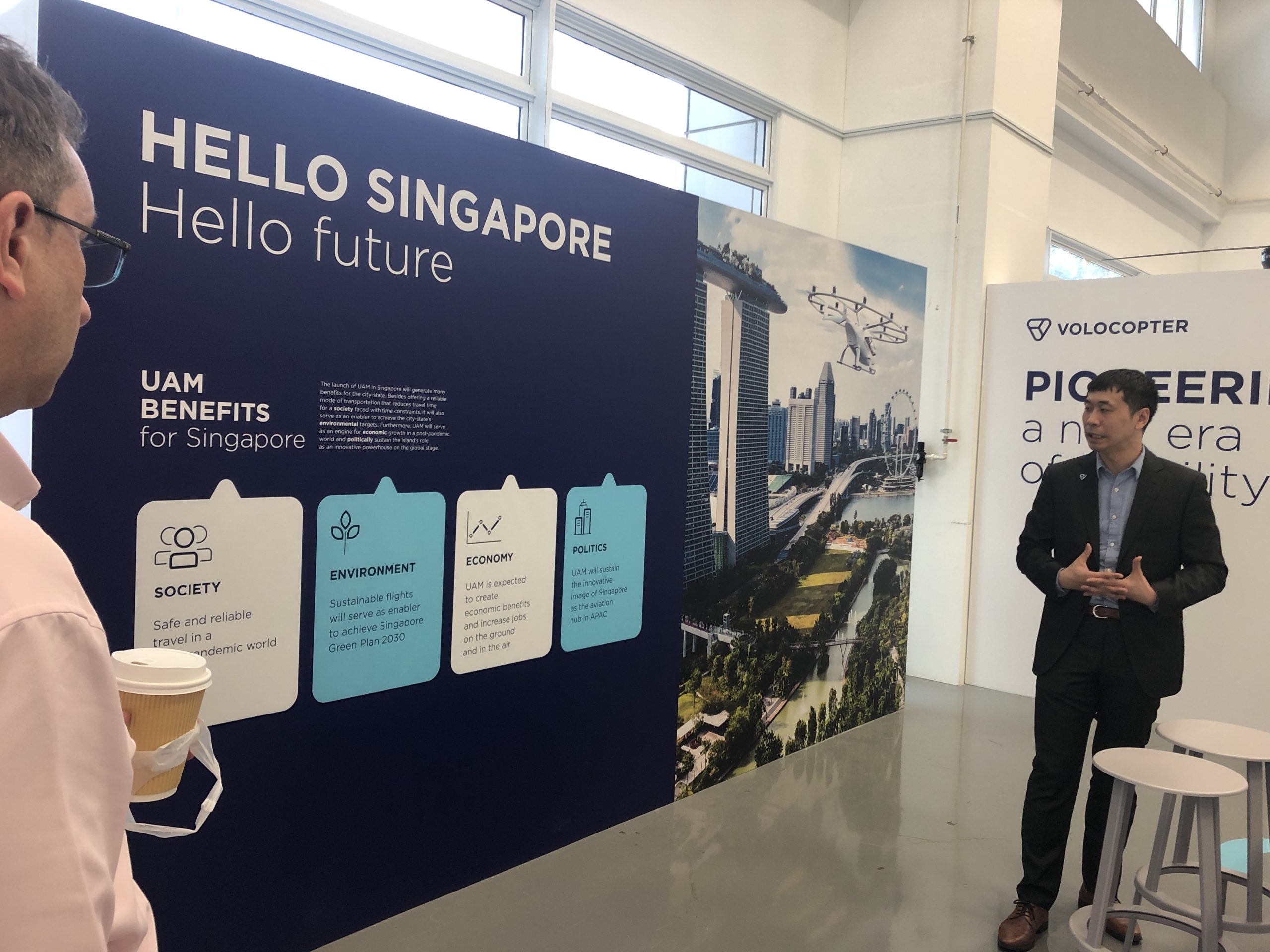 Thus Singapore hardly appears to be a model for European democracies, yet is clearly committed to digitalisation and technological innovation.