Xavier des Minières, DMS Logistics:  AI for flow – January 2023
Xavier des Minières, DMS Logistics:  AI for flow – January 2023
In January 2023, Futura-Mobility met with Xavier des Minières, cofounder of DMS Logistics, a French start-up specialising in the management and anticipation of logistics flow of containers on land. Based in Marseille since 2020, in 2021 DMS received an 'innovative solution for sustainable ports' stamp of approval from the French ecological transition agency (ADEME). Today, its artificial intelligence (AI) platform is deployed in ports in Europe, East Africa, and North America.
Futura-Mobility: Tell us how DMS Logistics came about.
Xavier des Minières: DMS was born out of the need to resolve heavy congestion in ports worldwide. This congestion creates delays along every logistics chain and hence more pollution, especially when ships are queuing off shore. It is important to note that in 2018, European maritime transport led to almost 139 million tonnes of CO2 being released into the atmosphere, i.e. more than car transport. Waiting offshore remains porportionally the part of the voyage with the greatest impact.
FM: How are you tackling this issue?
XdM: The DMS solution uses AI to process data. We aggregate all the data from the information systems at the container terminals. This is where there is the most data: on the maritime side, the land side, and part of customs.  This is where information from this logistics chain of shipowners, forwarders, shippers and so forth is concentrated. We work best at this level. We also add external data to this port data, like weather or road traffic. When it has all been extracted, we standardise and analyse it using algorithms created by DMS Logistics.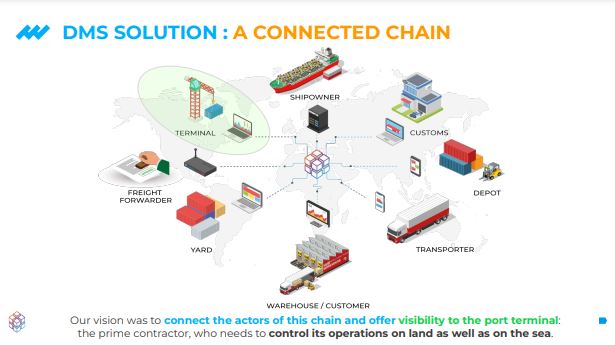 FM: How does your process actually work in the field?
XdM: Today, our data processing approach enables even greater automation of managing operations at a container terminal. We can automate data collection and processing so ports can manage their operations more efficiently, both on land and at sea. For instance, the ETA (estimated time of arrival) of goods and exit dates of containers from the terminal are predicted.
Thanks to this information, the terminal manager is given proposals for optimisation, with regards the resources to be put in place and missions to be allocated to each of these resources.
Then, of course, there is an automatic performance assessment. The aim of operations managers at terminals is to ensure expending the least resources possible – fuel or human – to deliver the best possible service.
Data is crucial. We process millions and millions of lines. But it is equally important that the product we offer is intelligible and above all user friendly in real life, faced with everyday realities. The tool provides functionalities that pinpoint the missions of the terminal manager, with performance indicators to guide them in these operations. For tasks allocated to cranes, for instance, it is possible to modify the priority or suppress them in the case of unforeseen circumstances in the field.
FM: What is your business model?
XdM: We market our tool to container terminal operators. At the beginning we invoice installing the tool because the data collection process takes time. We then charge around 50 euro centimes per container processed. Bear in mind that today, 800 million containers are shipped around the world every year.
FM: What savings can be made using your tool?
XdM: Today we can save managers around 15 % in operational costs simply by enabling a reduction in the use of resources in countries where resources are expensive – typically France or Spain. Savings are achieved both in the human resources to be deployed and the energy expended.
The cranes run on fuel oil or electricity. Optimising the number of movements saves energy. Avoiding keeping a machine running all day long, if not necessary, plays a part in decarbonising container terminals. The tool can monitor carbon performance, and reduce the footprint.  Through these reductions in energy wastage, we save 1 kg of CO2 per container, which is why our tool has been listed by ADEME as an 'innovative solution for sustainable ports'!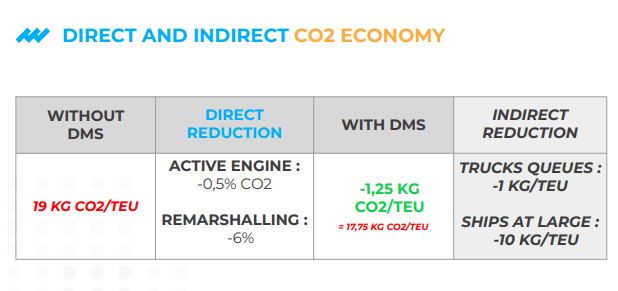 FM: What are the opportunities and threats for DMS Logistics?
XdM: With regards the market , given the current context – the container crisis, the huge profits shipping companies are reaping, massive investments… – we know we are in the right sector!
We are closing our first round of funding this week, which will enable us to pursue our development with container terminals around the world. Today we have a solution that is up and running and deployed at several plots, and hope to rapidly conquer the market.
We are reasonably confident because we are positioning ourselves on the very specific problem of relations with the hinterland – transport by truck or train – which we will be tackling with our solution. Our specialisation and leap in technology means we stand out from competitors.
FM: Do the results coming from the port of Marseille confirm your theories?
XdM: Yes, the results are impressive. Yet they're not calculated in the same way for every port.
At ports where labour costs are expensive, like in Europe, we can quickly make savings. In ports where labour costs are cheaper, like in Africa, we will work more on making energy resource savings. And for ports already highly digital, like in Belgium or Singpore for instance, we will focus much more on advanced methods of optimising (reorganising the container yard, etc).
FM: Can the DMS solution be transposed to other transport sectors, airports for instance?
XdM: In theory, yes, we could apply our algorithms, especially those for predicting activity volumes and goods release dates, to other transport systems.
But the expertise we have gained on containers is quite complex. For each terminal where we work, it takes three months of implementation to learn the processes and ensure realities on the ground are taken into account. So for the time being we are focusing all our attention on container terminals!
We now have a great team, especially people with PhDs in AI for product design, that is really concentrating on R&D. Our aim for 2023 is to become the leader in AI smart port solutions.