Autonomy 2019
At the 2019 edition of Autonomy, the urban mobility fair held annually in Paris, the strong presence of services and equipment was striking compared to previous editions. Among the 'newcomers' were a hire concept for foldable helmets, destined for users of shared electric scooters; an autonomous station powered by 2nd life electric scooter batteries; and a connected wheel for converting any bike into an electric bike.
Such innovations suggest the 'soft mobility' market is buoyant. But appearances can be deceptive. Operators may have flooded cities with their free-floating bikes and e-scooters to kill off the competition, yet issues like vandalism and hardware durability have so far thwarted their efforts to turn a profit.
Economy rhymes with ecology
Going forward, reducing running costs is set to become more of a priority for operators in the quest to make their business pay.  As part of this focus, chances are they will be taking aspects like battery charging and the maintenance of bikes and scooters more seriously.
The French start-up Cyclofix has had its eye on maintenance for several years now. Founded in 2016, it provides a mobile, on-demand service designed 'to take the pain out of keeping bikes in good working order'. Customers reserve a repairer and location via mobile app or the web.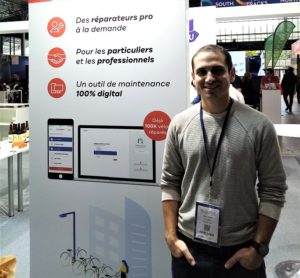 Founder Alexis Zerbib (photo above) believes proper maintenance is key to the widespread use of what he calls 'micromobility devices' – namely, shared bikes, electric bikes, scooters and mopeds – in the public space today, as well as others that may well emerge. "A planned approach to maintenance will obviously extend their lifespan, as well as ensuring they are safe to use," he told Futura-Mobility. "When an electric scooter is not looked after properly, and furthermore is part of a shared service, it will last maybe three weeks."
He held up the French city of Strasbourg as an example to follow – "the city is scrupulous about the service lives of the devices in operation and is very good when it comes to maintaining them." Then there's Smovengo, the consortium operating the Paris Vélib bike sharing service since January 2018, which, according to Mr Zerbib, "spends a lot of time and energy on maintaining the bikes to get the longest service life out of its fleet."
At the same time, there are growing concerns over the carbon emissions generated by vehicles travelling around cities to service these shared fleets. There is uncertainty, too, as to the lifespans of the devices themselves, which vary depending on hardware and intensity of usage. According to the business news website Quartz, the average lifespan of a Bird e-scooter in the US city of Louisville is just 28.8 days! Surely this makes no financial or climate sense?
Two major factors contribute to the environmental footprint of e-scooters. Firstly, the less driving (fossil-fuelled vehicles) done to collect and redistribute them, the smaller the impact. Secondly, the longer the scooter is in service, the more time it has to offset the impact caused by making all of its constituent parts.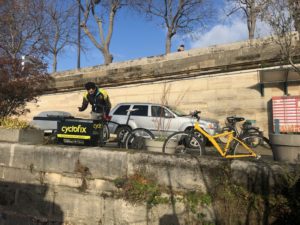 On this score, Cyclofix has a clear conscience – all its repairers travel by bike (electric or non-assist). "Yes, we're consistent down the line," assured M. Zerbib. "We use different models like cargo bikes for transporting small mobile workshops, conventional bikes with bags at the front and back, tow systems, and so forth."
Another response to this emissions dilemma is the removable battery, an operating model adopted by TIER Mobility. Created in October 2018, today this Berlin-based start-up operates shared e-scooters in 40+ cities across 12 markets worldwide.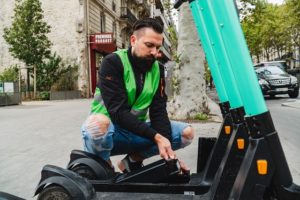 "The shift to swappable batteries is a real game changer,"  Alexandre Souter, managing director France, TIER, told Futura-Mobility. "Instead of transporting the scooters to a depot to recharge them, we bring the batteries directly to them. Our fleet in Paris is currently fully swappable, as well as those in Austria, Switzerland, and a number of cities in Germany & Scandinavia."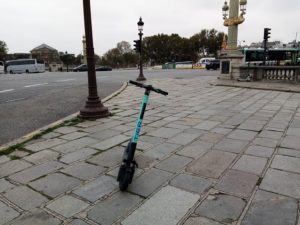 Since January 2020, TIER has been introducing this swappable model to all its markets. Henceforth, its teams will charge, maintain and carry out safety checks on its e-scooters using cargo bikes and electric vans, instead of combustion engine vans. "A move that will reduce our operational emissions by 80%," said Mr Souter.
According to a 2019 study by North Carolina State University, around 43% of an e-scooter's carbon footprint stems from daily operations, including collection and redistribution over the course of its lifetime
Autonomy 2019 – some key annoncements
Uber partners with Cityscoot to add electric mopeds (e-mopeds) to its app for Ile-de-France (Paris and its region) alongside ride hailing and electric bikes.
Smart Mobility Lab presents its Observatoire de la micro-mobilité, which expects one million e-scooters to sell in 2022, compared to 350,000 in 2019 and 232 000 in 2018.
Silence Urban Ecomobility, a Spanish electric mobility company, presents three e-moped models soon to roll out in France.
Fluctuo, a start-up specialising in data collection, processing and analysis, launches City Drive, a 'business intelligence' tool for monitoring shared mobility services and their usage in 24 European cities.
Talking MaaS, public transport and the environment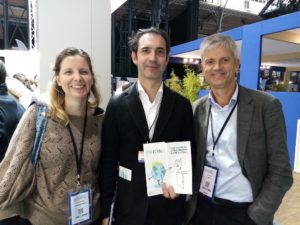 One topic brought to the fore in the conference programme at Autonomy 2019 was Mobility as a Service (MaaS), the integration of and access to different transport services on a single digital platform.
Futura-Mobility took the opportunity to touch base with Hans Arby, founder and CEO of the Swedish Ubigo platform, a pioneer in the MaaS field. He pointed out several challenges to bringing this new approach to mobility on stream, such as differing approaches to open data requirements for MaaS in Norway, Sweden, and Finland. Furthermore, from the consumer side, there is still some way to go to raise awareness of their environmental footprints. "It's not a done deal," said Mr Arby. "How to get people to change their attitudes to mobility and travel behaviour still remains a challenge."
Joining in the conversation, Sylvain Haon, senior director, strategy, UITP (International Association of Public Transport) explained the thinking behind One Planet, One Plan – a manifesto launched by UITP in September 2019 to keep public transport high on every climate action agenda. "We want to drive home to decision makers that every solution put forward to tackle the climate emergency necessarily involves improving urban and local transport systems."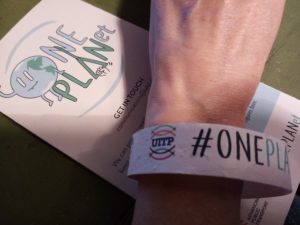 A four-step campaign, One Planet, One Plan first encourages cities to prioritise walking and cycling through a future-forward approach to urban planning. Step Two highlights the importance of strengthening public transport as the backbone of all urban mobility services. Step Three seeks to guarantee financial incentives and a regulatory framework for an emission transition. Step Four drives home the importance of ensuring clean energy sources are accessible to further reduce carbon footprints.
Despite advocating the staples of public transport, i.e. the train, metro, bus, and, tram, Mr Haon insists on the need for a wider mix of mobility services and connectivity to complete the picture.
"We are counting on innovation, on digital platforms, to create links between the different sustainable transport solutions, to provide the best journey routes for pedestrians, as well as different solutions for bike sharing, and why not e-scooters, in order to have on-demand transport that completes the structuring effect of mass public transport."
Soft, active, shared, motorised… mobility words and meanings
In today's ever-changing urban transport space, there is confusion over terms like 'soft' and 'active' mobility'. Do they refer to non-motorised, i.e. human powered, mobility? If so, surely this rules out electric bikes and scooters? Or more loosely to alternatives to the car in addition to public transport? Where does sharing fit in? Must there be zero carbon emissions? Do they describe mobility that is people friendly? In which case, what about the dangers of riding e-scooters on pavements?
For Alexis Zerbib, soft mobility must seamlessly integrate the urban landscape, be silent and low or non-polluting. "Today, recharging an electric bike weighing between 15 to 20kg, or an electric scooter, requires 50 times less energy than a combustion engine vehicle weighing around 1.2 tonnes and used to transport a single person," he said.  "The size and weight of these devices square with the number of people who use them. They also emit few or no pollutants and are playing a part in 'calming' cities by travelling at acceptable speeds for co-existing with pedestrians and other road users, as well as not further contributing to noise pollution." 
Mr Haon sees active mobility, i.e. walking and cycling (non-pedal assist), as a must for boosting mobility overall in a city. "But we also know full well this can't possibly meet every transport need," he told Futura-Mobility. "This is why UITP views the urban transport system as a whole, embracing high capacity public transport, walking and cycling, and 'new mobility' solutions like ride hailing, shared bikes and scooters [both non-assist and electric]."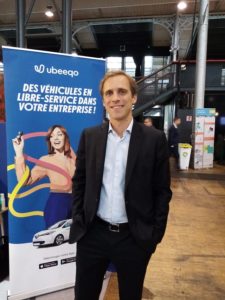 One such 'new mobility' solution is roundtrip carsharing, based on reserved parking spots and returning the car to its pick-up point, as opposed to the one-way or free-floating models. To discuss this mode and how it squares with changing attitudes to mobility, urban space, and the climate, during Autonomy, Futura-Mobility caught up with Xavier Corouge (photo above), managing director, Urban Mobility Business Unit, Europcar Mobility Group.
"In our vision of mobility for an urban context, the backbone must remain high capacity public transport, mainly rail," he said. "However, since rail can't meet every need, we must be able to join solutions to this backbone that are adapted to every need, like carsharing".
Read the full interview with Mr Corouge >>> ON BOARD WITH