AUTONOMY 2017 – the way we move in cities is changing
2 responses
Categories:
Tags:
AUTONOMY 2017 – the way we move in cities is changing
Autonomous driving, blockchain technology, and dockless bike sharing were among Futura-Mobility's takeaways from Autonomy 2017.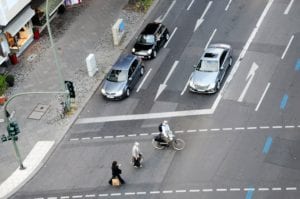 ARE YOU (STILL) IN THE DRIVER'S SEAT?
"Automotive companies are looking into four areas right now – technology, electrification, connectivity and transportation," said Patrick Ayad. Partner and Global Head of Automotive and Mobility at Hogan Lovells. "And they think they have to invest in all four."
In the field of automous driving, carmakers are involved in the regulatory and liability areas, which, from a global perspective, are covered by the Vienna and Geneva Conventions, signed and ratified by different countries. Plus there's the UNECE Agreement and Regulations, with amendments under discussion.
Yet despite a lack of clear legislation and plenty of open questions, the cars are already out there on public roads because of testing permissions.
"In Europe, everyone is focusing on what we do with the driver and still requiring the presence of a driver who can control the vehicle at any time, whereas in the US the self-driving system is the 'driver'," said Mr Ayad.
He also pointed out how the arrival of self-driving vehicles is shifting liability from the driver or owner to the manufacturer (OEM) or operator.
Connected cars: a new revenue stream and everyone wants a share
The face to the customer was traditionally the dealer, but with the advent of connected cars, OEMs and suppliers now want direct access to customers too, in order to gain access to the data generated by this connectivity. "As do new players, who are only entering this market for this reason," pointed out Mr Ayad. So at the end of the day, who will own this valuable data?
"It'll be highly interesting to see how the protection requirements play out," he says.
ELECTRIC CITY & BIKESHARING 2.0
As urban mobility distances itself from fossil fuels, and neat little e-vehicles like the Twizy (below), amongst others, come onstream, electric charging points are set to become more of a fixture in cities.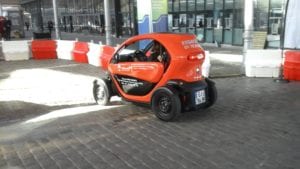 On the other hand, the clock may well be ticking for station-based bike share schemes.
Alongside the growing trend for cities to include e-bikes in their shared services (e.g. one third of the Vélibs in Paris are to go electric), another development has to be the spread of free-floating or dockless systems. This was confirmed at Autonomy by the presence of many exhibitors, including world leader ofo, promoting this station-free ride experience.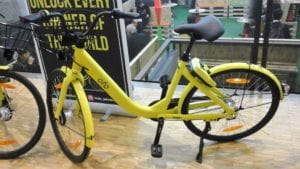 In just two years, Chinese start-up ofo has flooded over 200 cities with 7.5 million dockless bikes for sharing. And the appeal is obvious – cyclists unlock them by scanning a QR code, leave them at will, and simply re-scan the code to end the hire time. An approach that is definitely challenging the station-bound systems common in European cities today, for the time being!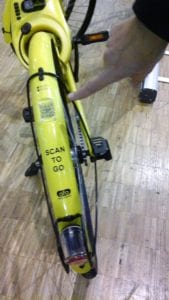 ON THE RADAR
One innovation at Autonomy to flag up was the seamless and electric-assist handbike for wheelchair users, by the French benur project.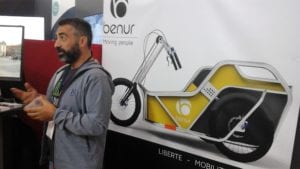 The brainchild of benur founder and entrepreneur Joseph Mignozzi (photo above), this sleek three-wheeler is accessible without assistance, so giving users more independence than with other models on the market. Says benur: 'You can get on and off easily, without needing help from a third party; it's like riding a Roman chariot!'
BLOCKCHAIN OF EVENTS
One of the buzzwords in business right now has to be blockchain. In simple terms, this distributed ledger technology is a database capable of capturing and storing transactions and assets across decentralised peer-to-peer (P2P) networks. Also right now, people in mobility are figuring out if and how its countless applications can benefit them.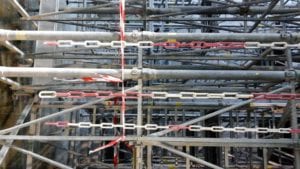 Buzz or business? At Autonomy, the conference session All About Blockchain: A Conversation with the Experts  was packed out.
"Today we have drones, flying cars, sensors and more data than ever before, but lack the ecosystem to process everything," said Dominik Schiener, co-founder of the IOTA Foundation. "Distributed ledger, global P2P networks, currently in the proof of concept phase, are the answer."
A distributed ledger is a database, yes, he explained, but beyond sharing data, what makes it special are features such as consensus and data immutability.
To bring the concept closer to home, he presented several user cases, of which:
– machine-to-machine payments and micropayments – e.g., a car has a wallet so can earn money when driving and pay for services (such as a mechanic for servicing) autonomously
– process automation in the form of a smart contract, i.e. a piece of smart code. This would benefit supply chain management, for instance – an automated bill of loading is super efficient and cheaper than archaic paper document methods
The future of mobility is about a collaborative network and the sharing of resources
One blockchain enticement is the idea of people taking back control of their data, which we are currently giving away for free to third parties such as phone operators and transportation network companies (TNCs).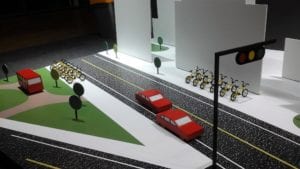 Speaker Jochen Renz from New Mobility Consulting Inc. drove home this crucial shift in 'power' from 'them' to 'us': "The data comes back to you and you decide who sees and uses it. Your ownership of your data in this distributed ledger is the real value. Ride hailing will become free, since if I give rights to my data to the company [TNC], it will be monetised as a consequence so I will ride free."
"Today Uber owns the ecosystem and you as a driver have no say; the drivers are going to decide and make collective decisions," added Mr Schiener.
"With distributed ledger technology you can decide which of your data sets to share with which parties, or not. This is truly powerful. It's about a redistribution of power from consumer to prosumer. There's a huge incentive to share data because it can be monetised and earn you money."
Pay for your ride and keep your data, or give your data and ride for free; you, the prosumer, decide