Covid-19 impacts on economies and future climate action – perspectives from China 
Covid-19 impacts on economies and future climate action – perspectives from China 
April 9, 2020: four months after the outbreak of Covid-19, what is the current economic situation in China and how is it likely to evolve over the short to long term? Is the crisis having a negative impact on China's climate ambitions or can it be transformed into a window of opportunities? Going forward, how does the country envisage its diplomatic relations?
During a webinar moderated by Sébastien Treyer, executive director of French think tank Iddri, Dong Yue, a research fellow at the Energy Foundation China and Li Shuo, from Greenpeace China, were invited to discuss these questions.
"China is several months ahead of the rest of the world in managing both the health and economic crises," said Sébastien Treyer in his introduction. "Its perspectives can help Europe anticipate the impacts to come and make recovery plans. Furthermore, economic action taken by China will impact our globalised world; hence the importance of exploring possible cooperation between China and Europe to get out of the crisis together."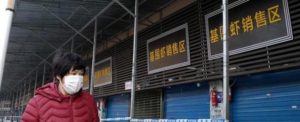 Economic impacts and responses – now and later
China is 45 days ahead of European countries in terms of the coronavirus outbreak, which has had a devastating impact on its economy. Over January and February 2020, the nation's industrial profits fell by 40%. So too did its automotive and real estate sales. International trade figures plummeted from a US$42 billion (€39b) surplus in January-February 2019 to a US$7b (€6.4b) trade deficit over the same period in 2020, representing around 0.3% of GNP.
Yet this April, the country is showing signs of recovery, albeit tentative. "The epidemic is under control, for now, and over 80% of people are back at work," said Dong Yue. "At the moment domestic activity in China is recovering in parts, but many unknowns remain."
To support a short-term economic comeback, the government has opted for three responses: monetary, through interest rates, reserve requirements, and liquidity injection; fiscal, by introducing tax and fee reductions and suspensions; and stabilising employment. Over the longer term, measures will include economic stimulus efforts in key sectors such as infrastructure, energy, communications, and transport.
Any bailouts for Chinese businesses will have long-lasting impacts on the country's future economy. The question is whether government will tie them to climate action obligations. Is it now or never for China to go truly 'green'? Or post-pandemic, will the country lock itself into a high-carbon future?
Awareness of this need for an ecological transition might influence the government's plans going forward. There has already been one sign: in March, it announced steps to accelerate infrastructure investments to counteract the economic impact of the coronavirus pandemic and stimulate sustainable growth. As part of this 'new infrastructure' plan, two shovel-ready, green stimulus sectors have been identified for the short term: electric vehicle charging stations and intercity high-speed rail.
Also part of this infrastructure stimulus, longer term focus areas identified include 5G base stations, big data centres, artificial intelligence (AI), and the Industrial internet. "They all offer opportunities for a higher efficiency economy. Yet there is awareness too that more coal should not be brought on stream as a consequence," pointed out Mr Dong.
China's relationship with coal is confusing. The country already produces more coal-fired power than it needs, with most of its plants operating at around 40 to 50% capacity. Yet before coronavirus, 200GW of new capacity was in the pipeline. A situation the economist Lee Branstetter puts down to energy policies from the '80s and '90s plus decentralisation of construction permits for coal power stations in 2014; all actions introduced with revenue rather than the climate foremost in mind.
"Economic stimulus relief should not just be about GNP but also about changing mindsets," insisted Mr Dong. "Carbon-intensive lock-ins will be detrimental to China's economic recovery. We need stronger policies and institutions that will last over the long term." Indeed, he believes moves like rolling back environmental regulations, post-Covid-19, would be a grave mistake, suggesting instead that starting to phase out fossil fuel subsidies now, while oil prices are low, would be a smarter solution.
Overall, what climate action is likely to come out of China after lockdown. Well, it's important to bear in mind that the country is a relative newcomer to global climate diplomacy, only becoming a more active player since 2016 after ratifying the Paris agreement to curb climate-warming emissions. Furthermore, the country has been facing new challenges both at home and on the global stage. "Before Covid-19 hit us, dark clouds were already hovering over China's climate politics," explained Li Shuo. "Since 2018/19, various political and economic factors have changed for China, like employment concerns and confrontation with the US, amongst others."
Following Covid-19, over the short to medium term, leaders in China will be focusing on preventing a second outbreak and stimulating economic recovery, "so there will be less attention paid to environmental issues," pointed out a concerned Li Shuo. While agreeing this scenario might play out, Mr Dong added that it is vital government realises how "climate money now will save costs later." He also suggested change is already underway in China, with "a very vibrant domestic debate right now on wildlife management… amendments to laws…".
EU-China relations: window of opportunities?
How will relations between China and Europe recover in the aftermath of the pandemic? Mr Dong is clearly counting on the 'new infrastructure' investment plan as a potential starting point for joint action in the future, for discussing how to modernise the Chinese economy and upgrade its domestic consumption. "The devil's in the details so dialogue between China and Europe is crucial. But I do think this infrastructure plan is a good sign in the right direction and a significant opportunity."
China and the EU certainly do have concerns in common. Like how to invest for long-term economic benefits and employment, how to improve air quality, reduce pollution, protect the environment, and support the energy transition. Going forward, these challenges may well encourage cooperation, "with agreements and tools, like the European Union's Green Deal, for instance, serving as the basis for productive multilateral dialogue," suggested Mr Dong.
The European Green Deal is a roadmap designed to make the European Union's economy sustainable. 'This will happen by turning climate and environmental challenges into opportunities across all policy areas and making the transition just and inclusive for all – European Commission
In a nutshell, while action is currently being taken on various fronts in China, Dong Yue and Li Shuo both agree that there are still plenty of unknowns. Nevertheless, it is becoming clear to the global community that life post-pandemic will offer the country the choice between two pathways: one leading to a more sustainable future or another signposted 'back to business as usual'.