Cycling France – the wheels are turning
Cycling France – the wheels are turning
Paris, 24 January:  at this press conference, members of the Club des villes & territoires cyclables and Club des élus nationaux pour le vélo took stock of cycling developments in France, explored the outlook for 2019, and beyond.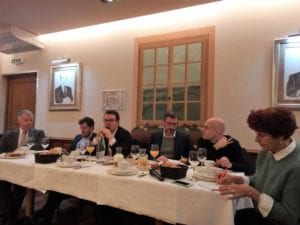 The big news is the French National Cycling Plan. This initiative, comprising 25 measures and backed by a budget of €350 million for the next seven years, was announced by prime minister Edouard Philippe in September 2018. Henceforth, local authorities in France can submit projects in order to benefit from the €50 million to be made available every year.
The conference speakers appeared satisfied with the overall form and content of the Plan, while acknowledging there is still room for improvement. "It includes the measures we expected and represents real growth in awareness at government level, including budgetary matters," said Pierre Serne, president, Club des villes & territoires cyclables.
The Plan is based on four lines of action designed to overcome barriers identified and meet public expectations, namely:
develop quality cycle lanes and more broadly, improve road safey;
security: tackle bike theft;
incentives: introduce an adapted incentive framework that fully recognises the bicycle as a pertinent and virtuous transport mode;
develop a cycling culture: raising awareness of cycling among children, early learning of the highway code, promoting the benefits of bikes…. Various initiatives will be introduced to ensure the 'bike reflex' is adopted naturally from a very early age.
Used for just 2.7% of everyday trips, cycling in France has a long way to go to catch up with the European average of +6%. Through its National Plan, the Government hopes to up the number of riders to 9% by 2024.
"Compared to our neighbours, we are lagging behind: cycling accounts for 10% of trips in Germany and 28% in the Netherlands, compared to just 3% in France. It was high time we took action!" – François de Rugy, French minister for the ecological and inclusive transition – Plan vélo et mobilités actives, 14 septembre 2018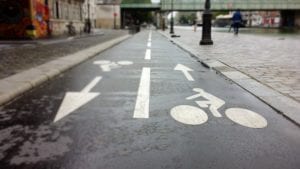 Action, incentives and funding
While pleased that cycling now has a dedicated budget for coming seven years and the Plan is officially in place, Mathieu Orphelin, deputy for Maine-et-Loire, nevertheless insisted on the importance of putting the measures into action. "It's up to local authorities and departments to submit their projects to benefit from the funding now available. Indeed, we still don't have enough proposals, we need more!" he urged.
The €350 million envelope should help ease the financial pressure on local authorities, and so encourage them to shift cycling higher up their agendas; prior to the Plan, they had to provide the funding for bike initiatives themselves. On the other hand, as pointed out by Michel Gillot, vice president, Club des villes et territoires cyclables, local authorities in France are facing cuts to their operating grants (dotation globale de fonctionnement, DGF) provided by the State, so their spending power is reduced anyway.
"2018 was an unprecedented year for cycling, even though we didn't obtain the €200 million euros a year originally requested," commented Jean-Baptiste Gernet, vice president, Club des villes & territoires cyclables. "Indeed, we have to do what we can with this annual €50 million. The next steps in 2019 must including maintaining discussions between members of Parliament and local politicians to make any necessary adjustments so the Plan works well. It mustn't prove too complicated to use," he warned.
He is satisfied with the economic incentives in the Plan, such as tax rebates for companies buying shared bikes for their staff. Yet insisted on the importance of putting state support for cycling and cars on a more equal footing, for instance, providing financial aid to buy electric-assist bikes.
One example of state support for cars is the 'conversion bonus' introduced in January 2018 as part of the French Climate Plan. This incentive is designed to encourage people to switch to 'lower carbon' wheels, with their previous vehicles going to scrap.  From 1 January 2019, up to €4,000 is available for purchasing certain models of new or second-hand combustion vehicles, and up to €5,000 for a rechargeable electric or hybrid car, new or second-hand.
On a warning note, Mathieu Orphelin pointed out the likelihood of issues over the budget earmarked for the Plan: when drawing up the figures in 2018, anticipated revenue from the hike in fuel tax (the so-called ecotax) and speeding fines was taken into account.
Since then, the rise of the gilets jaunes movement means less money will be forthcoming – in response to their demands,  president Macron has put the ecotax on hold, but "around 60% of the automatic radars on the roads in France have been put out of action, attacked, or destroyed by those supporting this movement," French interior minister Christophe Castaner told the press on 10 January 2019.
According to Le Parisian (10 January 2019), 'official figures put the number of automatic radars in France at 3,200, of which 2,500 are used for speed control.'
In the most recent figures from the French Court of Auditors (Cour des comptes), for 2017, these radars generated a record €1.97 billion from all driving offences captured, with one billion coming from fines for speeding, traffic light and level crossing offences.
"There's going to be a funding gap [for the National Cycling Plan] but cuts must not be made to cycling or sustainable development," retorted Mr Orphelin.