Keolis: results and outlook 2017-2018
Keolis: results and outlook 2017-2018
Revenue up by 6.4% to reach €5.4 billion, profitability up by 9.4% to €342 million… "2017 was a very positive year for us," Jean-Pierre Farandou, president, Keolis, told journalists on 19 March at the group's HQ in Paris.
Home turf
In France, among contract renewals, Filéo – a transport on demand service serving the airport hub of Paris-Charles-de-Gaulle and two express bus lines to Paris-Roissy airport – and follow-up signings to continue operating public transport in Lille and Rennes – two cities with automatic metro systems in their networks.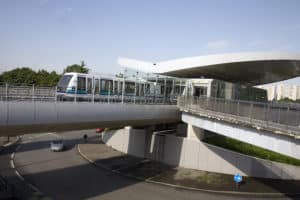 Medical transport is a new segment, following the creation of Keolis Santé in July 2017. A canny move: given Europe's ageing population, healthcare needs, including mobility, are set to soar in the coming decades.
In the Hexagon, medical transport is seeing annual growth of 3.5% and represents a €4 billion spend. "What we aim to do is streamline services, optimise trips to make them more cost effective," said Jocelyn Douillard, executive president, Keolis Santé.
Further afield
At international level, milestones included:
– consolidation of the group's position in Australia with the renewal of tramway operations in Melbourne, Australia;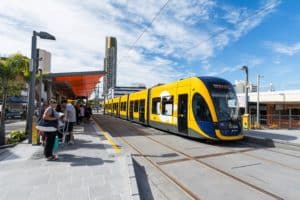 – kick-off of the first of three automated metro lines in Hyderabad, India, in November 2017;
– in Qatar, as part of a joint-venture, contract wins to operate and maintain the new automated metro in Doha, plus the tram network currently under construction in the city of Lusail.
With reference to the 'greenfield' Hyderabad project in particular, Mr Farandou flagged up the challenging task of recruiting and training a workforce from the ground up "to constitute a team of almost 800 employees today."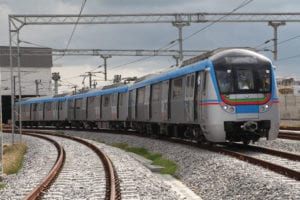 On working in foreign markets in general, he insisted on the importance – "an absolute must" – of taking on board local specificities, e.g. transporting surfboards on the Gold Coast trams in Australia (the group has been running this network in the state of Queensland, on the east coast, since 2014; opening a 7.3km extension in December 2017), or the sand and heat in Doha.
Equally vital is sensitivity to cultural differences and relations with staff – "it's up to us, not them, to adapt," he said.
On the digital front
2017 saw the launch of M-Ticket, a digital ticket for smartphones, on the French networks of Montargis and Orléans. Also, Dutch subsidiary Keolis Nederland deployed the group's first Mobility as a service (MaaS) platform in Utrecht. The single app combines all the transport modes, public and private, available across the city, i.e. bike sharing, public transport, taxis, car hire, and functions with the Dutch national transport card for payments.
'New mobility'
"We're out of the lab and running increasingly complex trials of autonomous vehicles," said Laurent Kocher, executive director, marketing, innovation & services. Since September 2016, together with constructor Navya, the group's shuttles have transported 69,000 passengers and covered 27,000km in pilots from Paris-La Défense to Lyon to Las Vegas.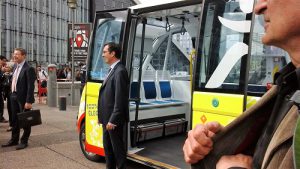 Frédéric Bavarez, managing director France, Keolis: "Innovation is a driving force to help us win contracts and generate revenue."
"We strongly believe in dynamic transport on demand too, for instance with Via in Newcastle [Australia]," added Mr Farandou.
In January 2018, Keolis launched on-demand transport in Newcastle, together with shared ride tech provider Via. The app-based service allows customers to instantly book a ride, within the on-demand zone, from their selected departure point to destination; Via's algorithm instantly matches customers with a dynamically routed vehicle and other passengers going their way. Direct routes are prioritised, with riders walking a few minutes to rejoin the pick-up point.
By combining the efficient sharing of vehicles with a spot of walking (health benefits), this kind of service holds promise for tomorrow's cities. Watch this space!
Jean-Pierre Farandou: "Today's 3rd transport revolution is all about mass transit and the car; but the car in different ways. Sharing is probably the most important element in the new mobility mix, providing benefits like easing congestion in cities. The usage of sharing is key."
Outlook for 2018, and beyond
With an eye to the coming months, Keolis' president mentioned the bid for an upcoming rail tender in Wales (April-May 2018): "We will go where we can bring legitimacy and make a real difference."
Further down the line, "in 5, 10, 15 years, fleets of robot-taxis will represent a large share of the transport offer," he said. "And since we are already present in 20 cities worldwide, it makes sense to become a robot-taxi operator in these same cities." Shifts in legislation, rules and regulations should soon dispense with the need to have operators on board autonomous vehicles – "by 2019 at the very latest," he predicts. "This development will really change things."
Sensing one elephant in the room, Laurent Kocher pointed out that Keolis has received no cash injections from its stakeholders [SNCF 70%) and Caisse de dépôt et placement du Québec (CDPQ) 30%] over the past decade.