Mobility in Africa: facing up to new challenges
Mobility in Africa: facing up to new challenges
10 June 2020: during this webinar organised by the think tank Futura-Mobility, Stéphane Eboko, a specialist in digital innovation focused on mobility in Africa, shared his vision of the continent, followed by pitches by two African start-ups: one providing electric-assist bikes and add-on services; the other working in the field of mobility data sharing.
With a population of around 1.3 billion, Africa is the second most populous continent after Asia. It is also an extremely young continent – nearly 60% of the population is under 25 years old – with the highest urbanisation rate in the world – every year an estimated 24 million more people move to African cities! As a result, by 2025 there will be 14 large cities in Africa with more than 5 million inhabitants and 200 million people living in urban areas.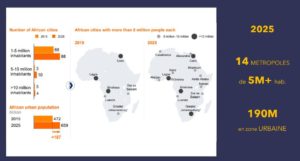 Having set the scene, Mr. Eboko identified several challenges for African cities. Investment in housing or infrastructure is relatively low. There is considerable disparity in access to transport: services exist or are lacking; when services do exist, they are not necessarily accessible for all. Indeed, where public transport does operate, cost for users is often an issue: "In African cities in general, for the most deprived households, public transport is really expensive," pointed out Mr. Eboko.
As a result, ridership of 'formal' public transport, overseen by transport organising authorities (TAOs), is quite low. To get around, nearly 80% of people rely on 'informal' public transport – mini-buses or other vehicles not under the wing of TAOs, which provide variable frequency services and often operate without truly fixed routes. Private cars account for a tiny percentage of the modal share of journeys.
Digital for smoother mobility
For Stéphane Eboko, Africa's rapid urbanisation certainly poses challenges, yet at the same time represents a strong driver for economic growth across the continent. "Going forward, the workforce in cities will tend to be young and there is appetite for technological advances."
As for mobility, from among these innovations Mr Eboko has identified several trends, like crowdsourcing, i.e. inviting the general public to participate in creating a common good. Ma3Route in Nairobi, for instance, is a crowdsourcing platform for urban traffic data. It allows people to share and access information on traffic situations, the condition of roads, on accidents, too.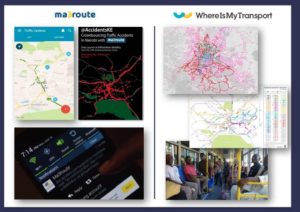 Then there is the open data model adopted by the start-up WhereIsMyTransport (see below). This business is based on creating and enhancing data sets for use by various stakeholders, transport authorities, operators, and people on the move in particular.
__________________________________________________________________________
Since 2015, the Cape Town-based start-up WhereIsMyTransport has mapped 'informal' public transport services in more than 27 cities, mainly in Africa, in collaboration with 500 local data collectors.
The data (on routes, service frequencies) serves two purposes:
governments, cities, urban and transport planners can use it to make smarter investment and planning decisions so future transport systems meet real needs;
the travelling public benefits from up-to-date passenger and service information that enables them to make better use of the transport systems on offer.
"Using technology and data, our 40-strong team based in Cape Town, Johannesburg, and London, aims to get everyone where they need to go," said Yohnny Raich, data product owner, WhereIsMyTransport. "Many of these commuters have different priorities, like comfort or speed or the number of connections per trip. And their priorities are always changing. Without information, these travellers can't fix priorities and don't feel in control of their situation."
__________________________________________________________________________
Last but not least, shared mobility is gaining ground as local start-ups develop the platform business model. These platforms create value by facilitating real-time meeting and exchange of supply, moto-taxi drivers for instance, and demand, e.g. customers. "This is an innovation with regards traditional business models, i.e. purchasing or production following by selling products," explained Mr Eboko.
In Nigeria, for instance, Jekalo is a pioneer in carpooling between private individuals. In South Africa, the ridesharing start-up Lula brings together employees with private transport operators to optimise commuting and build a network of trust. "Here is an example of context-based innovation, since in Africa commuting to and from work isn't necessarily a pleasure and tends to be long, uncomfortable and expensive," said Mr Eboko.
Indeed, there appears to be growing awareness in Africa of the impacts of the journey experience on the general quality of people's lives, of the importance of 'seamless' mobility. With this goal in mind, start-ups and tech companies are joining forces with urban planners and city authorities to co-create mobility services that blend in with and complete public transport.
"Of course this might not seem much like a new concept for us [in Europe]," acknowledged Mr Eboko. "But what is quite new is how it will potentially impact African lives … smoother mobility where space is shared and modes are integrated for seamless journeys."
Here comes the sun!
On a continent with an abundance of sunshine and off-grid rural areas, solar power is becoming an increasingly obvious source of energy to encourage uptake of new travel modes.
"This is the case for electric-assist bikes," noted Mr Eboko. "The approach adopted by the start-up Ebikes4Africa [see below], for instance, is quite impressive and inspiring because it is also linking up urban and rural. [Its bikes] enable new services, like parcel deliveries, that generate relatively low environmental impacts and provide solutions to urban traffic congestion."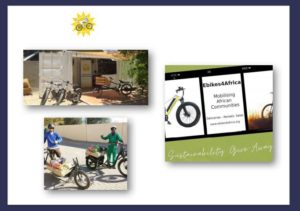 __________________________________________________________________________
With its solar-powered electric bicycles, Ebikes4Africa aims to provide Africans with affordable and sustainable mobility.
"Here in Southern Africa, electric mobility is still a very new concept and people are sceptical because they don't know anything about it," explained Marita Walther, co-founder of the Namibia-based start-up founded in 2014. To overcome this barrier, her company has introduced locally designed bikes that are easy to maintain and repair, with features like fat tyres and extremely robust frames to cope with the Namibian climate, i.e. extremely hot and sunny, with terrain often hilly and rugged.
The company also provides solar charging points so using the bikes is possible anywhere, as well as electric charging hubs, housed in modified shipping containers that can be airdropped anywhere, offering add-on services like internet connectivity or recycling collection points. "They represent a turnkey solution designed so communities can benefit from electric mobility and energy," added Ms Walther.
By hiring electric bikes for US$30-40 (N$223-240) a month, the company hopes to make its services more affordable than taxis, the most popular means of transport in Namibia, costing around US$60 (N$700-800) monthly.
Before Covid-19, the main market for Ebikes4Africa was ecotourism in rural areas, typically off-grid. From early March 2020, since the pandemic has hit tourism hard, the company has diversified into deliveries to city centres.
Cover photo: Nina Stock – Pixabay