Moove Lab celebrates two years
Moove Lab celebrates two years
The sculpture Play Doh (cover photo) –  plasticine for adults – by the American artist Jeff Koons, is on show at Station F, Paris – 'the world's biggest start-up campus'
Paris, 28 November 2019: to mark its two-year anniversary, Moove Lab, the mobility start-up acceleration programme based at Station F, organised a round table together with pitches and networking. Co-created by the French National Council of Automotive Professionals (Conseil National des Professionnels de l'Automobile, CNPA) and Via ID, the incubator subsidiary of the Mobivia group, Moove Lab has 18 sponsors and accelerated 33 accelerated start-ups since its beginnings.
During his opening remarks, Xavier Horent, delegate general of the CNPA, stressed the importance of building new alliances in the context of today's mobility 'revolution'. He also questioned whether France is ready to take up the challenge of becoming mobility nation of the 21st century? "We have all the talent to make this happen!" he insisted.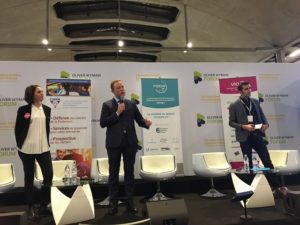 During the round table How to benefit from the mobility ecosystem?, Stéphane Schutz led discussions between the start-ups Fidcar, Speedy France, Cocolis and Reezocar.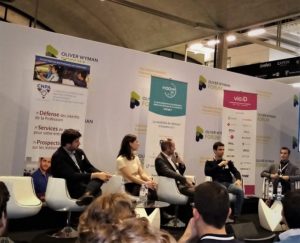 One of the benefits for start-up members of Moove Lab is the opportunity to benefit from the support and backing of its ecosystem. This was the case for Cocolis, which launched a collaborative platform (C2C) for sending parcels in 2015. At that time in France, its activity status was ill-defined and stuck in a bit of a 'grey area'.
"We already identified this legal loophole before launching the business, then were able to work on it as part of Moove Lab with the CNPA," explained Eliette Vincent, co-founder and president, Cocolis.
Since the adoption of the French Mobility Orientation Law (Loi d'Orientation des Mobilités, LOM) in November 2019, Cocolis has gained the status of 'co-transporter', which defines the shared use of space in a vehicle (carpooling) for transporting one or more items. "Our activity has now been made clear and we're really pleased about this," commented a delighted Ms Vincent.
This experience of Cocolis highlights the importance of relations between the start-ups incubated by Moove Lab and its sponsors, namely, Europcar Mobility Group, Total, Cofidis, Bridgestone, AAA Data, Club Identicar, Dekra, GNFA, LS Group and CETRI. Providing businesses with support and encouragement in the early days is vital. "Sponsors, don't forget the 'Father Christmas' power you have over us start-ups," added Fabrice Caltagirone of Fidcar.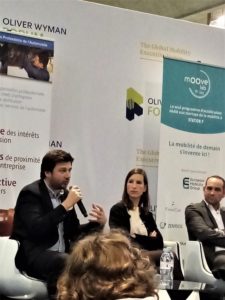 Pitch me your business!
Moove Lab's Batch 5 is the latest group of start-ups to join the incubator, in November 2019. They were selected through a process involving over 130 candidates working in many different areas – from innovative services for motorists and eco-driving to access to mobility for all and electric mobility.
Indeed, the business activities of these five start-ups illustrated the diversity of a mobility ecosystem in rapid transition. There was FinnoCar, a distribution platform for facilitating and digitising car financing; Heart Never Lies, a company specialising in bio-feedback (the science of mind-body interactions) to save lives by anticipating falling asleep at the wheel; Sparted, which creates and publishes a SaaS micro-learning platform for boosting the performance of frontline auto workers; Helite, an airbag system expert/developer; and Zenride, which provides access to bikes for employees to relieve home-work commuter stress.
Moove Lab anniversary and presentation of the 5th promotion of start-ups (in French)
Video: Web TV CNPA
Agility, jobs, and a new chapter
In his closing speech and in view of the above discussions, Robert Ostermann (photo above), managing director France, Europcar Mobility Group, and president of Métiers de la mobilité partagée (shared mobility occupations) at the CNPA, highlighted two points. Firstly, he acknowledged that big companies must take into account the agility start-ups need. Secondly, he encouraged the start-ups themselves to consider what kinds of jobs they want to create. This latter remark referring to an article published on 21 November 2019 by Mounir Mahjoubi, member of Parliament and former French secretary of state for digital technology,
In his analysis (in French) entitled Amazon: towards infinity and the Job Centre!, Mr Mahjoubi severely criticises the online retail giant for its impact on the French job market. 'For one job created by Amazon, local businesses lose nearly two […]. The French need to think long and hard.  What trade relations do they want in their future? With what kind of human value? At what social cost?'
To wrap up the evening on a more upbeat note, Mr Ostermann added: "The adventure of mobility has only just started. The new chapter remains largely to be written. We need to adopt an approach that is humble, pragmatic and sustainable."