Phillip A. Washington: mobility in the US – June 2018
Phillip A. Washington: mobility in the US – June 2018
"We want to brand time – the most valuable commodity on earth today – and give it back to the people."
At Transports Publics 2018, Futura-Mobility (FM) caught up with Phillip A. Washington, CEO of Los Angeles County Metropolitan Transportation Authority (Metro).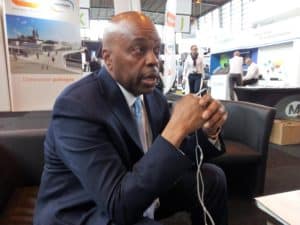 FM: Could you describe the area covered by Metro and its scope?
P.A. Washington: We are in charge of all mobility in Los Angeles County, the largest county in America with 88 cities, and are promoting all types of transport mode. The city of Los Angeles is the biggest city in the county – larger than 41 or 42 states – and home to over 10 million people. Obviously most of these people are driving cars. Single occupancy vehicles are the worst thing that you can have.
FM: The car, friend or foe in cities today?
P.A. Washington: The auto industry has done a good job. In the States they make it so easy to own a car… zero percent finance, advertising that shows your hair blowing (not mine, obviously!) in the wind… the freedom of the automobile, you know.
"The auto industry has done a great job of capturing the hearts and minds of people; of selling them 'freedom'. Our public transit has to do the same"
FM: You also believe New York is doing "a very good job of making it difficult to own a car", but that Los Angeles can "do better". How?
P.A. Washington: You can do a number of things. London is looking at congestion pricing. You can raise parking rates in the downtown core. Gas prices are creeping right up again. All of these things, whether intentionally or not, can make it difficult to own a car and drive people to public transport, which is what you want. It is a priority for me for a number of reasons – climate is one, congestion is obviously another. And generally, having more people ride public transportation is good for everyone.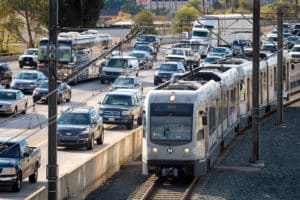 FM: What can public transport do to encourage ridership?
P.A. Washington: We have to do a better job of making public transport sexy. Time is life's most important commodity; you can't buy it, you can't sell it. And so what we have been testing at Metro, if you will, is the marketing concept of giving back time to people. This means you can go and be at your son or daughter's soccer game; you are not sitting in traffic. We are looking to brand this concept.
"Transportation, like education, is an ongoing need. You can't just switch it off"
FM: In the States, do you think the stigma of public transport as the `poor man or woman's vehicle' still exists?
P.A. Washington: No, I don't think it's just for poor people. Most of our trips are people going to work. Public transportation in the States I think is necessary and there's no longer that stigma of poor people riding the bus. I think this has come about over the last 10 to 15 years. When I was a kid, I never had a car and rode the bus. I'm from Chicago and think at that time there was a stigma there. But that it's not true anymore. People of all stripes ride the bus today. In Los Angeles, the percentage of low income riders is very big. I think 75 to 80% of our riders can be considered low income riders. Now that does not mean they're poor; they're low income. And  that could also be the case in places like Chicago.
"People of all stripes ride the bus today"
FM: How do you think autonomous vehicles will fit into the public transport picture?
P.A. Washington: I don't know if they are a threat, and by the way I think they are coming, they are already here. We have to harness innovation. We have to encourage innovation. We can't stifle it. Now there are going to be challenges, stops and starts and set-backs, but if people would have stopped the airplane innovation, or stopped the Wright brothers and said "this is crazy!" then we wouldn't be flying around in planes. We have to allow and facilitate innovation and make sure there is a vehicle for it.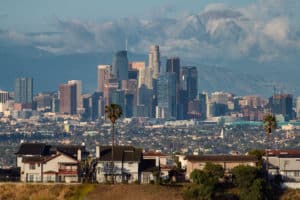 FM: In 2015, you created the Office of Extraordinary Innovation (OEI) at Metro. Why the extraordinary?
P.A. Washington: There's something to be said for extraordinary innovation. It is still to be defined. I was talking to a person on my team when setting up that office and she said "why extraordinary? Why don't you just say the Office of Innovation?" I said: "you missed the whole point. I want it to be extraordinary so people think extraordinarily when they think about this office; think outside their body; think of not normal things. That's what I want.
FM: You chose Joshua L. Schank, previously president and CEO of the Washington-based Eno Center for Transportation, as Metro's first chief innovation officer. Why does an organisation like yours need an  leader like Dr Schank and how do you think innovation should be nurtured in house?
P.A. Washington: When I wrote the job description, I talked about continuous improvement for one. And it's an ongoing thing. You need someone to champion and push innovation through the organisation. Someone to make it an evaluation goal for every manager in the organisation so they are assessed on an annual basis on how they innovate. Not just Joshua's job, but all managers. This is a goal we put in their individual performance plan and that's the way it should be.
"You need someone to champion and push innovation through the organisation"
We have created a fellowship programme of employees who are selected to work in that Office [the OEI] over a 12-month period. Because no-one knows innovation better than the bus operator.
FM: How do you travel? By public transport, car, other?
P.A. Washington: I take the train every day. The service is great. We run a frequency on the line that I take every six minutes in the rush hour. So I'm on the train and see for myself. I don't want anyone to tell me how my service is running but to know from personal experience… when there's a slowdown on the train, when we have an accident, any kind of mechanical issues on the route. I do have a car for maybe use on the weekends to go shopping and the like.
"I don't want anyone to tell me how my service is running but to know from personal experience"
FM: To wrap-up…
P.A. Washington: This is a little trivia for you. The three largest transportation organisations in America are New York, Chicago [Transit Authority], and Los Angeles. Before Tom Prendergast retired [chairman of New York's Metropolitan Transportation Authority (MTA) from 2013-2017], all three were run by people originally from Chicago: Tom, Dorval Carter, and me. I'm Chicago through and through!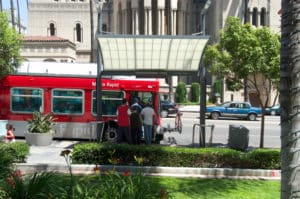 Created in 1993, Metro carries about 1.3 million passengers daily on a fleet of 2,200  buses and six rail lines.  The agency also oversees bus, rail, highway and other mobility-related building projects, as well as leading transportation planning and programming for Los Angeles County.
Copyright all photos (except those of Mr Washington) – Los Angeles County Metropolitan Transportation Authority (Metro)