Stations as agents for sustainable mobility
Stations as agents for sustainable mobility
On 2 March in Paris, Gares & Connexions, a subsidiary of the SNCF Group, held an evening event to explore the changing faces of rail stations in France.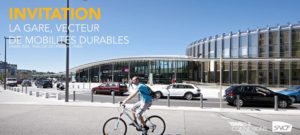 Following words of welcome by Marie-Caroline Benezet-Lanfranchi, chief digital and technology officer, Gares & Connexions, the first session focused on several flagship projects designed with tomorrow's station in mind. These ongoing initiatives tap into latest technologies and innovations, all the while keeping users in the picture – rising numbers, changing behaviour and expectations – and environmental concerns, too.
Among them, the augmented multimodal space (Espace Multimodal Augmenté, EMA) is an approach adopted by Gares & Connexions to promote travelling by train. In a nutshell it seeks to simplify multimodal journeys by transforming the so-called 'traditional' train station.
"To make this work, we pinpointed three avenues," explained Carole Tabourot, director of client experiences and services. Namely, developing active modes, "which depends on providing secure facilities for bikes, for instance"; adapting services in the catchment area of the station – "for bikes, this relevant area is from 5km around"; and improving the short-distance carpooling experience: "we know that over 10km from the station, driving rather than cycling is the preferred travel mode. But cars mut be used differently," pointed out Ms Tabourot.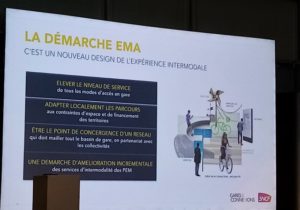 A total of 224, small and medium-sized stations across France have been earmarked for EMA development over the coming five years. Public and private partners, as well as start-ups, are actively involved in these projects.
The EMA approach is based on a methodology that includes incentivising measures. These could be digital solutions for reserving parking spots in advance, or bike parks with digital locks – all designed to reassure travellers. "Furthermore, SNCF itself can benefit from this digitalisation and subsequent information capture to monitor the use of station services and fine-tune them," added Ms Tabourot.
Another project, multimodal exchange hubs (pôles d'échanges multimodaux, PEM), seeks to "support today's changing regions and act as a liaison between stations, neighbouring districts, and town/city centres," explained Valérie Bonnard, CSR project manager, sustainable development – investments.
These hubs are designed in partnership with local authorities and involve reorganising public transport and introducing walkways – to guarantee seamless transfers between transport modes. "The PEM can help tackle issues such as urban sprawl," added Ms Bonnard.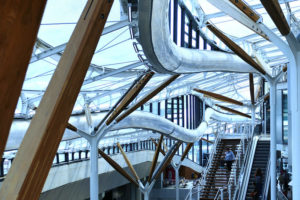 Among the most recent PEM projects are stations in Nîmes, Grenoble and Rennes. Officially a multimodal exchange hub since July 2019, Rennes train station was transformed with 67% of the funding coming from local authorities. As for the PEM Nîmes Pont du Gard, unveiled in December 2019, it has 600 parking spaces of which 100, located closer to the PEM itself, are reserved for shared or electric cars – "to encourage people to use vehicles differently," pointed out Ms Bonnard.
For "this innovation challenge", the PEM team at Gares & Connexions is inspired by Kasai station in Tokyo, amongst other developments worldwide. Its three tower blocks can store up to 6,500 bikes, the system is fully digital and there are service robots instead of humans. Parking costs 5 euros a month for students and 10 euros for other users. "It's a good example to follow," said Valérie Bonnard, clearly impressed.
Session 2, round table: stations as facilitators of decarbonised mobility
Sophie Chambon-Diallo, director of sustainable development, SNCF, explained how the Group's mission statement is to "promise travellers accessible ways of travelling around the country."
Yet given the 3,000 stations and 10 million users daily across France, it's certainly a mighty mission. "Orchestrating this mobility is a huge challenge," admits Ms Chambon-Diallo. "It involves a complex system and juggling a great many elements and expectations."
Included among the expectations of travellers is the cost of transport. On this point, Ms Chambon-Diallo said SNCF is well aware of the importance of financial accessibility. "It's an integral part of our overall mission. In other words, offering transport at prices that are both accessible to all and competitive compared to the car."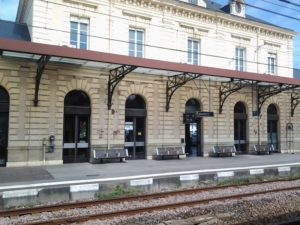 Meeting the many needs of millions of passengers isn't the only role stations must play today, and tomorrow. They also have to tackle growing environmental challenges.
"Tomorrow's station has got to be light to reduce its C02 emissions by using more virtuous materials," said Raphaël Menard, chairman of the management board, AREP, and head of environmental strategy, Gares & Connexions. Managing resources is another concern. "To avoid generating waste, for instance, we need to consider the whole cycle of the materials used. We are working on this topic right now."
An interdisciplinary architecture agency and subsidiary of SNCF Gares & Connexions, AREP is present in France and worldwide with a team of 1,000
The French railway network owns a vast amount of real estate, which, in today's context, is clearly another avenue worth exploring. Indeed, thanks to its exceptional heritage – 20,000 hectares and 25,000 buildings of different types – SNCF is one of the biggest property owners in France.
According to Mr Menard, "with solar, this real estate could potentially generate ten times more energy than SNCF actually needs." Good news given the Group's annual electricity bill amounts to over 600 million euros, making it the largest consumer of electricity in France. Furthermore, electricity prices are going up by 2 to 3% year on year.
Fortunately for its finances, SNCF is already taking advantage of the photovoltaic potential of its real estate and car parks by installing solar stations and rooftop panels. Given these developments, as far as Raphaël Menard is concerned, stations are gradually becoming "a bit like decarbonised filling stations of the future."
"To a certain extent, stations are like the lungs of a region," added Sophie Chambon-Diallo, pointing out their potential for providing services like coworking spaces, childcare facilities, and fitness centres. "I think tomorrow's stations will be extremely efficient. They will be places for socialising, living spaces that encourage human interaction. They are going to help recentralise towns and cities in their regions."
Raphaël Menard even went so far as to suggest that tomorrow's stations, as destinations and spaces for human interchange, could encourage degrowth and immobility.
"Our job at SNCF is to enable you [the public] to be game changers for a better future, a better environment," summed up Ms Chambon-Diallo.
Start-up session: meet the Challenge winners
Launched in November 2019 by Gares & Connexions, the Green Connexions Challenge was a call for projects to transform mobility around small and medium-sized stations.

From 123 candidates, the three prize winners, who received their awards at the close of this evening event on 2 March, were:
Nielsen Concept: modular and multi-service bike storage made from repurposed shipping containers. Key features include photovoltaic cladding, Wattway by Colas, to meet all the energy needs.
Zoov: a shared, electric bike service that is space saving too. The parking stations are extremely compact and so cheap to install; hence Zoo can offer them to local authorities for free. Another innovation is smart energy management: electricity is shared between bikes when docked. Furthermore it's possible for two operating models, station-based and free-floating, to coexist.
Fluctuo: an independent data aggregator focusing on shared mobility modes, namely free-floating bikes, scooters, mopeds, and cars. Its Software as a Service (SaaS) tools gather, process and analyse the data to enable clients – public stakeholders like towns and cities, agglomerations and transport organising authorities, plus private companies – to better understand offer and demand.
Cover photo: Angel Bear by Richard Texier, installed in front of Gare du Nord station, Paris