Transporting Île-de-France
2 responses
Categories:
Tags:
Transporting Île-de-France
6 September: summer's over and it's back to transport reality for Île-de-France (Paris and its region).
To mark the moment, Région Île-de-France and Île-de-France Mobilités (ex-Stif) invited the media to review all matters mobility – from rolling stock, 'clean' buses, and new services to accessibility, security, and busting traffic jams.
"At the heart of our plans is the desire to give every Francilien [person living in Île-de-France] more personal/family time, as well as widening the choice of transport modes and helping users combine them," said Valérie Pécresse, president of both Région Île-de-France and Île-de-France Mobilités.
To make this happen, over €24 billion [£22bn] is earmarked for investment in the network between 2016-2024.
Talking about new developments, Ms Pécresse highlighted three figures:
– 158 trains, new or renovated, rolled out since 2016
– 239 bus routes, beefed up or created between 2016-2017
– 250 clean (electric or biogas) buses in service by end-2017, with over 5,000 by 2025
"We are satisfied with the government's awareness of transport. Given the huge amount of works for Île-de-France, it can't let us down.
"To modernise the network we need €800 million [£732m] a year; for the period 2015-2020, plus the State has to come up with money for the many transport projects, which include the tram-train, EOLE [commuter rail extension], metro lines 4, 11, and 12."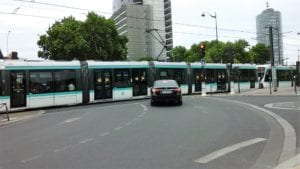 Île-de-France to go – facts & figures
8.3 million journeys daily by public transport
1,800km of metro, train and tram lines
On average, 4.3 million people use a Navigo travelcard every month (2016)
70% of trips (all modes) in the region bypass Paris
Average price tag of an electric bus: €550,000 (£503,000)
Average price tag of a new double deck train: €15 million [£14m]
On the move

"Transport is also a question of new mobility services, plus we are seeing behaviour change," said Stéphane Beaudet, vice president transport, Région Île-de-France  & vice president, Île-de-France Mobilités.
On car sharing, he pointed out how the roads, "a key issue", are also part of the transport solution. "With specialists, researchers, and start-ups, we are exploring how to use them better."
To tackle jams, for example, the Région is focusing on highway planning and adopting traffic light systems that help improve traffic flow.
On driverless shuttles: "With an eye to first/last mile journeys, we will be increasing pilots like the ones already deployed at La Défense and Versailles."
The Smart Navigo programme seeks to put digital and innovation at the heart of Navigo, the travelcard for Paris and its region. "We are hoping to make a leap with information and ticketing, fares and access," said Mr Beaudet. "And have worked a lot on all these elements with the aim of creating a single pass that covers all modes."
"If we are to deliver all the transport plans presented today, up to 2021, transport revenue for  Île-de-France Mobilités, which includes the versement transport [VT, local contribution by employers to help fund public transport] tax, contributions from local authorities, the carbon tax, and fares, must increase by 3% year on year," pointed out Ms Pécresse.
On 1 August 2017, the price of a monthly Navigo travelcard went up to €75.20 (£68.70), a hike of two euros
Overcoming barriers
"Reduced mobility impacts four Franciliens out of 10," said Pierre Deniziot, special delegate to Ms Pécresse in charge of Disability.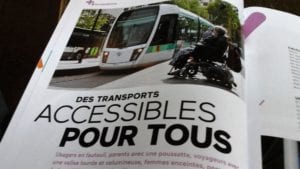 Steps to boost the accessibility of transport in Île-de-France include:
– 34 stations rendered accessible since 2016; set to total 266 by 2025. Essentially this involves equipment and features such as lifts, escalators, platforms at the right level, ramps, removing barriers along pathways, visual and audio information
– Journey planner for people with disabilities on the existing web portal ViaNavigo
– Taking accessibility into account when renovating trains and buses
– Introduction of remote operations for maintaining equipment
La petite reine* in the big city
Pressure is on the Paris authorities to step up action to make the city more bike friendly. But opinions are divided, as was the case most recently, in August 2017, with news of mayor Anne Hidalgo's plans to build a new cycle path along the prestigious rue de Rivoli, in the heart of the capital.
"Cycling is a complex matter. There are many obstacles – from docking and security to routes and their maintenance," said Mr Beaudet.
"We are really on the case for cycling as part of everyday trips," Ms Pécresse hastened to add. "The barrier is not money but behaviour – we want to increase the number of riders biking to and from public transport stops and stations."
*the bike was nicknamed la petite reine at the end of the C19th after Queen Wilhelmine of the Netherlands, who rode around on one
Enregistrer
Enregistrer
Enregistrer
Enregistrer
Enregistrer
Enregistrer
Enregistrer
Enregistrer
Enregistrer
Enregistrer
Enregistrer
Enregistrer
Enregistrer
Enregistrer
Enregistrer
Enregistrer
Enregistrer
Enregistrer
Enregistrer
Enregistrer
Enregistrer