Victor Breban from NOIL: retrofitting scooters – February 2022
Victor Breban from NOIL: retrofitting scooters – February 2022
The French start-up NOIL (No Oil), founded in May 2019, designs electric conversion kits for internal combustion engine scooters. Its target audience? "The big B2C markets" of delivery drivers and private individuals. To find out more about this innovative vehicle conversion business, Futura-Mobility met with Victor Breban, one of the three co-founders, at the company's headquarters in Montreuil in Île-de-France.
Futura-Mobility: Tell us about the origins of NOIL and how it has developed?
Victor Breban: Three friends, we founded the company in 2019: Clément Fleau, president of NOIL and industrial buyer by training, set up and structured the whole company on the finance and accounting side; Raphaël Setbon, technical director at NOIL and mechanical design engineer, who has experience working for big firms in the automotive sector; and myself – as the company's chief legal officer, and a trained lawyer – I'm in charge of our business partner relations.
Today the company employs 12 people full time (on contracts, apprentices and interns), as design, mechanical, and electronic engineers, and for battery design, working in the design office; people in the workshop; and in the office – one person for graphic design and communications, one for marketing, and another for sales administration.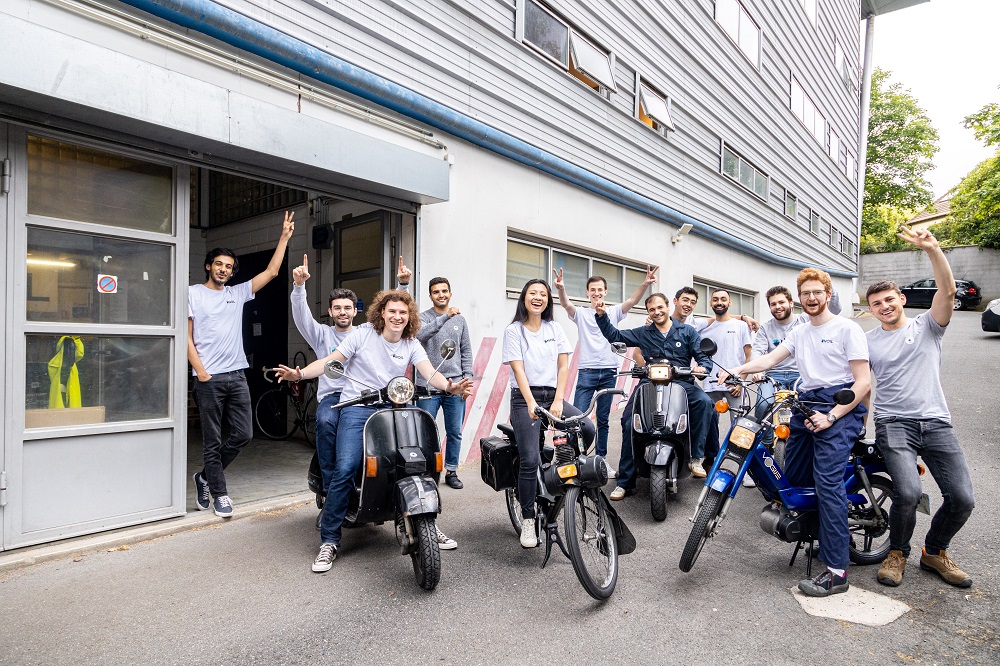 FM: Why launch specifically in the business of retrofitting two-wheelers? 
VB: For several reasons. Firstly because all three of us loved and owned petrol two-wheelers that no longer worked very well… especially mine! Hence the idea of converting it to electric.
At the same time we realised there was a bit of an issue in France: the gradual outlawing of petrol scooters with the new climate bills and increase in low emission zones [Zone à Faibles Émissions, ZFE] in cities. Converting combustion engine scooters to electric helps tackle the noise and air pollution generated by petrol scooters.
Furthermore, maintenance is quite expensive for two- and three-wheeler owners, plus, in urban areas, the cost of parking (for petrol bikes) keeps going up. So all these reasons are why we created NOIL , which has since grown little by little.
FM: Could you explain your business model based on electric conversion kits and partner fitters?
VB: Right from the start the idea was to distribute our kits to partner fitters – who convert the vehicles and so can build relations and promote this solution to their customers. Our kits are distributed in France via Feu Vert parts and maintenance centres and a network of partner fitters, of which 25 privately owned garages.
With these kits, vehicles can be converted anywhere. If the two-wheeler is at the other end of France, sending people on site isn't the best solution for NOIL – it's far more efficient in terms of time, money, and our team to send the kit. Besides, with this approach our partner fitters are gaining in expertise – we train them to work on electric and this means they can add a new string to their bow. Our business model is helping garages shift to electric mobility – which explains why they welcome it.
FM: What are the main concerns voiced by B2C clients wanting to convert their two-wheelers?
VB: They ask us about the cost or how the whole process works, or about the vehicle registration certificate – because you have to include an official mention that it's a vehicle converted to electric. But all in all they understand the approach quite well.
Their reasons for switching to electric? To be able to use their bike more easily, i.e. less mechanical problems so less maintenance. An electric scooter has far fewer moving parts, few liquids (no coolant or engine oil, for instance), so overall wear and tear is reduced to a minimum apart from replacing worn out parts like the tyres, brakes, and so forth.
Clients are also keen to cause less of an negative impact on the environment, the technology appeals to them, plus  in France the Crit'Air vehicle sticker scheme influences which type of motorisation people buy. In Paris for instance, inside the A86 main road, certain categories of two-wheelers are already outlawed.
FM: How much does it cost to convert a combustion engine two-wheeler to electric with NOIL?
VB: The cost of retrofitting depends on the size of the scooter. So converting a Solex, for instance, comes to 499 euros. And the equivalent in electric doesn't exist, except if you buy an electric bike. For a Peugeot 103, retrofitting costs 899 euros. For a 50cc scooter, around 1,000 euros. At NOIL we want to enable as many people as possible to ride electric scooters since converting to electric costs less than buying a brand new electric model !
Moreover, retrofit grants do exist – especially the government one worth 1,100 euros (Prime à la conversion) as well as more local ones, like that offered by the Île-de-France region, worth up to 500 euros.
FM : What role does certification play in your retrofit activity?
VB : Certification is compulsory if you want to use a combustion engine vehicle converted to electric on public roads (on-road).
To date, NOIL has two on-road certifications. The first, obtained since publication of the 13 March 2020 decree [on the conditions for transforming combustion engine vehicles to electric], is for our electrification kit for converting Solex 3300, 3800 and 5000; the second, obtained in June the same year, is for converting all Peugeot 103 models to electric. Obtaining certification for two- and three-wheelers is really expensive for a company, even if less than for four-wheel vehicles. Once we have the certification we can get on, guaranteeing conversion and  offering a quality after sales service to satisfy clients.
For everything concerning the rules and regulations for retrofitting, it helps at NOIL that I know the law. Nevertheless, in house we are all in the loop about this part of the business, we advocate to obtain the certifications, and I step in when any legal issues arise – if we don't understand a text, how it's structured – otherwise it's our engineers who delve into the conditions to obtain the certification.
NOIL launched its business in May 2019. At this time in France it still wasn't legal to convert two- or three-wheelers to electric for use on public roads. So, together with other members of the French association AIRe, we were actively involved in bringing about the necessary ministerial decree.
FM: Electric mobility depends on batteries. A lot of questions are being raised today about the ecological footprint of batteries – here and now, and in years to come (using rare earth metals and recycling, for instance). Where does NOIL stand?
VB: We have custom batteries through partnerships. NOIL chooses the battery suppliers and ensures criteria for capacity and characteristics are fully met to have batteries that fully meet our needs to best adapt them to our motors.
All the latest studies, as well as the film À Contresens, online since November 2020, prove that even with the production of Lithium batteries, retrofitting still harms the environment less than manufacturing combustion engine vehicles. At NOIL, we don't use 2nd life batteries because it's not yet legal to use them for 'on-road'. But for 'off-road', yes. Using 2nd life batteries is of course something we are interested in doing.
FM: Has the Covid-19 pandemic affected your business? 
VB: NOIL wasn't fully up and running when Covid happened, so we only really felt the impacts on the supply chain for our electronic components, which come from all over – Italy, Canada, South-East Asia. Even today we have deliveries delayed because of containers being blocked at ports. Many factories were shut down for a time during the pandemic. Since then they have been struggling to catch up with the backlog in orders and meet demand. At NOIL for sure we are feeling the impact of these delays, which slow down production then delivery of our kits. Luckily the situation [in February 2022] is stabilising.
FM: What are the key strengths of NOIL?
VB: I would say the fact we're a circular economy solution, in other words, using existing vehicles and extending their service lives, being attentive to the needs of our clients; and innovative too. Also, our retrofit process is really fast – 48 hours! – which is a major plus for delivery drivers and other professionals who depend on their two-wheelers for work.
FM: What role will retrofitting play in mobility of the future?
VB:  Converting two-wheelers is already part of today's 'new mobility'. We are retrofitting clients' vehicles so are really playing an active role in this transition. The retrofit sector is a credible alternative towards softer mobility in our society that allows people to continue using their bikes (that have sometimes been in families for generations) and which are being increasingly outlawed from our cities.
Current fuel prices are encouraging people to retrofit since it means they can convert an existing bike to run on a cleaner and cheaper energy. The cost of fuel is also also driving the soft mobility sector in general (bicycles, electric scooters and cars).
FM: What are your goals for 2022 and beyond?
VB: In 2022 we are looking to obtain between three to five new certifications, this time for bigger bikes, in particular Piaggio 50cc, BMW C1 and Yamaha XMax scooters – the latter being the bestseller scooter in France right now. Also for mopeds and old scooters like the Vespa PX, which is kind of iconic and a collector bike today.
We shall also continue working on partnerships both traditional – like participating in the French Salon Du 2 Roues de Lyon fair in March 2022 – and more out of the ordinary – like between 8 April to 15 May, during which the Galeries Lafayette department store in Paris has invited us to run a pop-up store for new mobility.
Of course there are competitors in this market, companies launching in France and abroad, but we reckon they are less advanced than us. Then there's the indirect competition for new electric vehicles. But given there are over 4 million two-wheelers in France today, of which around 1.5 million scooters, there's plenty of work around! There will always be vehicles to convert to electric, even if new electric models are coming to market. For instance, there is a lot of demand for vehicles that don't have an existing electric equivalent. Even for delivery drivers riding small bikes, many aren't happy with the current offer since no after sales services are provided.
Two-wheelers manufactured abroad, especially in Asia for instance, tend to be sized and aimed for the Asian market. This means they aren't necessarily adapted to the French or European markets, particularly with regards the roads: paved streets in our cities, for instance, wear out these vehicles more quickly. The expectations of European and Asian clients aren't necessarily the same either – like having after sales support, which is really important for two-wheeler users in France and Europe.
We are also looking to develop our business across Europe – we have already received many requests from other countries like the U.K., Germany, Belgium, Switzerland, the Netherlands…. For the time being we haven't yet launched industrial activity in these countries, but it won't be long!