Impact of the health crisis on living space: exodus or status quo?
Impact of the health crisis on living space: exodus or status quo?
As part of the 'habiter la France de demain' ('living in tomorrow's France') reflection led by the French Ministry for Housing, up to mid-October 2021 the latter is organising a weekly round table on a specific question, the same week as the Minister for Housing, Emmanuelle Wargon, makes a visit – to Rennes at the start of this September 2021.
Futura-Mobility attended the first session, which explored the impact of the health crisis on living space for the French, on 31 August 2021.
A health crisis revealing aspirations for better living
The health crisis isn't "necessarily spotlighting new situations but accelerating pre-existing ones," points out Jean-Daniel Levy, director of the Political & Opinion department at polling institute Harris Interactive. In fact the dream of living in one's own house, fully detached, with outdoor space, is nothing new.
What has changed with the series of lockdowns is that the inequality of access to housing for the French has been revealed and the urge for someplace else has never been so strong, especially for people living many together in small spaces. To prove this point, at the end of the first lockdown, according to Jean-Sébastien Savourel, advisor at Villes de France, "30% of people living in big cities wanted to move, and this was even 44% among younger people."
The sudden window of opportunity that remote working opened for a number of employees and entrepreneurs then did the rest.
More the start of a trend to watch than an exodus
In terms of figures, one trend certainly does seem to be emerging with regards moving home and especially for moving to different French departements (administrative divisions). Compared to the 2019 data, 13% more of the French have relocated to a new department. "Not enough to qualify as an exodus," reckons Maître Frédéric Violeau, a lawyer in Caen and director, Institut de l'Immobilier, but "a morphing" of the property market that makes him think "this shift is here to last."
Several new facts support this intuition: firstly, detached houses are driving market prices whereas it used to be flats; then municipalities (communes) with less than 3,500 inhabitants are attracting people coming from more populated municipalities, so the former are seeing their prices per square metre rising like never before; finally, big cities are losing inhabitants a bit quicker than usual: -15% this year for Paris compared to an average of -2% or -3% in previous years.
It's very much small- and medium-sized cities that are reaping the benefits of this trend, and not, as we might be led to believe, the countryside. "People are seeking an agglomeration that is more practical and presents less constraints," reckons Maître Violeau. When remote working is possible, "the high prices in big cities are encouraging people to look elsewhere," he adds.
Towards living spaces, in the plural
Purchase a second home or move house altogether? Often remote working is not feasible and people don't want to do it 100% of the time, so… having two homes is developing. In Nevers, Mayor Denis Thuriot is seeing "a gradual relocation… or at the very least a high increase in the draw of second homes that over time could become main residences." Depending, however, on one condition: connectivity! As Maître Violeau points out, remote workers are really seeking "connected disconnection."
From dream to reality
This dream of the detached house with plenty of space for remote working while the children frolic in the garden can't, however, escape realities.
Firstly, whether or not remote working is possible and to what degree? Indeed, as Minister Emmanuelle Wargon points out: "there are those who can remote work but also those who can't! The latter can't be far from their workplace." For these employees, it all depends on just how attached they are to their current jobs. "If they aren't, the question of making a life change certainly arises, otherwise it's more complicated," adds Mr Levy from Harris Interactive. And even those who could work remotely 100% of the time generally don't want to. For them, "Two and a half days of remote working on average is generally the ideal," adds Mr Levy.
Then, of course, economic reality enters into the equation. "Having two homes, detached houses with an office… beware of the comfortably off speaking!" warns Henry Buzy-Cazaux, president, Institut du Management des Services Immobiliers (IMSI). In other words, "there's what I would like and there's what I can afford," says Yannick Borde, president, PROCIVIS, which launched a study (in French) at the end of the first lockdown, together with Harris Interactive and involving 7,000 participants. Its findings highlight this barrier between wanting to move house and actually taking the plunge. For instance, we mustn't forget that "geographic mobility isn't in the French genes!" clarifies Mr Borde, when the study reveals how 75% of the French live close to where they grew up.
Lastly, the dream of a detached home close to nature not only comes up against realities but also another longing, shared by many of the French: to limit the impact of their lifestyle on the environment. But detached homes aren't always compatible with tackling land take or more virtuous forms of mobility. "Interest in small cities, towns, villages… yes, but not urban sprawl!" warns Minister Wargon. With regards mobility, Jean-Daniel Levy from Harris Interactive points out how his institute had revealed how the lack of access to services, especially public services, without using the car – "considered as living with a constraint" – was one of the triggers for the yellow vest (gilets jaunes) crisis.
'Inhabit' – searching for meaning 
Environmental aspirations aside, a wider quest for meaning is underway right now, especially among our young people. According to Stephany Orain-Pelissolo, psychologist and founder of CovidEcoute, "young people want something else for their children. They are wondering whether working like their parents has any meaning. They are questioning what they really want more profoundly."
To reconcile this longing for better living with the constraints exposed, "luckily there are other ways to live well: collective housing or mixed solutions that can appeal with models that would be sustainable in terms of ecology"; other ways that Minister Emmanuelle Wargon is keen to explore during the rest of her programme 'habiter la France de demain.' Some examples have already been highlighted in short videos produced with the French TV channel M6, where it's noticeable how these new models for living favour local services and soft mobility.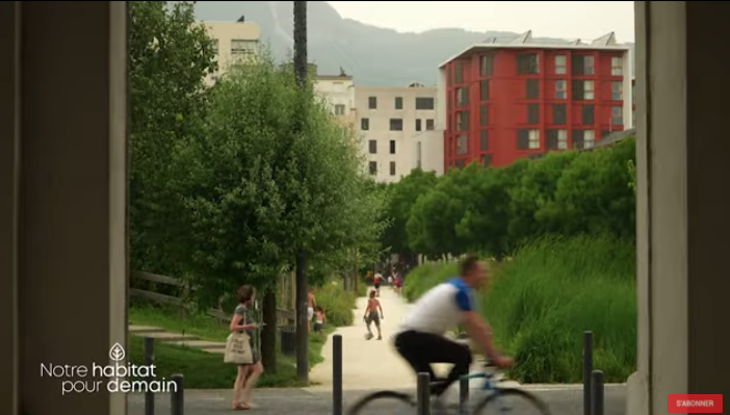 Translated into English by Lesley Brown