Meeting Startup Nation® in Tel Aviv for mobility
Meeting Startup Nation® in Tel Aviv for mobility
by Joëlle Touré, delegate general, Futura-Mobility
During the week of 9 May 2022, a delegation of French companies travelled to Tel Aviv around EcoMotion, the annual Startup Nation® trade fair dedicated to mobility. Futura-Mobility and several of its members took part in this trip, with Chutzpah Lab as guide and organiser.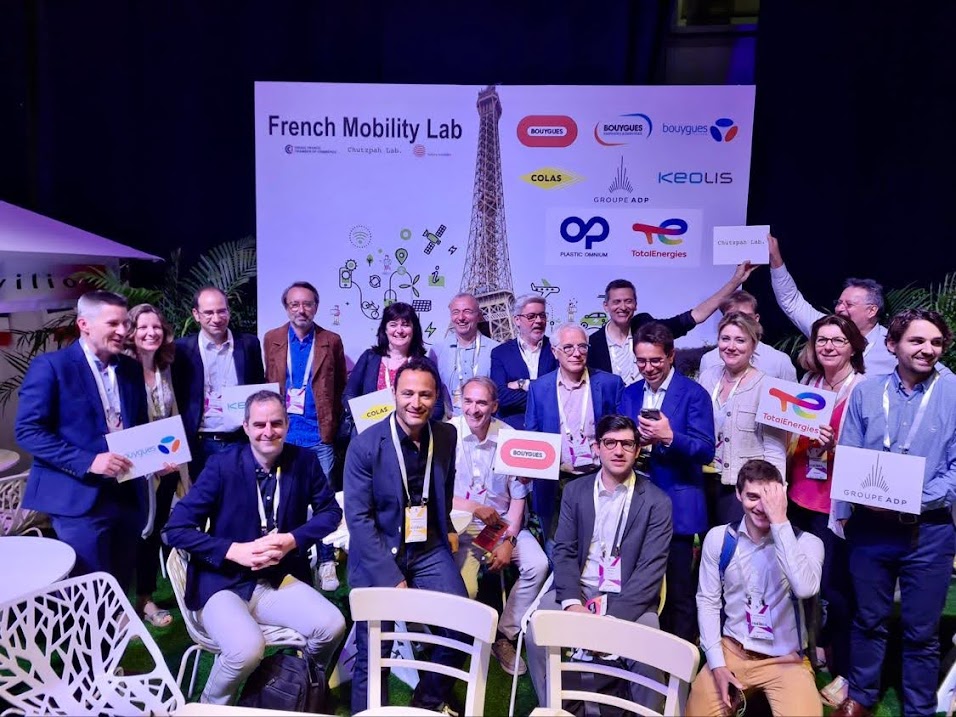 Many meetings over four days provided an opportunity to better understand the Israeli innovation system. Two challenges, organised ahead of the trip, enabled the group participants to quicker target start-ups of interest in the fields of future energies and the mobility user experience.
Startup Nation®
The trademark registered by Startup Nation Central in Israel reflects an impressive reality, in terms of the number of start-ups, unicorns, and 'soonicorns' (soon to be unicorns), as well as the amount of fund raising and state investment in research and innovation.
Startup Nation® figures
7,000 start-ups in May 2022
Over 210 investment funds
Over 80 accelerators, 29 incubators
Over 350 R&D centres belonging to multinationals
9 public universities, 17 technology transfer offices (TTOs)
4.9% of the GDP dedicated to R&D, world leader with high leverage on private funding, the latter finanacing 90% of Israeli R&D
93 unicorns in May 2022 (developing fast!)
± 100 start-ups listed on the NASDAQ/NY Stock Exchange
Around 10% of people in work have jobs in tech
US$26 billion funding raised in 2021 by the start-ups, i.e. three times more per inhabitant than in the US
85% foreign investments
Source: Startup Nation Central
Important to know, according to Jérémie Kletzkine, VP business development, Startup Nation Central, is that in Israel start-ups are only considered start-ups if they are working in technology. "If there's no desire to create large scale value, driven by high-tech, it's not seen as a startup here." In other words, "there are very few start-ups innovating use cases in Israel; most are innovative tech companies." So being a small new business here working on digitalisation isn't enough to be considered a start-up. Digitalisation of processes or documents isn't seen as innovative, more as ongoing improvement.
Israeli entrepreneurs first aim to solve a technology problem, then seek out where this tech could be applied. Unlike the French who look for a solution to a problem already identified. Somewhat confusing for our French companies, who must first understand the tech before linking it to potential issue to be addressed in their own business activity.
Furthermore, start-ups in Israel work largely in B2B segments. "When you look at the list of Israeli unicorns, few of them are known to the general public," adds Jérémie Kletzkine.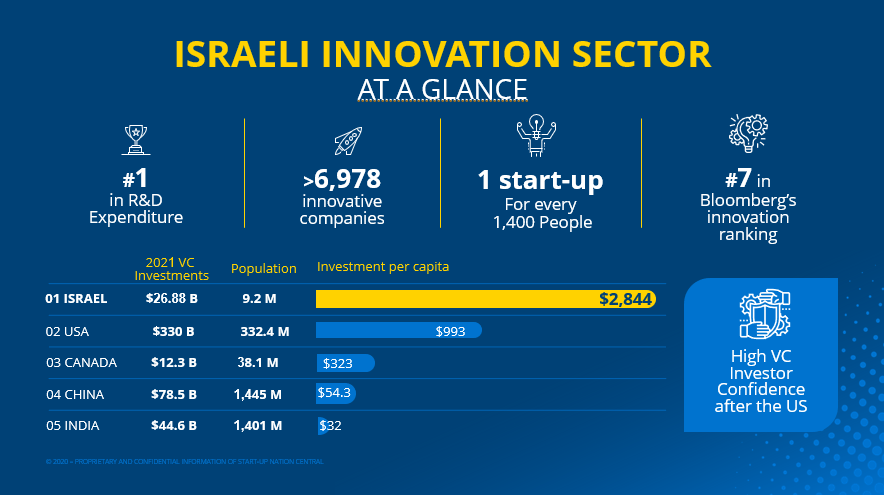 Startup Nation®… why?
What lies behind these figures? How is the ecosystem so dynamic? Several factors help explain how the right conditions have been met to facilitate innovation.
Firstly, business relations. Israel is a small country (9.4 million inhabitants on 22,000 square kms) so networking is easier. Business relations are part of the culture and even the resilience of its inhabitants to the conflicts the country has faced since its creation. There is festive atmosphere about Tel Aviv, food is plenty and shared, contacts are facilitated.
Likewise, the great ethnic, social, and cultural melting pot of the long military service in Israel makes meeing people easy and and helps build strong and long-lasting social relations.
It comes as no surprise that Tel Aviv is internationally recognised as a Gay Pride hotspot, after San Francisco. Which leads Yossi Dan to remark: "when you overlap the cards of a large gay community and innovative fields all over the world, you notice how the two coincide" (source: 'Global Tel Aviv, international department of the city of Tel Aviv). Not that gay people are necessarily more innovative than others, simply that the local, open-minded culture is a driving force for innovation.
According to Yossi Dan, three watchwords sum up the innovation culture of Tel Aviv.
Chutzpah, which can be translated as 'having a lot of nerve' or 'being bold'. It's all about taking the plunge. Daring to contact, daring to ask, taking a chance. It's means taking the initiative, having an entrepreneurial spririt.
Rosh Gadol, which means 'head first'. This corresponds to having one's eyes open, never getting bogged down in a routine, being open to the ideas of others.
Thirdly, Tachless, which means 'the bottom line', and so describes the drive for efficiency, with a strong sense of pragmatism. This is most likely down to the influence of Anglo-Saxon culture, many Israelis having studied in the US. "If 15 minutes into a meeting you realise it's not going anywhere, everything stops there," explains Yossi Dan. For the French, this behaviour might be taken as being rude, even harsh. For Israelis, it's seen as doing each other a favour by not wasting their precious time.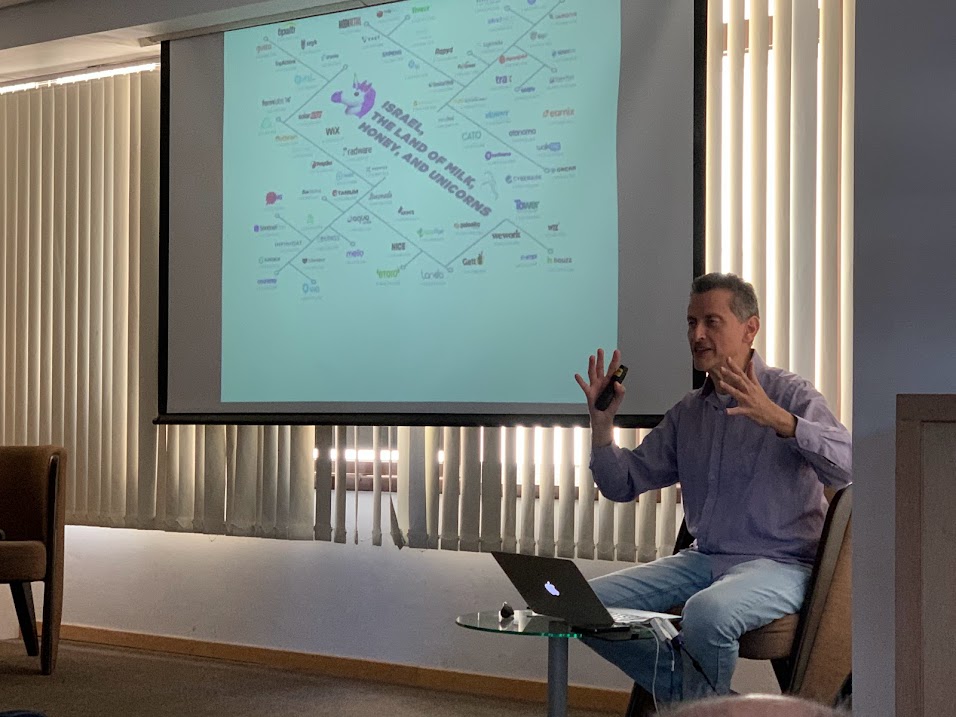 The management culture of the army, clearly a major influence on the lives of Israelis who have to do three years military service, men and women alike, influences the country's innovation culture too. Contrary to common belief, there is very little hierarchy about the way the army and also education in Israel work. "They [young people] are expected to reason […] with respect for hierarchical order yet are given plenty of room for manoeuvre for taking the initiative, which is further strengthened by the fact the notion of hierarchy is experienced in the army as implicit: there is no social or racial hierachy," writes Edouard Cukierman, founder of a large Israeli investment fund and his investment bank Catalyst, in his book Israël valley, le bouclier technologique de l'innovation, published in 2013 by Pearson, co-authored with Daniel Rouach. So this fosters the welcoming of ideas from all and everyone in a spirit of Gadol, openness.
The importance of the army and level of conflict surrounding the country encourage research on topics like security, and cybersecurity or logistics in particular.
Another factor, universities in Israel do everything in their power to ensure rapid technology transfer between the research work and their potential application. This means patents are registered fast and many start-ups are spin-offs from universities, like the famous Mobileye, acquired in 2017 by Intel for $US15.3 billion. This factor, coupled with an extremely high level of education nationwide – 9,2% of people in work have jobs in high-tech! – explains the advanced level of research.
Finally, the government invests massively in research: at around 5%, its share of GDP earmarked for research is the highest in the world. The State invests in the early phases of a project, and by so doing shoulders the risk of failure. The 'chief scientific office' shoulders 85% of the financial burden during this critical phase, while private incubators are given 50% shares of the company. If it fails, the entrepreneurs don't have to reimburse the State.
Startup Nation®… what kind of collaboration with French businesses?
Israeli start-ups don't need funding."There is money… most likely too much!" confirms Mr Kletzkine.
Instead, what they really do need is a playing field. Indeed, since the country is very small, start-ups struggle to deploy their innovations on a large scale and test them. Moreover, despite its innovation strengths, the country doesn't appear very modern.
"Start-ups here need a field for experimentaion, large data sets too," explains Yossi Dan. Since their starting point is the solution, not the issue, "they also need a problem to solve, a specific issue so they can gain exposure to real-life situations," he adds. "This is why we added a start-up Studio to Chutzpah Lab, to support technology projects between big groups and start-ups."
During EcoMotion, two people from the State of Michigan, heading innovation and transport respectively, were attending the event solely with this aim in mind: their American-style 'show' presentation shouted out to the Israeli ecosystem "We need you! Come and try your innovations in our territory!" – to work on all the mobility challenges faced by this State deeply rooted in the auto industry. In this way, Michigan encourages and supports Israeli start-ups coming over to the US, for example, by covering the costs and placing the start-ups within the innovation hub set up by major manufacturers, led by Ford and General Motors.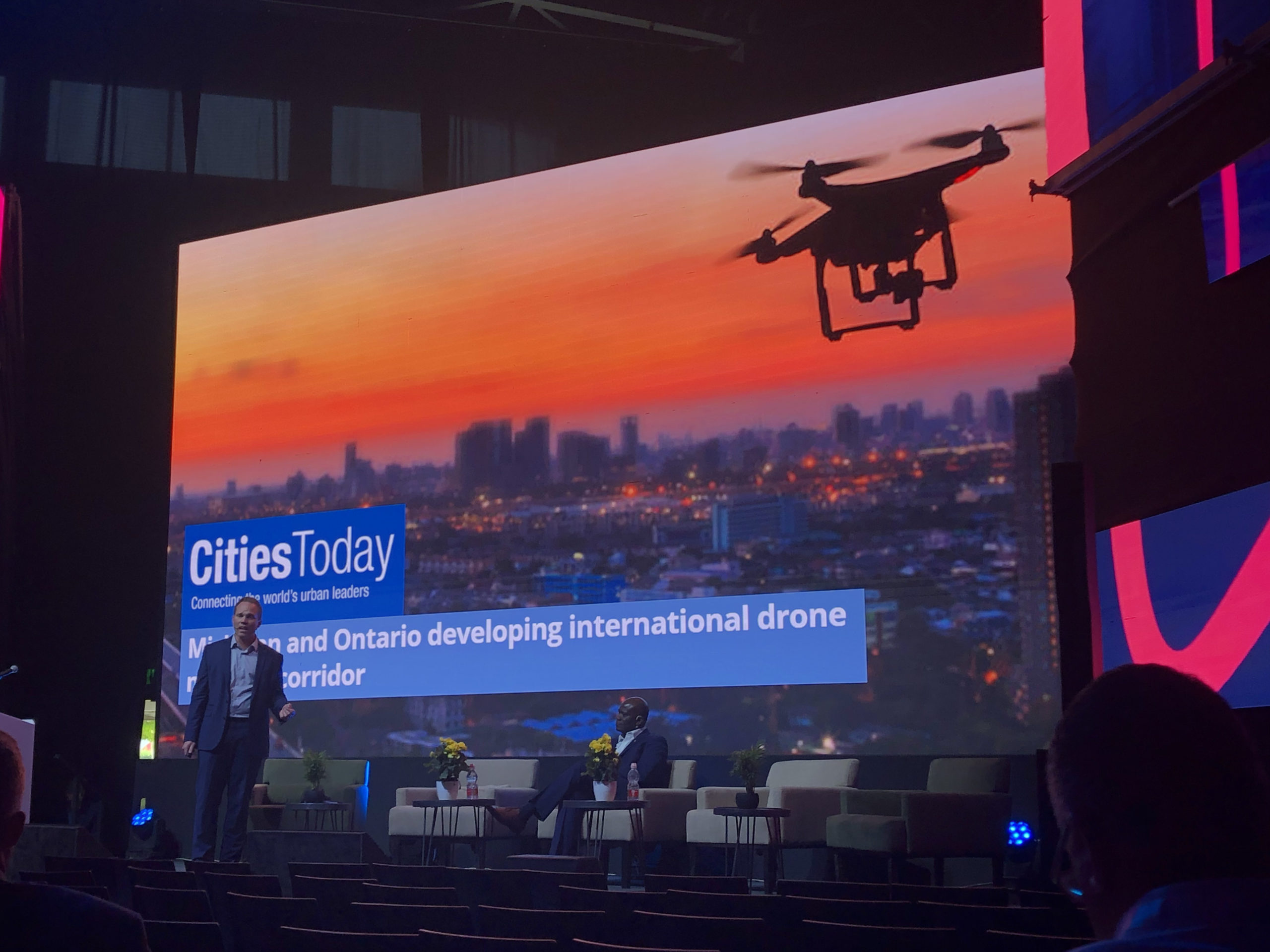 The ecosystem is also capable of working on a given, clearly defined issue. This is one of the approaches of the  Living lab, founded by Dr Smadar Itzkovich. This innovation laboratory brings together start-ups and businesses prepared to share their data in order to work together. Recently, eight start-ups and companies joined forces to improve traffic management in Tel Aviv to make the roads safer, by car, bus, electric scooter…. The issue was raised and the Israeli government came up with the funding. As far as Dr Itzkovich is concerned, "sharing data is good for the common good AND for business!"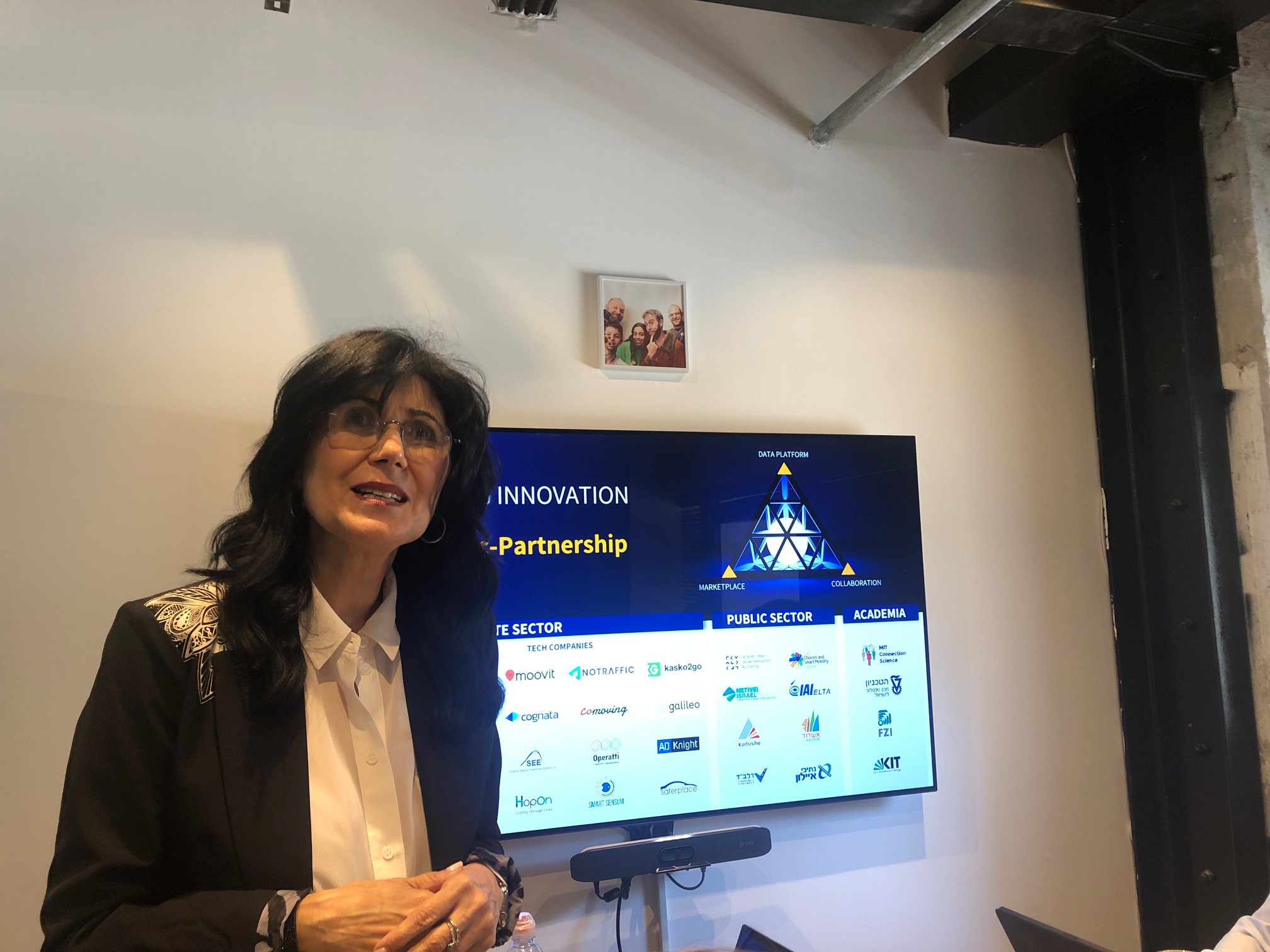 Given the lively nature and drive for efficiency that characterise the Israeli ecosystem, working with local start-ups calls for especially agile organisation from the industry companies. Indeed the latter must be able to take quick decisions on whether to work together, then provide scope for experimentation, and ultimately manage the collaborative project efficiently. Otherwise the start-ups will soon be seeking more innovative horizons…
And in detail? Overview of some small businesses encountered
During the trip the group met many start-ups, some who participated in the two tech challenges, others on their business premises.
On-site was the case for Electreon. Previously met in 2019, the company deploys contactless electric charging solutions. Designed for electric vehicles, three types of charging are possible: dynamic for vehicles driving at normal speeds on the roads; semi-dynamic in zones where vehicles drive slowly (taxis, for instance, in passenger pick-up areas); and static for parking lots.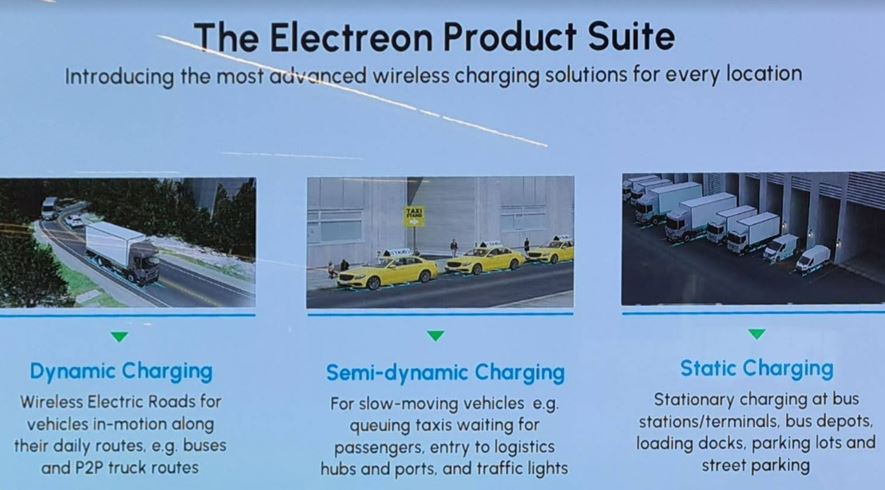 The stated charging efficiency is 85% for dynamic recharging and 90% for static. Seven pilot projects are ongoing worldwide in Israel, the US, Sweden, Germany, and Italy – and over 50 others are in negotiation. The price is high at €650,000 per km for installing the solution in a single direction (excluding  the network connection, asphalt or even equipping vehicles with the necessary modules), yet means heavy vehicles can be lightened with a smaller battery pack. However a new business model is now in place, whereby Electreon takes charge of installing and invoices the client a monthly fee per bus.
Impossible in this article to showcase all the interesting start-ups met over these three days! The finalists in our two tech challenges as well as the winners – ITC and Parknay – are presented on our website.
How best to discover the hidden gem? Dig deep, keep on making contacts, and come back next year!