Autonomous driving, 5G & EV charging in Japan
Autonomous driving, 5G & EV charging in Japan
by Joëlle Touré, general delegate, Futura-Mobility
7 June 2019: a very special conference took place on board Futura-Mobility's office in Paris. Through a live streaming from Japan, we listened to Minoru Takeushi, CTO, Valeo Japan, together with Pierre Mustière, CEO, Bouygues Asia and its Head of Market Analyst, Stéphanie Ayusawa.
They gave in-depth and captivating presentations about the development of autonomous driving (AD), 5G and electric vehicle (EV) charging infrastructure in Japan.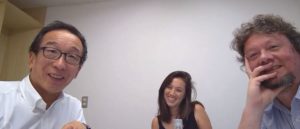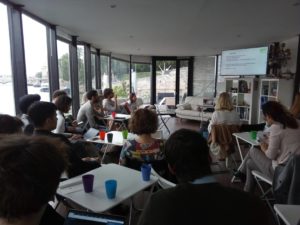 Autonomous driving: to solve social problems
Society 5.0 is an initiative announced by Prime Minister Shinzo Abe in 2016. Mobility is one of its priorities. A first AD showcase is planned for the 2020 Tokyo Olympics.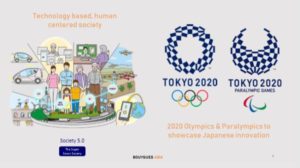 "Through this programme, the government is seeking to drive the digital transformation and creativity of people together to resolve social challenges," said Stéphanie Ayusawa. "Japan is currently facing two major issues: a growing ageing society and an extremely serious labour shortage."
Figures provided by Takeushi Minoru confirm that this population ageing is creating a shortage of truck drivers, with 40% currently over 50 years old. Yet the fast-growing e-commerce segment needs more drivers…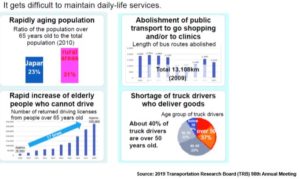 To overcome this stumbling block, one solution could lie in the ongoing development of truck driving technology, with just one driver in the first truck of a platoon. The other vehicles would use radars and other technologies. Softbank is currently exploring one key platooning scenario – what happens when the trucks go out of cell network coverage, e.g. when entering a tunnel.
Here one of the key strengths of 5G comes into play: since the technology enables point-to-point communication, it can guarantee vehicle-to-vehicle communication even when the platoon is outside cell network coverage.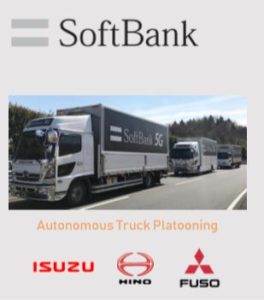 Autonomous driving can also help improve social conditions for people living in rural parts of Japan. More elderly people are unable to drive or have/are giving up their driving licences when over 65 (encouraged by government). Yet in rural parts of the country, the elderly need to be driven to convenience stores.
Japan's elderly drivers swap licences for noodle discount
In this context, AD is expected to help improve mobility for society and create new value for mobility. For instance, public transport buses currently only stop at bus stops. Passengers, including the elderly or mobility impaired, have no choice but to complete their journeys on foot.
In a future scenario, bus stops may well become a thing of the past. Everything will depend on autonomous vehicles, i.e. to complete first/last mile trips, to deliver goods, i.e. drones. Society 5.0, which aims to transform mobility into Mobility as a Service (MaaS), will start as soon as 2020.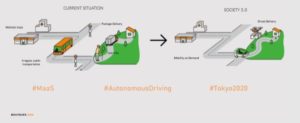 However, "the number one priority for AD is to reduce road traffic accidents," said Mr Takeusi. To prove this point, he showed us the figures: at 37.3%, the traffic fatality rate among pedestrians in Japan is higher than in Sweden, France, the U.K., Germany, and the US. Breaking this down further, 15.6% of traffic fatalities in Japan involve cyclists, 15.9% cars, and 21.4% motorbikes.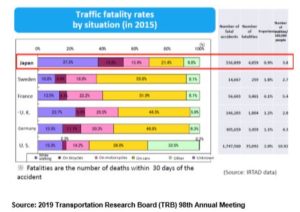 To tackle this issue,  SIP-adus – Innovation of Automated Driving for Universal Sciences – a cross-ministerial Japanese programme, is coming into play. It is working to combine infrastructure like traffic signals for detecting pedestrians using radars and other sensors, together with communications data to avoid conflict between vehicles and pedestrians. Other areas of this programme are exploring AD buses, the Human Machine Interface, dynamic mapping, and cybersecurity.
In terms of regulations, Japan has recently authorised Level 3 AD. This means you can be in a self-driving car and check your smartphone but have to be able to switch to manual in the case of an emergency. In addition, guidelines already exist for remote surveillance by the police, such as strict rules for braking distances.
Valeo, for instance, is preparing to validate road and transport environment conditions for AD. For this it has developed two types of demo car: one, Cruise4You, for the highways; the another, Drive4You, for city roads.
One of the Group's achievements in 2018 was the Cruise4You tour around Japan. Covering 6,700km in 13 days, while in some cases manual drive was used, 97 to 98% of this road trip was hands off.
Filmed in Paris, this Drive4You (demo video) shows AD in different urban traffic conditions, i.e. involving pedestrians, cyclists, and traffic lights and signals. The car is equipped with 12 ultrasonic sensors, eight LiDAR scanners, four radars, one front camera, and four surround cameras.
The LiDAR scanners, which can perform 3D real-time mapping, enable high precision location of the vehicle on the road, as well as accuracy within 10cm for its position, which is much better than with GPS. This sensing technology is essential for operating driverless cars safely.
"We are preparing this car in Japan and will start a demo on the public roads here after the summer break. Our aim is not only to develop Valeo's expertise but also to contribute towards further developing AD capabilities through the SIP, which we are pleased to be doing," said Minoru Takeushi.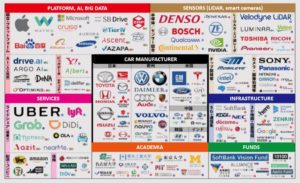 "A Hub for Automated Vehicles will open by 2027, to coincide with the launch of autonomous trains (high-speed trains). Uber has chosen Japan as one of five locations for the commercial launch of its flying taxis," explained Stephanie Ayusawa.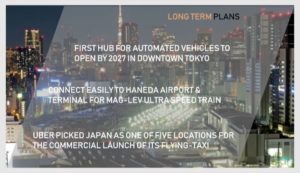 5G is needed to develop AD and potential new services
In May 2019, the Japanese government directly allocated 5G frequencies. Since they are free, no auction was involved.
"The three main frequencies – 3.7GHz, 4.5GHz, and 28GHz – are not the same as what you might see in other parts of the world," pointed out Pierre Mustière. "Consequently, there are concerns this may lead to an explosion in various areas of 5G communication spectrum all over the world. So it's like taking one step back."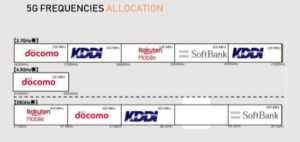 Overall, operators are investing massively to launch 5G.
In the very short term, Japan is hosting the Rugby World Cup this September 2019. Mobile operators are currently working on new types of experiences and services, based on 5G. For instance, 'multi angle viewing': if you want to watch a game but can't attend in person, you can still watch from all angles on your tablet thanks to cameras located across the stadium.
NTT Docomo and Nissan are developing the I to V concept – invisible to visible – that merges the virtual and real worlds. For instance, a driver wearing a head-mounted display (HMD) views the potential scenarios if someone crosses the street two blocks away, or if there is an accident. The HMD displays all the scenarios coming to the driver in augmented reality.
Another technology, called 'Metaverse' enables passengers with HMDs to access everyone in the form of avatars. So, for instance, a man wearing an HMD looks to his left and the avatar of this wife appears! This gives him the impression of travelling with her by his side, even though she isn't physically present.
"These kinds of technologies obviously require exchanging huge volumes of data that are too heavy for 4G technology!" added Pierre Mustière.
EV charging station infrastructure : soon to plateau?
Buying an electric car (EV) is currently still extremely expensive for the Japanese. One of the cheapest models on the market today is the Nissan Leaf, at $30 000, whereas the average cost of a combustion engine car is $15,000.
A second challenge is EV range: how far and how to calculate the charging times?
The map of Tokyo below shows all the electric charge points in the city centre.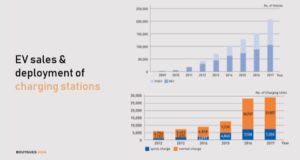 Convenience stores remain the most common place to find a charging station: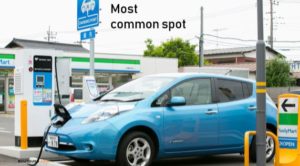 Many mobile apps for locating charge points exist, but so too do many different types of chargers:
– the normal type needing 4 to 8 hours for a full charge; this one is easy to install and the Japanese government is providing grants to do so;
– the vehicle-to-home concept, working in both directions; an option taken seriously in Japan following major earthquakes;
– the fast charging type (30 minutes), with many companies involved, mainly Japanese and Chinese. Two of them, the Japanese Chademo and the Chinese GBT, have joined forces to launch a new 'universal fast-charging type' connecter. Called 'Chargee', it can be used 'everywhere' and is targeted for 90-95% of charge points worldwide!