Business model disruption – part 2
no comments
Categories:
Tags:
Business model disruption – part 2
June 27, 2018: Futura-Mobility members continued discussions over business model disruption, the theme chosen for 2018, together with representatives from Toyota, Michelin, and POMA.
TOYOTA
Sébastien Grellier (photo below), communications director for the media, external relations & the environment, Toyota France, described the corner turned by the Japanese automaker, which today has  63 production sites across the globe, of which nine in Europe. Two lines of thinking ran through his presentation: the environment and services.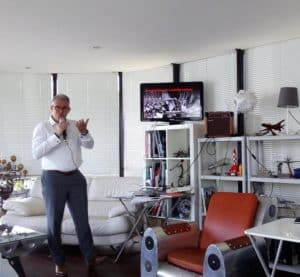 Towards a small environmental footprint
In order to produce environmentally friendly vehicles, as part of its Environmental Challenge 2050, Toyota has adopted a 360° approach to vehicle lifecycles that extends beyond their service life to embrace early design to end-of-life recycling options.
"By 2050, the factories building our vehicles won't be emitting any CO2," said Mr Grellier. "We aim to reduce the CO2 emissions of our new vehicles by 90% compared to 2010 […]. By 2030, we hope that over 50% of the vehicles we sell will be electric, either battery or hydrogen." Other key aspects of the Challenge include biodiversity and the attention paid to resources, particularly water and energy.
On the energy level, Toyota, already a pioneer in manufacturing hybrid cars two decades ago, now has its sights set on electrification.
"In terms of technology, in the future we will be seeing electric motors co-existing with hybrids, rechargeables, and 100% battery drives, as well as hydrogen vehicles, depending on the different parts of the world." Sébastien Grellier sees the development of hydrogen and renewable energies as being closely linked, with the former storing the latter, and acknowledges the strengths of hydrogen in terms of ease of use, significant range and fast charging.
More demanding is advancing data-linked services.
"For us the biggest challenge isn't the engines, our core business, but more the services and the concept of Mobility as a Service [MaaS]."
Indeed Toyota is forging many more alliances to move forward in this particular area and has  two entities  carrying out service-focused R&D activities: on the one hand, the Toyota Research Institute, which is working on artificial intelligence (AI) to develop the autonomous vehicle; on the other, Toyota Connected, launched in Europe in March 2018, which is developing new services based on big data plus a platform. In the US and Japan, the first vehicles connected to this platform have been launched. For Europe,  they should arrive within the next 12 to 18 months.
Today, 95% of Toyota's business is in the traditional field, selling cars, and just 5% in rental and services. "By 2030-2040, this service business should represent 30 to 40% of our activities," reckons Sebastien Grellier.
To advance these new services, Toyotais is drawing on its Olympic and Paralympic partnership runing up to 2024.
"With a first step in Tokyo, a showcase for mobility," explained Sebastien Grellier. Toyota is counting on hydrogen mobility in Tokyo with its Mirai car [cf. Hype taxis in Paris in partnership with Air Liquide] and hydrogen buses, already operating in the Japanese capital since March 2018 with a target of 100-strong fleet by 2020. "Then four years later, Paris [Olympic Games 2024] will be an important step for demonstrating how Toyota is contributing to this new mobility ecosystem."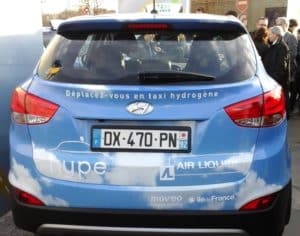 All these changes are, of course, strongly impacting internal teams, partners, and the distribution network. Changing mindsets in house and evolving external partnerships to grow new services represent major challenges for Toyota. So what approaches is the company adopting to nuture this new ecosystem?
"We are experiencing powerful disruptions and our approach tends towards 'we try', 'we're wrong', 'we start over again', which has nothing to do with Kaizen, one of the core principles of  Toyota's production system," explained Sébastien Grellier. "This is why Gill Pratt was appointed head of the Toyota Research Institute." The challenge is to transform this mentality to encourage employees to take more risks, to innovate.
e-Palette – service goes mobile
Sébastien Grellier concluded his presentation with a video of the prototype e-Palette, designed by Toyota's French site in Sophia-Antipolis, near Nice. "The idea is to have, by 2023, a modular (i.e. Swiss army knife) city vehicle platform that is both autonomous and connected."

The concept certainly seeks to change use habits, existing uses, made possible by vehicle automation: people no longer move towards services; the services come to them.
"We hope to have a fleet of e-pallets in pilot mode for the Summer Olympics in Tokyo," forecasts Sébastien Grellier. With this goal in mind, agreements are already in place with companies including Uber, Didi, and Pizza Hut.
POMA
Denis Baud-Lavigne, business development manager for urban cable in France, POMA, spoke to us about the changes and disruption currently taking place at POMA.
POMA's traditional business is building cable systems and their infrastructure for ski resorts. Since 1936, this Grenoble-based company has diversified into urban transport, which today generates a turnover identical to that of the mountain/snow-based business activities. "We have installed over 9,000  systems in 80 countries worldwide," revealed Denis Baud-Lavigne.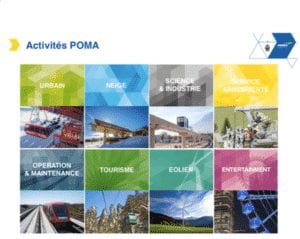 Towards urban cable mobility
"POMA has developed cable transport in urban areas over the past 15 years, yet it still remains a disruptive innovation for transport organising authorities, especially in France."
Yet with 5,000 passengers carried per hour/per direction, and 7,000 for ground-based systems, cable transport is an effective mode for urban settings.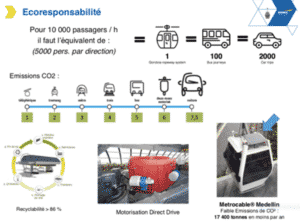 Up to 86% of the equipment can be recycled and the systems are powered by electricity: an advantage for cities in terms of air quality and noise.
A business model extending into operations and maintenance
The business model is currently reaching out from design activities to operations and maintenance of the systems installed. "Our contracts have become multi year, sometimes with commitments over 20 years like, for instance, the cable car system in Toulouse," explained Denis Baud-Lavigne.
These changes have unsurprisingly led to major changes in house.
The operation-maintenance teams are internal clients of the production teams. Thus, "innovation for us is rather  focused on managing skills transfer by using digital technologies – with a driving and maintenance simulator – to train the operations and maintenance staff even while the system itself is being built." As a result, the  teams are perfectly trained up right from the start of operations, and so ensure high levels of safety and service availability.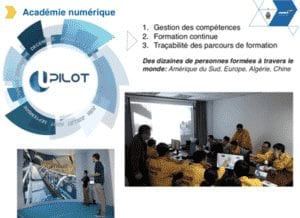 POMA has also developed financial engineering to fund projects and deal with concession-related matters, PPP (public–private partnership) or SemOp (public-private partnership with individual transactions). "For example, the company has a traffic risk concession for tourism in the city of Namur (Belgium)." For this, the shareholders had to be convinced of the rationale behind developing this competency.
Other activities, marketing and ticketing, have also become musts for POMA.  To embrace them, the company has built up partnerships with its traditional, mountain/snow customer base, which in turn have shaken up their established relations. "They are interesting arrangements that are pushing us all forward."
Externally, "the periods of concertation are anything but plain sailing." Discussions revolve around the intrusiveness of cable systems passing over homes, for instance. Furthermore, the references for urban cable systems, all outside France in developing countries, ne facilitent pas la projection des habitants de nos contrées. For Denis Baud-Lavigne, "it's like for the tramway in the 1980s, whereby proven examples help people better grasp the systems."
What about the arrival of drone taxis? Denis Baud-Lavigne is convinced "we will work hand in hand with room for everyone in the intermodal chain. Drone taxis are not designed to carry as many passengers as cable or even land-based mass transport."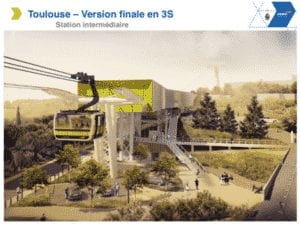 Michelin
Erik Grab, vice president strategic anticipation & innovation, Michelin, also participated in this Futura-Mobility meeting by giving its members pragmatic and illustrated insights on the tyre manufacturer's transformation into a provider of tyre-related services.
Details of Mr Grab's presentation are available in Futura-Mobility's online Members' Space (restricted access).
Heliodive – solar-powered vessels
At the end of the morning, Futura-Mobility members and their guests were invited to discover the joys of an electric boat trip on the river Seine, at impressive speed.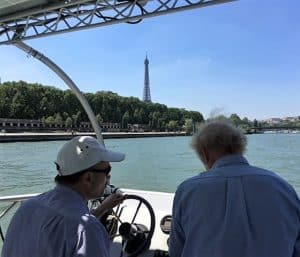 Alexis Synodinos, Heliodive's founder and designer: "I build boats that don't smell or pollute." Travelling up the Seine at 7km/hr in good weather, the boat didn't use any of its electrical battery charge: "all solar!" For Alexis Synodinos, "nothing remains for the combustion engine" because electric is more powerful and more efficient.