easyJet eyes electric skies
one comment
Categories:
Tags:
easyJet eyes electric skies
27 September 2017, London Gatwick: 'Greener' short-haul flights and taxiing, free in-flight entertainment, and automated drones for aircraft maintenance were among the highlights of easyJet's Innovation Day.
"Today is about showing how flying with easyJet will be easier every step of the way, one day," said the carrier's CTO Peter Duffy. "Thanks to digital and data, and driven by the huge potential of artificial intelligence [AI], we can speed up every process."
As buses, trains, and cars shift from fossil fuel to electric, planes can hardly afford to be left in mid-flight. To stay in play, easyJet is supporting US start-up Wright Electric in its ambition to offer aircraft for short-haul e-flights within the next decade.
"Our role is to provide Wright with airline insight on aspects such as operations engineering and airport perspectives,' said Mr Duffy.
"This is the first time the industry can envisage not relying on jet fuel," he continued, outlining plans for an e-craft with a range of around 530km (330 miles), capable of carrying some 180 passengers and covering 20% of all easyJet destinations.
"I never dared hope for this," commented Bertrand Piccard, initiator, chairman and pilot of Solar Impulse, on LinkedIn. "Everything is now going to move faster than I had imagined. After landing Solar Impulse in Abu Dhabi [July 2016] after 43,000km without fuel, I predicted electric planes for 50 passengers within a decade. Not necessarily solar, in that they don't generate their own electricity when flying, but charge their batteries on the ground before taking off. Everyone thought I was a dreamer. Today I've already been surpassed by technological reality. It's fantastic!"
"Fuel is expensive and volatile; electricity less so, plus it offers cost reductions and environmental benefits in terms of emissions and noise," said Jeffrey Engler, CEO, Wright Electric.
"For us in aviation, electricity is also the key to silent flight." Speaking at a Futura-Mobility meeting in June 2017, Patrick Gandil, managing director of the French Civil Aviation Authority (DGAC), pointed out and approved the supporting role of electricity in noise reduction for planes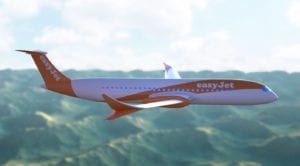 On the environmental scoresheet, easyJet is already marking points…
With their CFM Leap-1A engines, its Airbus A320neo aircraft (two in service; a further 98 to be delivered by August 2022) emit 15% less C02 and are 50% quieter than the rest of the current 279-strong  fleet.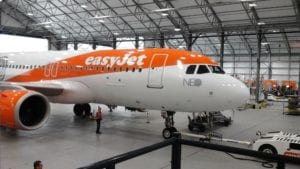 Taking this environmental drive further, next on the cards are new electric tugs. They will be introduced into service at London Gatwick to perform pushback on easyJet's fleet of 60 planes based here.
Capable of performing up to 20 aircraft pushbacks on a single charge, the TLD TPX100e towbarless tractors will replace the diesel tugs currently used, and which run idle between operations.
easyJet has also taxed its brains on… taxiing.
Due to the high frequency and short sector lengths of its operations, around 4% of the airline's annuel fuel consumption down to aircraft taxiing. To eliminate the local emissions this generates, and reduce the decibels too, the company has partnered with French tech group Safran to trial e-taxi hydrogen fuel cell technology.
Safran Power Units is now testing the fuel cell system on the ground in actual operations, integrated onboard an easyJet aircraft.
easyJet, Safran Landing Systems and Safran Power Units will experiment coupling the electric taxiing system and fuel cell to provide 100% electrical operation for aircraft taxiing phases on the runway.
The fuel cell will be integrated into the aircraft hold and combined with the Safran motorised e-taxi system, installed on the aircraft's main landing gear. It will supply the electrical power required for this system, enabling taxiing operations and manœuvres to be performed autonomously, without turning on the main engines, and therefore without using fuel.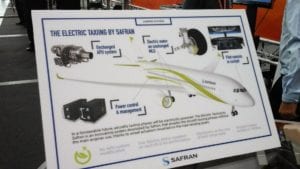 Once applied across its whole fleet, "this innovation can potentially save us around 50,000 tonnes of fuel and associated emissions per year," said head of engineering Gary Smith. Trials are scheduled to start at Toulouse airport in 2018.
"This marks a vital step forward in the use of hydrogen on airplanes," said Didier Godart, vice-president innovation, Safran. "It is also the culmination of work carried out by Safran over the last dozen years with the aim of drastically reducing polluting emissions."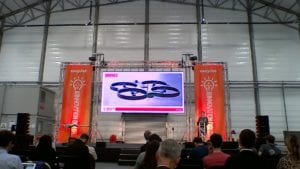 As is the case for other transport segments like rail (see Altametris in France), when it comes to improving the efficiency of operations, predictive maintenance is the way ahead. Especially for easyJet, which likes to keep its planes in the skies for around 11 hours a day (to reduce tarmac costs) and boasts a best turnaround time of just 30 minutes.
The use of drones, or Unmanned Aerial Vehicles (UAVs), for inspecting aircraft is expected to significantly reduce technical delays.
The company has already completed a number of stages in its testing programme, together with tech outfits Blue Bear and Createc. The idea is for automated UAVs to perform detailed aircraft checks and quickly report back to engineers on any faults or damage that require further attention or maintenance intervention.
"Drones may also be used to secure airport perimeters," added Cathal Corcoran, CIO, Gatwick Airport.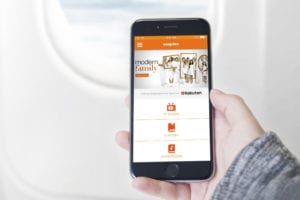 "We have over 21 million app downloads today, but what's next?" said easyJet's Dan Young, who heads up apps and the digital travel experience.
Mobile updates include the launch in June 2017 of an Amazon Alexa skill enabling passengers to easily and quickly check their flight status, plus an app in development that responds to voice commands for locating airport amenities.
Free in-flight entertainment is in the air, too. Provided in partnership with Rakuten et Immfly, the service, baptised 'Air Time', will trial this this autumn on five of the company's Geneva planes.
>>> Forward to the future
Serving as "flagside stores", easyJet is also keen to see its ports of call up their game. The 'airports of the future' programme – "to make journeys more hassle-free and seamless," according to customer director Ian Cairns, is pushing new technologies such as automatic boarding gates and bag drop-off service, plus automated ramps to "get more people to their destinations on time."
"Check-in is one friction point of air travel," said Mr Cairns. "Thanks to facial recognition and other technologies, ultimately you will be travelling with your face."
"In addition to consumer technologies like Google Home and Amazon Alexa, we're also interested in to getting information to passengers through conversational systems like chatbots," added Mr Corcoran.