Bouygues invites MIT to Paris
Bouygues invites MIT to Paris
Paris, December 11: jointly hosted by the Industrial Liaison Program (ILP) at Massachusetts Institute of Technology (MIT) and Bouygues Group, this meeting brought together MIT academics and industry leaders to explore the impacts – real and anticipated – of data technologies.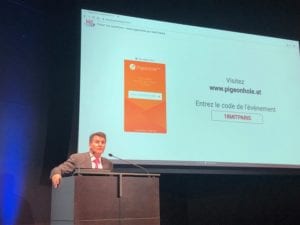 In his welcome remarks, Olivier Roussat, deputy CEO & chairman, Bouygues Telecom, said the Group is today focusing on developments in artificial intelligence (AI), big data, augmented reality, and the Internet of Things (IoT), and how best to exploit them. For instance, introducing robotics into the Group's activities to perform tasks that are physically strenuous for the human workforce.
Mr Roussat also questioned how these technologies are likely to impact cities and the global economy over the coming decade. In a 2018 discussion paper 'Notes from the AI frontier: Modeling the impact of AI on the world economy', McKinsey forecasts AI will generate $13 trillion (€11.4 trillion) in economic activity across the world by 2030.
As a member of the ILP, Bouygues is harnessing MIT's resources to both anticipate how the building trades are going to change in the coming years and invent disruptive construction methods.
Another strategy for the Group, in May 2018, Bouygues Construction and the Centrale Lille engineering school announced the creation of a research chair to increase productivity within the construction sector. With this goal in mind, the joint research team made up of PhD students, young researchers, and Bouygues Construction employees is working on three major lines of research:
robotics and automation on the construction site: industrialising production by studying the potential use of robots, 3D printing, and prefabrication on construction sites;
construction site optimisation: automatic collection, processing and use of construction site data for improved organisation of production and the supply chain;
introducing disruptive methods in design: enabling efficient, automated, smart, and adapted design.
Leveraging AI for collaboration and creativity
In his talk, Peter Gloor, a research scientist at Research Scientist at the Center for Collective Intelligence at MIT's Sloan School of Management , highlighted how to positively leverage AI-supported collaboration by building creative swarms as Collaborative Innovation Networks (COINs).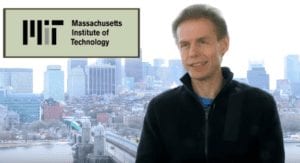 A creative swarm is a different approach to workflow whereby team members tackle projects together, instead of working in silos. The idea being that this approach brings more minds into the creative process to break down complex topics, spark collaboration and speed up the pace of delivery. A COIN is an intrinsically motivated group of people working together via the Web, supported by computer technology and AI, to create something radically new.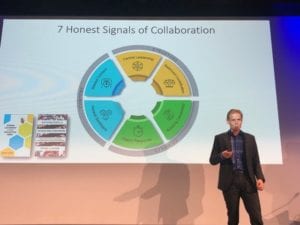 Investing in the right direction
Data-driven digital innovation is redefining how organisations create and manage value in house and externally. This change was the focus of the presentation by Michael Schrage, a research fellow at the MIT Center for Digital Business.
Insisting it is vital companies truly understand their customers/clients*, Mr Schrage believes the key to digital transformation is investing in human capital, creativity, and the skills of one's customers. "The answer to the fundamental question – 'what business are we in?' – depends on what customers you want," he said. "Another big question is: "how to make our customers more valuable, even in their own eyes?"
'Innovation is about designing customers, not just new products, new services, and new user experiences!' – 'Who do you want your customers to become?' (2012) Michael Schrage
The French industrial sociologist Frederick Le Play (1806-1882) revolutionised business strategy by recognising that the most valuable commodity of a coal mine was not the raw materials extracted, but its miners. In the present day, this message no longer concerns a company's employees but instead the customers who exist on a network like, for instance, Google, Amazon, Netflix, and LinkedIn, delivering essential information about their habits back to the company.
"The most important product of a network is the networker," said Mr Schrage. "People don't buy product; they buy better versions of themselves. Disney, for instance, allows its customers to become heroes and heroines, princes and princesses, kings and queens."
 Google, Amazon, and Netflix Know Their Most Important Product Is You
Since all the technologies needed to 'design customers' are available to companies today, they must use them while paying attention to culture, segmentation, socialisation, and skillification, explained Mr Schrage. "You must enable people to segment themselves. Network platforms are bait for self-segmentation."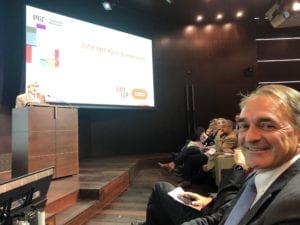 Note: *'Strictly defined, a customer is someone who buys goods or services from a store or business. The word 'client' can also mean 'customer,' but has a separate definition as someone who receives professional services. In business, the two words are often applied differently based on the types of relationships built' – source: Walter Wise, BPI Strategy Group
Cover photo: Flickr/cc – Thomas Hurst