Ifsttar buzzing in run-up to Université Gustave Eiffel
no comments
Categories:
Tags:
Ifsttar buzzing in run-up to Université Gustave Eiffel
8 January 2019: the key announcement at this press lunch, organised by French research institute Ifsttar, was the confirmation that Université Gustave Eiffel will open on 1 January 2020.
This new academic structure, dedicated to 'cities and mobility' is backed by partners Ifsttar, Université Paris-Est-Marne-la-Vallée, and the French engineering schools EIVP, Ecole d'architecture de la ville & des territoires at Marne-la-Vallée, ENSG and ESIEE Paris. It seeks to break down the barriers between universities, grandes écoles (higher education establishments apart from the French public university system), and research, while adopting strong and specific commitments to apprenticeship training and supporting public policies.
"This university will bridge our training gap and teach at all levels – Bachelor's and Master's degrees, plus other types of diploma – with an eye to graduates later working for city councils, purchasing bodies, and companies," explained Hélène Jacquot-Guimbal, managing director, Ifsttar. "Such an approach will help us bring research work into the field much quicker. Traditional structures often take too long."
By running a special programme at Université Gustave Eiffel for students planning careers in the mobility sector, Ifsttar will also be working with France Mobilités.
Launched by transport minister Elisabeth Borne in 2018, the France Mobilités initiative is designed to support the experimentation, development and dissemination across France of all types of innovation for everyday travel, as well as acting as a catalyst to revive the sector.
At the heart of two major initiatives to support innovation in mobility
Ifsttar is part of two new transport-dedicated hubs, scheduled to launch in early 2019.
Teams from the Vedecom institute, Ifsttar, and Transdev have joined forces to create mobiLAB, a site in Versailles that will support innovation in the automotive sector in the Yvelines department (Paris region). From February 2019, researchers and engineers will collaborate and jointly develop their work on mobility of the future, with a focus on the autonomous vehicle. The Yvelines is France's leading automotive department with 45,000 jobs in the sector, of which 15,000 researchers.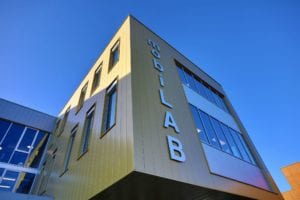 Transpolis is a new technology, research and testing platform dedicated to mobility innovation in the Auvergne-Rhone-Alpes region of France. With 45 public and private partners on board, including Futura-Mobility member Bouygues, it will explore areas such as transport systems in the networked city (where all the urban systems such as the streets, water supply, surveillance, and transport are linked); the appeal, safety, and security of transport systems including user comfort; innovative transport systems, with a focus on connectivity and autonomy.
Taking inspiration from nature
Talking about Ifsttar's research in the fields of geotechnical engineering, the environment, natural hazards, and earth sciences, Eric Gaume, geotechnical department manager, said that durability and the circular economy are currently two priorities.
To improve the durability of buildings and infrastructure, one approach researchers are exploring is how to improve their structural design. This involves "staying in touch with our surroundings, our natural environment, and investigating how their mechanisms function," said Mr Gaume.
Such is the thinking behind Ifsttar's BioAdd project, which is studying the mechanical performances of beeswax and of the hexagonal shape of the alveola in hives. "There could be potential to apply their processes to our methods of additive manufacturing," suggested Jean-Michel Torrenti, manager, materials and structures department.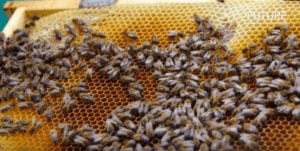 Biomimicry and additive manufacturing – what can we learn from bees?
Materials and reducing impacts
Describing the circular economy as "an important emerging topic," Mr Torrenti referred to the E3S collaborative experimental project ongoing in Châtenay-Malabry, a commune in the Paris region.
Part of a new eco-district under construction between 2017 and 2024, E3S has established four sustainable urban development priorities: low carbon; nature in the city, which includes urban agriculture and biodiversity; new use cases, especially urban and digital services; and the circular economy.
"All the construction materials for this district are recycled 100% on site," said Mr Gaume. "The thinking behind this E3S approach is, of course, to preserve resources and find ways of reducing the impacts of the materials used for buildings and infrastructure."
"This is why Ifsttar likes to work with materials typically considered low end, instead of high quality," added Ms Jacquot-Guimbal. "Using such materials that are, in theory, not usable, forms part of our sustainable development approach."
Collaborating with industry yet retaining independence  
On the relationship between research and business, Ifsttar's approach and attitude differs from that encountered by Futura-Mobility during its field trip to North America, in May 2017.
Montreal's McGill public research university and the machine learning laboratory (MILA) at University of Montreal, could be compared to Université Gustave Eiffel and Ifsttar respectively. But the two Canadian organisations openly acknowledge and welcome financial support from industry groups.
At MILA, the research model is atypical. While academic work doesn't depend on grants, applied researchers are company sponsored, albeit they are free choose whether to accept the funding or not.
At McGill, research funding is categorised in three ways:
Research grant: some or all of the funding is obtained from a public sector organisation
Research contract: funded solely by industry
Industrial research chairs: a company can work closely with an academic researcher
"We don't follow the American system," said Ms Jacquot-Guimbal, evoking the importance of maintaining financial independence. "With 80% of Ifsttar's activities funded by grants, which pay our salaries and running costs, and 20% by contracts with industry, we not obliged to accept every contract just to continue functioning. We work on societal issues because they are just as valid as those coming from the world of business."
At the same time, she reassured that Ifsttar in no way spurns companies. "Of course they have the right to be involved in research and it's important that our work is of use to them. But we do need to keep the upper hand."