Shifting user behaviour towards responsible innovation
Shifting user behaviour towards responsible innovation
Paris, 6 October 2017: organised by Futura-Mobility and attended by its founding members, this half-day meeting also welcomed the active participation of guests from start-ups, research institutes, design and architecture, big brands…. The relationship between consumer behaviour and responsible innovation is a concern shared by all.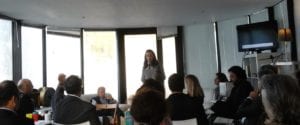 The programme kicked off with Marie Privat, advanced programs manager, corporate innovation directorate, Safran, reading (with aplomb!) a mobility-related scenario based on the premise 'what if tomorrow we had energy quotas that would limit our travel!'
The tale was just one of several futuristic imaginings co-produced by futura-mobility members and other participants during a three-hour, prospective fiction workshop, animated by Anne-Caroline Paucot, Les Propulseurs, in September 2017.
As well as stimulating the creative juices, this original approach to innovation, as evinced by the scenario in question, opens up wide avenues of reflexion – from technology to relational to oniric. It clearly has value as both a teaching support and trigger for discussion and exchange.
ROUND TABLE 1: 'UNDERSTANDING BEHAVIOUR'

No one-behaviour-fits-all. "The more we live different situations, the more this gives rise to different reactions and emotions, which in turn impact behaviour decisions," said Sylvie Granon, professor and director of a 'neurobiology of decision-making' research team, Université Paris-Saclay.
She pointed out that while people are increasingly concerned by environmental questions over transport, this doesn't necessarily mean they are changing their travel behaviour or habits. "Personal experience is more important than what we hear or are told," she added.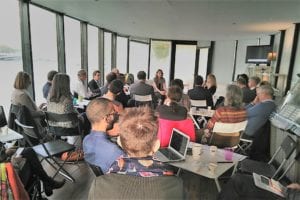 Sound the alarm? One question raised was whether or not industry, government, and the  public authorities should be sounding the alarm over mobility behaviour.
"The risk is that if the information is too much for people to handle, if it's too much of a burden, they'll turn a deaf ear," warned Anne-Caroline Prevot, research director, CNRS, and researcher at the French National Museum of Natural History.
To help clarify matters, she defined three main types of motivation that encourage people to take action towards changing their behaviour, namely:
the values (feelings, habits, etc.) attributed to the behaviour in question
social pressure, the 'what will the neighbours think' mindset
the perception of control – 'can I do it, and how, and will I succeed?
Studying the evolution of Disney cartoons and their portrayal of the natural environment over the past 70 years leads Ms Prevot to conclude that over the decades they have shown less and less vegetation and animals, "as if the image of nature for the cartoon creators, and society by default, is shrinking from generation to generation."
"Each individual creates their own set of references of what is good, like biodiversity for instance," she explained. "And these referential inferences shift between generations."
She also talked about 'environmental, generational amnesia' (Peter Kahn) and the 'shifting baseline'.
ROUND TABLE 2: 'ENCOURAGING BEHAVIOUR CHANGE'
"The main driver behind transitions in behaviour is economic. For example, designs can only be developed if economic factors are involved," said Marc Van Peteghem, VPLP Design/Nice Sustainable Design School/WATEVER.
The premise behind his VPLP project Oceanwings, which is developing a prototype, eight-metre sail, is the observation that boats today no longer use the wind as propulsion, despite having done so for centuries. He believes this innovation could have potential for big yachts. "The initiative must come from certain individuals if we are to see visible change in the future."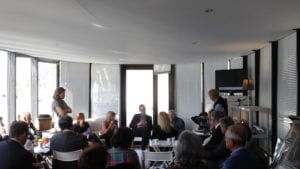 Innovation is nothing new. Further perspectives on innovation and behaviour came from Kataryzna Renie, head of sustainable development, Nespresso France, who said the success of innovation has already been apparent for over 25 years.
"It has resulted in an externality that will affect the future of the company because we have invented a waste product [coffee capsules] that didn't exist before. Even if it's insignificant at the global level, the company won't survive if we don't deal with this issue," she warned.
From the floor, Jean-Jacques Thomas, president of Futura-Mobility and innovation director, SNCF Réseau, highlighted the use of 'nudge' techniques by SNCF Mobilités [the passenger and freight entity of French Railways/SNCF] to encourage changes in the way 1) train passengers position themselves on platforms and 2) to dissuade them from taking 'no entry' pathways, which causes flow problems for everyone.