no comments
Categories:
Tags:
All eyes on mobiLAB
Inaugurated on 7 February 2019, mobiLAB is a new research hub in the Paris region dedicated to mobility of the future. It represents the first brick of a global project to build an innovative mobility cluster.
The site is managed by the semi-public company Satory Mobilité – a patrimonial holding company made up of public and private firms – with shareholders including the Yvelines department, Versailles Grand Parc, Renault, and Valeo.
The role of Satory Mobilité is to develop real estate on the Satory plateau for the automotive research ecosystem. "mobiLAB will serve as a lab for tomorrow's clean public transport," explained François de Mazières, president, Communauté d'Agglomération de Versailles Grand Parc, at the opening. "The aim being to offer local inhabitant quality services while integrating economic challenges relating to the environment and new mobility."
Lying at the heart of national defence industrial companies and close to test tracks, mobiLAB can now be accessed on board Framboise and Litchi, two autonomous shuttles operated by Transdev, while awaiting the opening of Line 18 of the Grand Paris Express (new-build automatic metro currently under construction).
Designed by Bernard Valero, co-founder of Valero Gadan Architects, as a "place of mobility and movement, not only for the projects carried out here, but also from one office to another", the 7,100 square metre hub includes labs, creativity rooms, co-working spaces, and a Fab Lab (prototyping area), as well as autonomous driving simulators.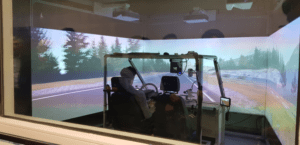 These different spaces, at times open to the public, allow various types of safety testing to be carried out before moving on to real conditions. For instance, assessing the best mode of transition between a vehicle auto pilot and its driver, or the ability of an autonomous vehicle to anticipate pedestrians crossing ahead.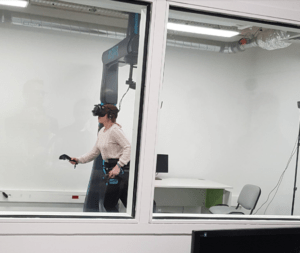 Although still early days, mobiLAB appears to be well equipped to welcome and nurture innovative mobility projects. As Marie-Cécile Guillaume, president and CEO, Satory Mobilité, pointed out: "A building is not enough; it's the beginning of an adventure! With this great tool it's now up to you!"