Tomorrow's mobility – eVTOL aircraft set for take-off
no comments
Categories:
Tags:
Tomorrow's mobility – eVTOL aircraft set for take-off
Driven by advances in technology, there has been much enthusiasm in recent years over electric vertical take-off and landing aircraft (eVTOL). Indeed, with upwards of 170 companies worldwide currently developing prototypes, the race is on to be the first to take-off on a commercial basis.
Nevertheless, beyond the fiction of films like Back to the Future, The Fifth Element or Blade Runner, reality is quite another matter. This new kind of mobility presents challenges in terms of use cases, user acceptability, rules and regulations, and industrialisation. There is still some way to go before these devices take-off once and for all.
This is the very direction Région Île-de-France, Groupe ADP and RATP wish to pursue together, as confirmed on 30 September 2020, when they unveiled a test centre dedicated to this new mode of transport.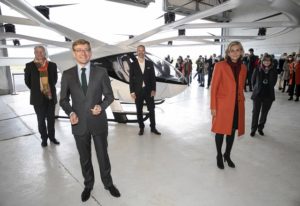 Located at Pontoise-Cormeilles-en-Vexin airfield, 35km north of Paris, the test site seeks to cover all the bases.  "It will involve real-life trials and demonstrators, but also reflection use cases, noise, rules, regulations, and so forth," said Edward Arkwright, deputy CEO, Groupe ADP , at the opening ceremony. Well aware that the aircraft in itself is just the tip of urban air mobility, Catherine Guillouard, president of RATP, insisted on the importance of other aspects such as urban integration of landing and take-off zones; the high safety levels required for flights; and exploring potential use cases.

"[eVTOL] aircraft won't be a high density transport system, like the RER [Paris commuter rail network] and its millions of passengers daily!" states Ms Guillouard,  instead ascribing use cases like health emergencies, connecting multi-modal hubs (stations and airports, for instance), tourist-related needs, or to help open up isolated areas.
Converging interests in run-up to the Olympic Games  
Volocopter, the German urban air mobility player, will be the first industrial company to benefit from the facilities at Pontoise-Cormeilles-en-Vexin, in 2021 – to test VoloCity, its eVTOL model. Today, the manufacturer claims it is the only one, at European level, currently undergoing certification by the European Aviation Safety Agency (EASA). "We are two years away from obtaining the EASA 'stamp of approval'," points out Florian Reuter, CEO, Volocopter.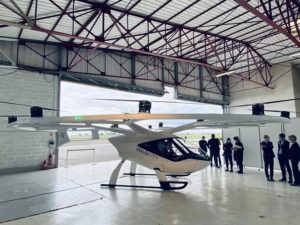 Perfect timing! Come two years, Paris is hosting the 2024 Olympic and Paralympic Games. "This event is an exceptional opportunity to mobilise the aeronautics industry and shine a spotlight on Île-de-France [Paris and its region] by positioning it as a reference region in the global market for urban air mobility," enthuses Valérie Pécresse, president, Région Île-de-France Region.
Furthermore, in order to bring together, over time, an ecosystem of big groups, SMEs, start-ups, labs and universities, a global-scale call for expression of interest has been launched online, with support from the agency Choose Paris Region.
For Groupe ADP, as it faces the challenges of the environmental transition of air transport and economic recovery of the sector,  eVTOL aircraft offer a new, innovative and carbon-free opportunity. "Our industry is at a turning point: a decarbonised industry by 2035," points out Mr Arkwright. As a reminder, in June 2020 the French government announced an aid package for the aviation industry, severely impacted by the Covid-19 pandemic, structured around three areas: saving jobs, transforming companies, and decarbonising the sector.
For Ms. Guillouard it is perfectly natural RATP should be taking a keen interest in air mobility, "because we see ourselves as a mobility 'assembler'. This new mobility is extremely compatible with our traditional modes of transport. We aim to become the privileged partner of tomorrow's smart cites and make the most of our human and technical skills and know-how."
Between now and 2024, everyone is keeping their fingers crossed the test centre at Pontoise-Cormeilles-en-Vexin aerodrome will give this long-awaited market wings. Of course, after a decade working in the field, Mr Reuter is impatient: "We are so close to take-off!" Meanwhile an upbeat Mr Arkwright concludes: "A beautiful new page is turning in the adventure of aviation!"
Cover photo ©Volocopter