TransPod launches subsidiary in France  
no comments
Categories:
Tags:
TransPod launches subsidiary in France  
31 January 2018, by Charlotte Marrécau
A snowy Paris provided a fitting backdrop for launching the Canadian TransPod in France. On 22 January, Futura-Mobility was invited to the Canadian Embassy to attend the official opening of a French subsidiary of the company. This signing was also an opportunity to strengthen ties between France and Canada, as pointed out by Isabelle Hudon, Canadian Ambassadress to France.
Co-founded by the Canadian Ryan Janzen, technical director, TransPod, and Sébastien Gendron, CEO, "a Frenchman who fell into love with Canada," in the words of the Ambassadress, the start-up is a great example of cooperation between France and Canada.
TransPod is developing an environmentally friendly, high-speed transport mode that "goes a step further than Hyperloop", pointed out Ryan Janzen. The plan is to transport passengers in pods that are encapsulated in a vacuum tube. Thus freed from exposure to the elements and with low aerodynamic drag, the pods could reach speeds up to 1,000km/hr regardless of the external weather conditions. As mentioned in an article by Futura-Mobility in 2017, a first prototype is planned for 2020 and certification in sight for 2022.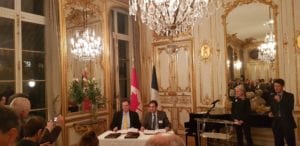 Based in Canada, TransPod has already opened offices in Italy and Toulouse. But it doesn't stop there. By opening its French subsidiary, the start-up aims to build a 3km-long test track in Droux (a village near Limoges), as well as new offices in Limoges that will welcome around 20 engineers in September 2019.
To implement this project, the co-founders are being backed by "three friends keen to put their region on the map," as explained by Jean-Claude Leblois, president of Haute-Vienne departmental council, Marie-Ange Magne, La Republique En Marche (LREM) deputy, and Vincent Léonie, mayor of Limoges and president of Hyperloop France. "The French now know about this technology and want it," pointed out the latter. This is why he created the association Hyperloop France, to combine forces and ensure this technology sees the light of day in France.
The start-up also took advantage of this gathering to present its three new partners. ArcelorMittal, represented by Jean-Martin Van Der Hoeven, vice président and chief marketing officer, ArcelorMittal, for whom Hyperloop is destined to become tomorrow's fastest transport mode.
EDF is also on board because "it is an innovative project close to the regions," as explained Gérard Teragnoli, deputy director EDF Commerce Centre-Val de Loire Limousin Poitou-Charentes. "EDF is a good fit with this low carbon, innovative project in the heart of Limousin. Innovation, the energy transition, promoting our regions, and the 'Choose France' dynamic. TransPod and EDF fully share the project goals. We should be involved since they fall in line with our current concerns."
The third partner is SADE, a subsidiary of Veolia specialising in underground networks, whose managing director, Patrick Leley, highlighted the seductive nature of the project. It was in November 2018 when TransPod and SADE first met. The staff at SADE were at once enthralled with the idea and the company decided to work alongside TransPod: "There is sure to be a lot of work ahead for our medium-sized company. But it's all very exciting and we are keen to prove ourselves capable of rising to the challenge."
In two languages, the two TransPod associates then thanked the Ambassadress for her warm welcome, Jean-Claude Leblois, Marie-Ange Magne, and Vincent Léonie for their support, and their new partners. Above all, they thanked their team by spotlighting its wealth of cultural diversity, while also regretting the lack of women – a shortcoming they are keen to rectify. "TransPod is not only an innovative company, it draws on the best from its supporting countries – diversity that is technological, but first and foremost human. The greater the diversity, the greater our innovative performance," declared Sébastien Gendron.
"Today we are building up a project in France and Canada, but this is just the beginning," he added. Indeed, the start-up has already established advanced contacts with Le Havre, Orléans, and Marseille, as well as other cities in Canada and Italy.
At the close of this inaugural event, what better words than those of Ambassadress Isabelle Hudon, the only woman centre stage: "I believe in this project and will be among the first passengers on board, if I may! I salute your taste for a project as well as your partners who believe in you. I wish you every success and look forward to travelling at high speed throughout the world!"