VivaTech 2017 – start-ups out in force
no comments
Categories:
Tags:
VivaTech 2017 – start-ups out in force
Billed as 'the 3-day rendez-vous for game changers',  the second edition of tech and innovation fair VivaTech drew a huge and enthusiastic crowd on its opening day. And a total of 60,000 visitors from start to finish.
By 10am the exhibition halls at Paris Porte de Versailles were packed and the atmosphere high octane.
All the big industrial groups were present, including Futura-Mobility founding members SNCF Réseau, Airbus, Air Liquide, Colas, and Valeo. But the 5,000 start-ups in the house really stole the show.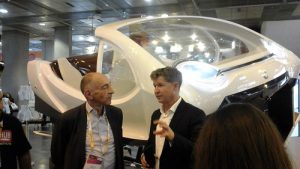 The rise of the Botniks
Jeff Keni Pulver gave a thought-provoking presentation on how chatbots are starting to revolutionise the way people and machines talk to each other.
Not convinced 'chatbot' captures the dynamics of this evolving community, he has adopted 'Botnik' as an alternative.
Chatbots first appeared in computer gaming as pieces of code that acted based on your actions, he said. And today they mimic the interest of the early internet in the 90s by just sharing information, text, but not doing business. I believe they can do much more than just text.
Talking about the potential benefits of 'conversational agents' and the 'conversational web', he whetted the audience's appetite by mentioning the money to be made: The evolution of the conversational web is going to create billions and billions of dollars of wealth.
On artificial intelligent (AI): People fear the dark side, but given the right opportunities I believe it can have a positive influence on your life. However, it won't be plain sailing. He warned that  ethics issues/perplexing questions – for example, when AI meets the autonomous/smart car – will have to be resolved.
What is Watson?
IBM was a huge presence at VivaTech. And the big buzz was around Watson, its platform designed for all businesses to tap into advances in machine learning and AI.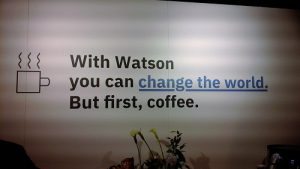 French Railways (SNCF) is using IBM's Cloud-based Watson IoT (Internet of Things) platform to reduce its maintenance costs.
The core components of its system – trains, tracks, and stations – are currently being equipped with thousands of sensors to enable them to 'talk to each other'. The insights (real-time information, data) gained from these 'conversations' will then enable the company to manage its assets more efficiently,  thus improving the quality, security, and availability of services.
The rail network in France comprises 30,000 kilometres of track and 3,000 stations in France.
In Japan, rail operator JR East is interested in Watson's ability to improve customer service. Together with IBM Japan, it has built an AI system to support operators at its call centres by improving the response rate and quality of answers.
New energy order

The mood on the Engie stand was upbeat. The French multinational is putting a spin on energy by remarketing it as a dynamic 3D concept and adopting the hashtag #FuturePoweredByEngie.
Said Isabelle Kocher, CEO, Engie: Tomorrow's energy world will be a very different, 3D world characterised by the watchwords decarbonised, decentralised – wup to 50%, whereby energy is produced, stored and used on the spot – and digitalised – connected at all levels, IoT, big data, and software.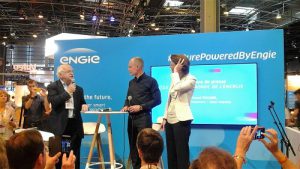 In the field of alternatives, the group is preparing a next generation of solar energy  that is molecular instead of silicon based. Admitting the technology costs are still high, since they are dropping, Ms Kocher said it should eventually prove cost effective.
Engie is installing 2,000 solar panels every day in France.
We are not talking 10 or 20 years for renewable energies, but the here and now.

Thirty two of the 47 start-ups currently working with Engie exhibited their innovative ideas for tomorrow's energy at VivaTech as part of the Lab ENGIE. We see ourselves as serving as a kind of link between universities, research centres, start-ups, clients and other actors, said Ms Kocher.
I find the partnership between this big group [Engie] and start-ups fascinating,  added Erik Orsenna, writer, academic, and board spokesman for Engie's Urban Strategy Council. He then went on too introduce Bertrand Piccard, the charismatic face/voice of Solar Impulse…
Here comes the Sun

I've been fascinated by this exceptional person for some time now, said Mr Orsenna. He is a psychiatrist, like my brother; an adventurer, unlike my brother. He combines dreams and the possible. He is a great psychiatrist of the planet.
Always certain to draw a crowd, Mr Piccard also has his critics. But few can argue he is doing a good job raising awareness of alternative energy technologies in the here and now.
Together with Ms Kocher, he announced that Engie and the Solar Impulse Foundation have joined forces to 'promote concrete energy solutions that are both economically and ecologically viable'.
He also touched upon other energy  matters such as the carbon tax – which will oblige industries to use what already exists – and legal frameworks – they can't evolve if no energy technology alternatives exist.
Another move by Engie, made in December 2015, is the TerraWatt Initiative (TWI). Together with the International Solar Alliance (ISA) and its member states, this global non-profit association seeks to establish proper regulatory conditions for a massive deployment of competitive solar generation.
This [TWI] is just one example of how, at all levels, there is plenty to motivate governments and international organisations.
Tech start-ups – all the rage?
Someone is always going to have an idea. And some of these people are going to make these ideas happen, others less so. We can't stop the human imagination, that's fantastic, and the reason why VivaTech will never saturate, said Maurice Lévy, president of the supervisory board at ad company Publicis, which co-organised the event with media Groupe Les Echos (Source: Le Parisien, 20 June, 2017).
For anyone who missed out on this year's edition, VivaTech will be back in 2018.
Enregistrer
Enregistrer
Enregistrer
Enregistrer
Enregistrer
Enregistrer
Enregistrer
Enregistrer
Enregistrer
Enregistrer
Enregistrer
Enregistrer
Enregistrer
Enregistrer
Enregistrer