Energy Observer – power to the people
one comment
Categories:
Tags:
Energy Observer – power to the people
Slick and sleek, Energy Observer is a floating power house.
Designed to be self-sufficient, powered by renewable energies and hydrogen generated on board, the 30.5 x 12.8 metre catamaran moored in Paris this July to meet and greet, prior to setting out to sea.
Its crew, led by Jérôme Delafosse and Victorien Erussard, is preparing to embark on a six-year, round-the-world odyssey, taking in 50 countries and stopping off at 101 ports of call.
Energy Observer is an extreme experimental platform, said Mr Delafosse, a media platform for raising awareness and meeting people who are innovating in energy across all sectors – from food and housing to healthcare and transport.
During the expedition, the vessel should achieve energy autonomy through a mix of solar and wind power, together with the decarbonised production of hydrogen from sea water.
The vessel certainly packs a lot in:
– 130 square metres of photovoltaic panels using three different types of technology;
– two vertical axis wind turbines;
– a 22kW fuel cell to generate electricity from the stored hydrogen, which acts as a range extender for the vessel;
– hydrogen tanks for long-term energy storage (62kg of H2);
– 440V Li-Ion batteries for short-term energy storage and power demand.
A smart traction kite enables the vessel to reduce energy expenditure by 1) using the wind 2) converting the electric motors into hydrogenerators.
It's a question of integrating all the technologies critical to the energy transition, said Pierre-Etienne Franc, VP advanced business and technologies at project supporter Air Liquide.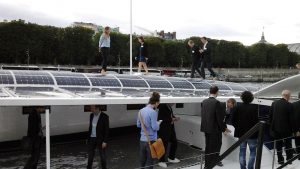 Change of pace
In a previous life, prior to her current transformation Energy Observer was a race boat. Owned by yachtsman Sir Peter Blake and sailing under the name Enza New Zealand, she won the Jules Vernes Trophy in 1994.
We're not a racing vessel, we're not about breaking speed records, explains Mr Delafosse. Our objective is to stop off and meet people to talk innovation and pioneering ideas for the energy transition.
We need to stop the guilt trip and encourage anyone who is taking steps, no matter how big or small, towards a clean energy future.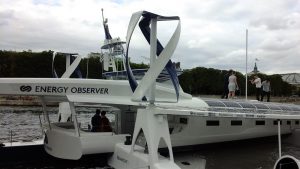 Scratch below the surface
As momentum gains and excitement grows over renewable energies, awareness of all their impacts is equally important. For example, metals are needed to produce solar panels, and while some are plentiful and mined in numerous locations, others are expensive and/or scarce and/or only available in one or few countries.
The life cycle of the panels used by Energy Observer is between six to ten years.
Yes, we're aware that nothing is perfect, but I'm confident that already as renewables gain traction, people will be coming up with solutions for recycling, Mr Delafosse told Futura-Mobility. I don't doubt there'll be a business for photovoltaic recycling in the coming years. We'll see.
Stop wasting water and shut the tap, don't chuck plastic… everyone can be an energy pioneer. 


Ecology economy
From hotel chain Accor, trucking firm Delanchy, hydrogen group Air Liquide, and automaker Toyota, the number of partners and supporters on board Energy Observer is impressive.
We are working on reducing the ecological footprint of our hotels throughout their life cycle, said Sébastien Bazin, AccorHotels Chairman & CEO. This starts with making our buildings more energy efficient from the moment they are built.
Ecology is now an economy and we're fine with this, says Mr Delafosse. It's the best hope for the energy transition.
Toyota France is supporting the expedition by providing the crew with Mirai fuel cell cars to get around during stop-offs.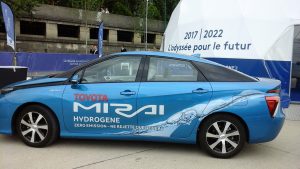 Talking with Futura-Mobility about the uptake of hydrogen autos, competition with other builders like Hyundai, and future perspectives, Sébastien Grellier from Toyota France said: Together we [industries] are building the 'cake'; later on we'll see who grabs the biggest slices.
Paris-based, hydrogen taxi service Hype has three Mirais among its fleet.
All together
The two key actors in the energy transition, reckons Mr Delafosse, are consumers – they are the ones who decide – and companies.
We want Energy Observer to take people's breath away. In developing countries, for example, to help them understand this drive to shift away from fossil fuels, what the adoption of renewables is all about, and, hopefully, encourage them to  make moves in a similar direction.
This project will only work if the entire population joins in, said Mr Franc. Its pedagogical aspect is fundamental.
A further feather in Energy Observer's cap is Nicolas Hulot. The French energy transition minister has been on board the project right from the start – he was the one who suggested hydrogen, said Mr Delafosse. I have high hopes he'll do some good, plus 'real decisions' have already been taken for the climate strategy.

We have under-estimated the share of hydrogen in sustainable mobility… for cars, but also trucks, and maybe even ships and plans in the long term, said Mr Hulot on radio station RTL (10 July).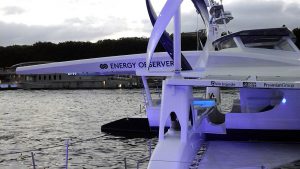 Enregistrer
Enregistrer
Enregistrer
Enregistrer
Enregistrer
Enregistrer
Enregistrer
Enregistrer
Enregistrer
Enregistrer
Enregistrer
Enregistrer
Enregistrer
Enregistrer
Enregistrer
Enregistrer
Enregistrer
Enregistrer
Enregistrer