Taxi-drone, Hyperloop, and Clip-Air at Vixouze
Taxi-drone, Hyperloop, and Clip-Air at Vixouze
by Joëlle Touré, delegate General, Futura-Mobility
For the 2nd edition of Les Entretiens de Vixouze on the future of tourism, held on 7 and 8 September in the Cantal region of France, topics on the agenda ranged from mobility to artificial intelligence to thermalism.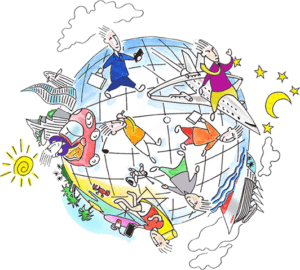 In his introduction, Patrick Tacussel, sociologist and professor at Montpellier III University, enlightened the debate on mobility. "The imaginary is part of everyday life; it changes our relationship with time and space; it is part of us," he said.
Belief in progress, technology, and science in the 19th and early 20th centuries implied superiority of the future over the present, and of the present over the past. "So human beings were often disillusioned!" A state of being that led to a quest for the 'beyond' at this time in history through drugs, travel, exotism…
"Then, when progress failed to prevent the great wars, began the era of fragility." For this postmodern humanity (post-World War II), "the past, present and future mingled and functioned as a whole," the relationship with reality is modified, it is "disposable", leading to the rise of 'fake news' whereby impressions are given greater weight than truth. This mixed up "nostalgia (the past), with the aesthetics of reality and proactive awareness (the future)".

On mobility in particular, two dedicated round tables took place in the magnificant hall of Château de Vixouze. The first – 'Will trains be faster than planes in 2030?' – brought together Shang Hsiao, CEO of Ehang, the Chinese company currently trialling its driverless taxi-drone for Dubai, Hélène Abraham, deputy director general, Hop !, Claudio Leonardi, Clip-Air lead at EPFL (Ecole Polytechnique Fédérale de Lausanne), and Sébastien Gendron, managing director and co-founder of Transpod – one of the seven start-ups worldwide working on the Hyperloop project in Toronto.
We learn that (de)pressure in the Hyperloop tube is between 10 and 100 pascals and the speed of around 1,000km/hr could even reach Mag2. The system is only designed for long distances – time to gently accelerate and decelerate for passengers! Industrial development is already underway, with a first prototype planned for 2020 and certification in Transpod's sights for 2022.
Too costly in energy? "No! The Transpod project is even designed with positive energy in mind. With solar panels on the tubes, energy could even be supplied along the route," confirms Mr Gendron. "Half underground, the route could become a green corridor." We can already imagine the scene: cyclists (active mobility), being overtaken underneath by these speed capsules.
The coming of the Hyperloop is already destabilising barriers between transport modes. "Hyperloop combines technologies from rail, air, and even space." Also, it questions the roles of today's operators: will airlines want to run 'flights' on the Hyperloop, or will this new mobility mode remain the prerogative of train companies? Tomorrow, will airport management companies manage the tubes, the Hyperloop infrastructure?
What if?
Taking things one step further… what if the Hyperloop capsules could be picked up by 'flying wings' for long distances? Well, frankly no! On this point, Mr Leonardi from EPFL, who has been working on his Clip-Air concept for 10 years, sets us straight: "For the time being, studies show that the capsules couldn't be transported in this way. But train coaches, yes!"
Clip'Air is based on complementarity between current transport modes. The concept involves using existing infrastructure and seeking maximum capillary effect for door-to-door trips. "Inspired by freight containers that can be loaded on and off trains, trucks, and ships, it imagines a capsule that enables the same kind of intermodality for passengers." The team at EPFL hasn't ruled out hydrogen as a possible fuel for these flying wings.
New flying machines
The EHANG184, a driverless drone for a single passenger, could be used for shorter distances, particularly first and last mile trips. With real-life trials proving conclusive for this single occupant (a dummy for the moment!) model, Ehang already has its sights set on models for two to five passengers in just three years.
The main stumbling block? Rules and regulations.
Innovation typically streaks ahead of legislation, and this is indeed the case for these new flying machines. "We need aviation regulations and flight authorisations," confirms Mr Hsiao. With a maximum speed of 220km/hr and autonomy limited to 30 minutes due to the current performance of battery technologies, the drone can fly at altitude of 10km. For commercial service it will be limited to 100km/hr and altitude of 400 metres.
The Chinese government is expected to authorise Ehang to fly within the next two years. And the company is hoping the US and European Union (EU) will follow suit. The flying vehicle, unveiled at CES 2016 in Las Vegas, could also be used to carry goods and equipment – in emergencies, for example, since it only requires five square metres to take off and land.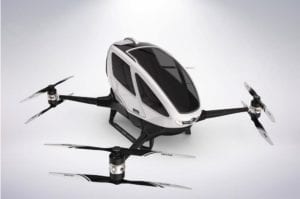 The second round table, on the theme 'my vehicle, a think tank' mobility, shook up the first with its focus on speed.
According to Stéphanie Vincent-Geslin, sociologist at Paris-Descartes University, the notion of ubiquity – going further, faster, and doing several things at the same time – is in conflict with a break in trend, observed by sociologists, towards slowing down.  "Switching between too many spheres in the same day gives rise to the need to recenter oneself. Which is most likely the reason for the success of conscious mediation," she says.
Anne-Caroline Paucot, writer and prospectivist, goes one step further by stirring the audience with her dispatches from the future, especially her "hyper flops" – those cutting-edge, technology-based projects that fail to meet expectations.
Alexandre Droulers, general manager, New Mobility Projects, Western Europe,Uber, picks up by questioning the 'revolutions' expected from driverless vehicles: "What are we going to do in cars that drive themselves? Will tourism in driverless vehicles emerge?"
"Before, freedom was having a car; now it's having a smartphone," he added.
Last but not least, this thought-provoking phrase by Ms Paucot: "Imagination is the best transport companion."
Enregistrer
Enregistrer
Enregistrer
Enregistrer
Enregistrer
Enregistrer
Enregistrer
Enregistrer
Enregistrer