Futura-Mobility explores AI in North America
Futura-Mobility explores AI in North America
Monday 28 May – 8am – Montréal : day one for the small fact-finding group of Futura-Mobility members SNCF Réseau, Airbus, Air Liquide, Bouygues, Keolis, and Safran.
Almost all the members of the think tank were able to participate in this seven-day immersion trip into artificial intelligence (AI), which included two days at Movin'On, the world summit on mobility organised by Michelin.
by Joëlle Touré & Lesley Brown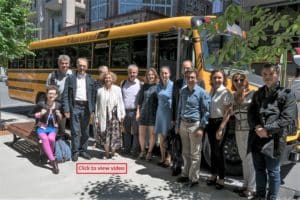 The following days were packed with visits. In Montréal, its Innovation district, the Centech incubator and its 'businesses in the making' – each one more remarkable than the other! – HEC Montréal, Tech3Lab, Sensorica, the start-up bus.com, Lufa (urban) Farms, McGill University, and Quebec Artificial Intelligence Institute (MILA)  – the cradle of deep learning.
In Boston, MIT's SENSEable City Lab (with its projects Real Time Rome, Monitour, and HubCab), fast charging firm WiTricity, and a one-of-a-kind meeting with David Edwards, biomedical engineering professor from Harvard University and founder of the ArtScience cafe.
*****
Right from the first few visits we were struck by the strong ambition, shared by everyone we met, to make Montréal the smartest city in the world!  An goal set by Denis Coderre in 2014, when city mayor.
As a consequence, the 'business' orientation is self-evident since the thinking is that the impacts of economic activities should be discernable in everyday life; they must really make a difference to the lives of local inhabitants and companies. Montréal is keen to attract the best talent and most innovative companies in the world.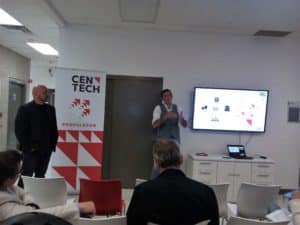 What sets Québec apart, and a particularity we didn't find in the US – and which, let's be honest, isn't a typically French trait either – is this ambition coupled with approachability and a great sense of humour, as well as strong belief in one's abilities, and touching modesty too.
To make Montréal the smartest city in the world, there's one word on everyone's lips: ecosystem! The ecosystems we visited combined four dimensions: academia, citizens, entrepreneurship, and the arts.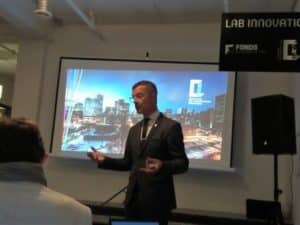 This cocktail is considered a must here for developing innovative territories and boosting businesses. Research, for instance, is intrinsically linked to business. Whether it be at MILA, the biggest AI research lab in the world, at HEC Montréal, where start-ups and academia work hand in hand, at Centech, the incubator for companies in the making, in part coming from ETS (École de technologie supérieure) engineering school, or even at McGill, where ongoing plans to restore the former Royal Victoria hospital are closely tied to neighbouring arts and innovation establishments.
This innovation drive is all the more forceful given the backing (financial and moral) of the powers that be. To be sure, start-ups know where their chances lie; many are drawn to Québec from abroad by the favourable context. "You can do more here with a million Canadian dollars than a million euros," they told Futura-Mobility. Attractive financial incentives offered by the public authorities when employing in the field of innovation, grants, other social and tax benefits… what's not to like?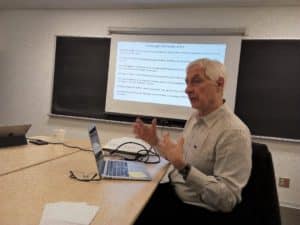 Why did Ubisoft choose choose Montréal as its base in 1997 rather than Paris? "Because the video games sector doesn't benefit from any tax breaks in France. It isn't considered a creative industry there!" explains Mr Cohendet (photo above). "And because Montréal showed itself extremely generous by offering a carrot that extends beyond tax cuts to include salaries. Even today, 30% of wages in the video game industry are paid by the Canadian government."
Yet another observation here: failure is part and parcel of the innovation process. "The Mosaic programme is born out of a failed attempt to obtain public subsidy," points out Mr Cohendet. And it's the same story for Lufa (urban) Farms, for whom business doesn't always run smoothly. Founder Mohamed Hage and technical director Nicolas Delanos openly explain how they have abandoned various ideas that simply didn't work out, to just move on to the next ones.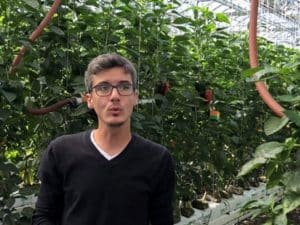 Artificial intelligence – fantasy and reality
On the topic of AI, one of the purposes of the fact-fnding trip was to help Futura-Mobility better distinguish between fantasy and reality.
The meeting of over two hours with Myriam Coté (photo below), director, R&D and technology transfer, Quebec Artificial Intelligence Institute (MILA) at Montréal University, and her team, together with various visits to companies, certainly dispelled a few myths… as well as raising a clutch of ethical questions.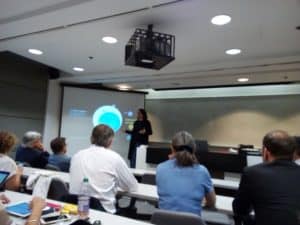 On myths, Ms Coté was quick to quote Yoshua Bengio – "today, AI capacity is no greater than that of a frog!" – yet given the speed of progress, "in maybe 30 years it will reach the level of an adult human."
As a consequence, AI "for good", as made clear by MILA, is under threat unless there's some serious thinking – both global and ethical – on the matter. Here MILA has already taken the lead at global level through the Montréal Declaration for a Responsible Development of Artificial Intelligence (November 2017).
In truth, nobody really knows what AI does to find the right responses. The neuronal layers function autonomously between themselves. And this 'black box' effect is fuelling our imagination. On this point, work by Jean-Michel Sellier, a researcher in quantum mechanics, another discipline, could help to clarify matters and overcome current fears, as well as further speeding up the pace of AI development!
All too often, debate on AI centres around competition with human jobs. But in actual fact, AI replacing certain tasks or even whole jobs is simply a continuation of the automation trend that emerged with the introduction of computing. All kinds of jobs are affected, be they low skilled or highly qualified positions, like that that of a radiologist, for instance. Machines analyse x-rays far better than human beings… already today.
Surprise, surprise, even small companies can bring about change – as we discovered at Lufa Farms in the company of its technical director, Nicolas Delanos. This urban farm business, created in 2009 and now with a 200-strong workforce, has introduced an AI sales assistant that handles recurrent queries from customers and 'puts in the same hours' as its human 'colleagues'.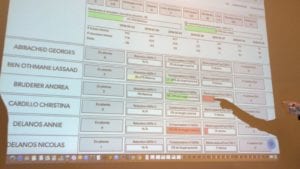 And this is just the beginning. The next step: working on predictive algorithms to obtain more precise forecasts of what customers are going to order, and so adapt production on the rooftops of Montréal accordingly.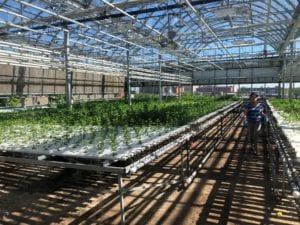 Technological leap
During the trip, two other types of technology innovation stood out for Futura-Mobility: the meeting with Sensorica in Montréal and the visit to WiTricity in Boston.
Tiberius Brastaviceanu (photo below), the brillant mind and founder of Sensorica, immersed us in the culture of peer-to-peer (P2P) distributed architecture.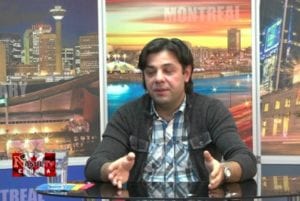 Using the word 'culture' is no exaggeration, given the huge cultural gap we felt and the potential power of this trend, magnified by blockchain. It's a move giving rise to new forms of ownership whereby nobody owns the service or the network. "But the logic of influence remains," explained Mr Brastaviceanu.

He also pointed out how the two worlds – of the masses and of big organisations – must meet, and that the current dominant model will transform. The most extreme people want this model to disappear.
By way of example he presented the cooperative platform Eva, which offers a service along the lines of ride hailing. Drivers with their own vehicles offer to pick up clients making trips. Except that several major differences disrupt this 'classic' model.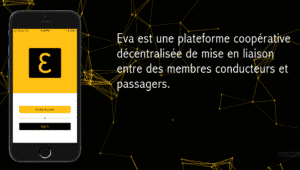 Firstly, drivers, clients, and the central 'coordination' team all belong to a cooperative; secondly, the central team offers everyone blockchain support to secure and manage transactions between drivers and clients through P2P. Fifteen percent of trips fund the coordinating team compared to 25% at Uber. The idea is to keep this percentage to the bare minimum.
Raphael Gaudreault, co-founder of Eva, describes blockchain as "an open P2P database that allows trustless partners to make transactions and so removes the 'traditional' third parties. It is the most secure digital platform ever developed."
Contactless electricity by WiTricity
Another city, another meeting. This time with Alex Gruzen (photo below), CEO of WiTricity. Set up in 2007, this Boston-based company is now at the cutting edge of research on electric power transmission.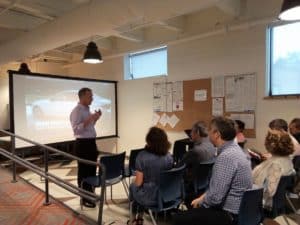 Magnetic resonance is the key to research at WiTricity. The prowess lies in the capacity to transfer electric current in an unstable environment: a vehicle driving on a road or charging up from an on-ground charging pad in any weather (wind, rain, leaves, frost…). Today, this transmission efficiency  is equivalent to and at times even higher than via a plug and socket configuration!
Impressive indeed! And the potential apps are countless, the perspective infinite. To boost the efficiency of researchat WiTricity, Mr Gruzen has opted to focus efforts on a single app – the electric vehicle (EV). But is the market big enough? "Dieselgate has definitely accelerated things," the CEO told Futura-Mobility. "Governments are committing. The world is changing for EVs."
Proving his point, in May 2018 German automaker BMW unveiled the 530e iPerformance (watch video), the first-ever wireless charging-enabled, hybrid electric vehicle (HEV). 
Mr Gruzen reckons the technology is especially suited to cities since it allows EVs to charge pretty much everywhere, on a regular basis, particularly when streets will be used by driverless vehicles. "Who will plug them in ? No one will have to do this with wireless technology."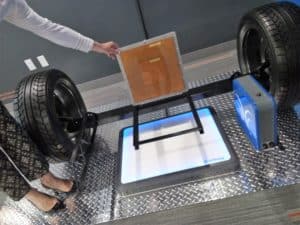 Right now WiTricity's research is mainly homing in on the robustness of the on-ground pads, which must withstand a car or heavy goods vehicle running over it, plus the sharing of information in addition to electricity. The immenent coming to market of this tech (ground-breaking?) also raises many questions:
What business model for electricity suppliers – how will it be invoiced and by whom?
What impact(s) on next-generation battery models?
What room will this technology leave for other froms of energy, hydrogen in particular?
This technoology also flags up a feeling that has been around for some time now: that infrastructure is definitely going to play a more significant role in tomorrow's mobility.
So what's WiTricity counting on? That when the technology is fine-tuned for cars, the rest will follow… Watch this space!
Over and out…
Our fact-finding trip culminated in Boston over cocktails (probably the best ever!) at the ArtScience culture lab and café – 'a place and cultural movement where art experimentation and expression combine with science to pioneer a sustainable human future' – founded by the eclectic David Edwards (photo below).