Africa-France Summit 2020, supporting sustainable cities and territories
no comments
Categories:
Tags:
Africa-France Summit 2020, supporting sustainable cities and territories
by Lesley Brown, 12 March 2020, updated on 2 April
The title of this 28th edition of the Summit, due to be held in Bordeaux on 4-6 June but postponed because of Covid-19, says it all: a desire to revise relations between Africa and France by establishing an equal partnership.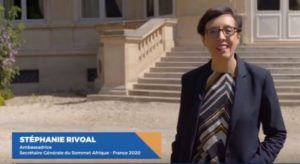 To present and discuss the objectives of this event, IRIS Sup' organised a conference-debate on 10 March in Paris. Stéphanie Rivoal, secretary general of the Summit, immediately set the tone: "I am a practical woman. We want a practical summit."
A desire, she explained, that will mean a greater focus on projects, products and solutions than on conferences. At the heart of this approach, the City of Solutions. With its seven themed sections, of which one dedicated to urban mobility, this space seeks to bring stakeholders together – from big groups and start-ups to civil society, associations, NGOs, and women's groups. "We must mix them up," Ms Rivoal insisted. "It's not a question of who you are, but what you do and how your activity can meet real needs over the long term." Another sign of the 'practical' nature of this event: an innovation challenge has been organised involving 1,000 African entrepreneurs.
Given the theme of the Summit, sustainable towns/cities and territories, African mayors have been invited to attend. "On the first day, a mayors' forum will be an opportunity for them to discuss and share their views, both divergent and in common… on topics like waste management, for instance," explained Ms Rivoal.
In cities, "the situation in Africa is far from satisfactory." She is well aware that living in African cities is often difficult with regards infrastructure and access to drinking water, electricity, healthcare, education, and transport. However, this issue is becoming increasingly serious. The population boom means Africa will become the second most populous continent in the world by 2050, with its urban population growing steadily. "Solving the lack of housing, for instance, is going to require much ingenuity and innovation. Today cities are growing organically, from the inside out," observed Ms Rivoal.
All the same, she pointed out how people still manage to find shelter because they build their homes themselves. "So to tackle this issue, we must think differently about how to support the informal sector so it can build better. We need to think a creative and inventive Africa!" she urged.
Whatever the new date of the Summit, it will be interesting to see if and how it contributes towards "renewing relations between Africa and France, including more young people and women, in this new world order."
>>> Watch the video presentation (in French)
Cover photo: jozuadouglas – Pixabay