Bouygues, MIT and the digital transformation of companies
no comments
Categories:
Tags:
Bouygues, MIT and the digital transformation of companies
by Joëlle Touré, delegate general, Futura-Mobility
Invited to Bouygues' headquarters in Paris on 8 November 2019, a French audience enjoyed fruitful exchanges and discussions with MIT professors throughout the day as part of the MIT Industrial Liaison Program (ILP).
"Digital's not the problem; it's the transformation. It's not about technology; it's a question of management," is how George Westerman, of the MIT Sloan School of Management, began his talk on managing the digital transformation of businesses.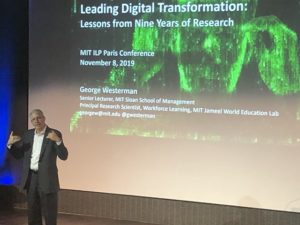 To emphasise his point, he referred to Moore's law, named after Gordon E. Moore, who, in 1975, observed how "the number of transistors in microprocessors on a silicon chip doubles every two years", and consequently that electronic machines are becoming less and less expensive and more and more powerful, at an exponential rate. "But as for human beings, they don't follow Moore's law!"
So if companies want make a success of their digital transformation, according to Dr Westerman they must make every effort to establish the best possible vision and steer the organisation through this change.
Professor Westerman spent nine years studying large companies on this issue. The outcome is the following set of categories, based on the digital capacity or the transformation capacity of companies:
– 'beginners'
– 'fashionistas' – clever at creating digital tools that look good from the outside but these objects are not concerned with satisfying real needs or even pleasing users
– 'conservatives' – too busy respecting their own governance to innovate
– 'digital masters' – very strong in technology and leadership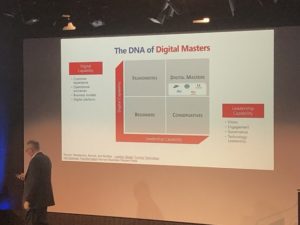 The Indian company Asianpaints is a striking example because of its vision for its business and transformation capacity.
The firm started out as a paint manufacturer and distributor present in 13 different regions across India. Digitising this company was a complex challenge because the 13 regions had different processes and operating methods. Nevertheless, they managed to implement a common ERP (Enterprise Resource Planning) process, then – "since they're in India!" – set up a call centre  to provide support for the teams using this ERP. Next, they got the sales representatives involved in upselling. Over time, they became the 'Uber' of the paint world because of their clear vision: "people don't need paint, they need to see their walls painted".
Asianpaints is now present in 17 countries. At every step along the digital transformation path, the question they kept on asking was: "what more can we do?"
Another takeaway from Dr Westerman's research – digital can help a company increase its turnover, but the transformation of the company itself is what brings the benefits.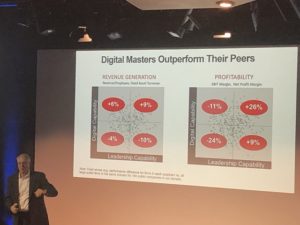 So, what can be done to help companies? Five keywords for successfully transforming them into digital organisations:
Vision. Clear enough to give meaning, it should avoid going into detail. The vision must offer the company the chance to be different, not just better. For instance, at Nike – "part of your life"; Rio Tinto – "wants to open mines where miners are no longer injured"; DBS – "a bank that brings joy".
Projects.
Platform. Digital must enable quality services for customers. Daimler, for instance, offers its customers remote engine diagnostics in the event of a breakdown, plus a 60-minute repair session through its network of partner garages.
Governance. It must provide more scope for innovation and efficiency. The priority of good governance is to push for sharing and coordination, not control!
Culture. This encourages people to give their best. "What more can we do?" You must listen to discontent because it generates ideas!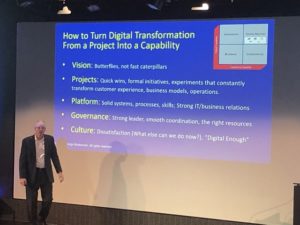 For international firms in particular, according to Dr Westerman, what counts is constructing the heart of the system as a solid foundation, on which will depend the local specificities of a company's different location countries.
"A company doesn't need a digital strategy, it needs the capacity to make this transformation happen,"  he insisted.
Christophe Lienard, innovation director for the Bouygues Group and organiser of these meetings, concluded by reaffirming the Group's desire to continue these exchanges with MIT, other companies, and start-ups too, in order to pool their experiences of the digital transformation and intrapreneurship issues.