Driverless to La Défense
Paris July 3: operated by Keolis, and supplied by Navya, three driverless shuttle buses are now offering rides at Paris La Défense business hub.
The new mobility service is being financed by Île-de-France Mobilités, the transport authority for Ile-de-France (Paris and its region) formerly known as the Stif. The objective? To offer an extra option for that first/last mile trip, or 500 metres, for visitors and workers in the vicinity.
Europe's largest, purpose-built business district (covering 560 hectares/

5.6 million sq. metres

), La Défense is also a popular tourist destination – largely thanks to its imposing Grande Arche, expansive Esplanade, and sweeping views of the city.
Until the end of 2017, three 100% electric shuttles – the Navya Arma model – will quietly (no combustion engine) serve three routes in the district.
Operating times are 8am to 8pm weekdays, 10am to 6pm at weekends and on Bank Holidays, rides are free, and the frequency between 10 to 20 minutes (yes, it might be quicker to walk, but still, if it's raining and you have bags, kids, or heels…).
Gliding along at around 7km/hour – faster than the average walking pace Keolis and Navya assured Futura-Mobility – the sweet vehicles with seating for 11 will run until the end of 2017. With a supervisor on board until September, after which the shuttles may well go it alone.
One of the advantages of the site is that it's not public roadway, so the vehicles can legally operate without a supervisor, a Navya spokeswoman told Futura-Mobility.
500,000 people visit La Défense every day. Its surface areas are managed by state-owned company Defacto, which is also actively involved in this new mobility operation.
Our priorities are not only the technology on board, but equally the 'relationship' between the vehicle and its surroundings, said Christophe Sapet, CEO, Navya. La Défense will be a tough but important testing ground because of the many people and obstacles crossing and along the routes.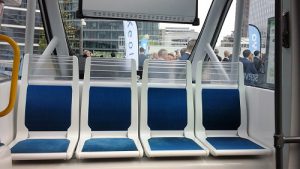 Upping its game
French start-up Navya has really shot up gears since its creation in June 2014. The workforce has since grown to 150; 45 shuttles are currently deployed worldwide; and euros are gathering.
In October 2016, the Lyon-based company raised €30 million in capital funding with French investors Valeo and Keolis, plus the Qatari Group8. This increase is primarily intended for international business development and continued investment in R&D to stay ahead of the field for autonomous vehicles, said Mr Sapet. The capital raise will give us the structure for sustainable growth.
This 19 June, Navya announced Michigan will be the location for its first assembly plant stateside.
Why Michigan? Because the company already has a partnership with Mcity, a public-private partnership led by the University of Michigan to help accelerate connected and automated vehicles and technologies. Furthermore, Mcity will  launch a driverless shuttle service on the North Campus beginning this autumn.
All-in-all, we should be able to produce 400 to 500 vehicles by end-2017, said Mr Sapet. And we're aiming for profitability by end-2018/2019.
Keen to brand itself a MaaS (Mobility as a Service) provider, covering the vehicle, insurance, maintenance, and supervison, in May 2016 Navya introduced a leasing programme. Costing €9,500/month, this option is certainly a lot less painful than the current €250,000 price tag for a shuttle alone.
The service life of the vehicle is around seven years, give or take, said Mr Sapet. But then it can be refitted with the next generation technology and so forth.
La Défense isn't Keolis' first foray into driverless territory. In September 2016 the operator launched Navly in Lyon.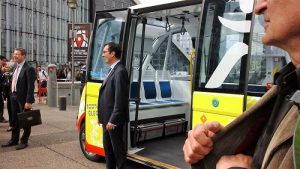 We are proud to be working with Île-de-France Mobilités in introducing this innovative transport service to the largest business district in Europe, said Jean-Pierre Farandou, president, Keolis. Shared, electric and autonomous transport solutions are an essential component of tomorrow's mobility.
Enregistrer
Enregistrer
Enregistrer
Enregistrer
Enregistrer
Enregistrer
Enregistrer
Enregistrer
Enregistrer
Enregistrer
Enregistrer
Enregistrer
Enregistrer
Enregistrer
Enregistrer
Enregistrer