Field trip Israel, destination Tel Aviv – June 2019
Field trip Israel, destination Tel Aviv – June 2019
by Joëlle Touré, general delegate, Futura-Mobility
Eleven of us set out from Paris on this field trip to Israel, destination Tel Aviv. Given their in-depth understanding of the local ecosystem, our guides – the Dan brothers, André and Yossi, from Challengy – mischievously described themselves as 'open' (André) and 'innovation' (Yossi).
In their company, these three days on the spot certainly proved rich in contacts and meetings…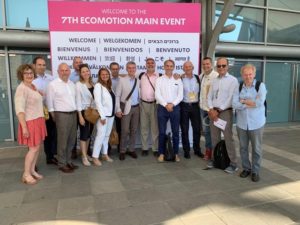 Start-up nation
Israel, the ultimate 'start-up nation', has two key advantages: its central position between East and West together with a cultural and academic mix that is driving innovation.
With project management methods combining frugality, tenacity, a highly effective support network, plus a results- and customer-orientated approach, Israelis appear to have cherry-picked the best skills coming out of the Middle East and North America – where many Israelis go to study – with a view to developing a strong culture of innovation.
As a result, upwards of 6,000 start-ups are active in a country that is home to just nine million inhabitants! They work alongside 100 venture capital funds, around a hundred, extremely dynamic business angels, Israel's nine university centres and 80 incubators, of which 20 are public-private entities. Per inhabitant, Israel is the country that invests the most in R&D in the world.
A sign of the times, during our trip no less than three R&D centres were opened – by the Renault-Nissan Alliance, by Ford, and by Yandex, a Russian autonomous vehicle operator.
Ecomotion – mobility trade fair
EcoMotion kicked off with an exceptional presentation by Bill Ford. The main takeaway being that he has definitively turned the page on the days of his grandfather Henry, who famously proclaimed: "everyone should have a car". Bill Ford, who has long been involved in environmental issues, said: "we must share vehicles". Each generation has its challenges.
The speed dating sessions organised by our hosts in our wonderful pavilion both exhausted and delighted participants!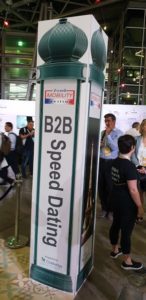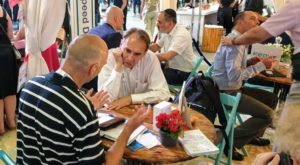 What first struck us was the strong presence of Autonomy among the many le parterre de start-ups at the show. There was very little micromobility. Like elsewhere in the world, Israel has innovative start-ups ahead of their time as well as others, more difficult to ascertain, since they have started out on the basis of technology rather than markets. Likewise, among the start-ups we noticed a strong emphasis on road transport but little room for air, rail and maritime… well, among those exhibiting at EcoMotion, in any case.
From our several 'finds' at the fair, Iphysicist deserves a special mention. This start-up has developed a curved plastic lens for viewing a moving image (video) very close to the eye in outstanding quality. It's easy to imagine potential mobile apps, in virtual or augmented reality for example, or as a mirror effect on glass.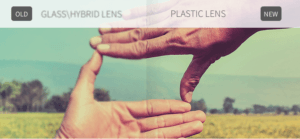 Another favourite – albeit one any practical purpose whatsoever! – is the start-up that can convert a standard vehicle into an 'autonomous' vehicle in just a few moments. The secret? Put an Ivo robot in the driver's seat! The vehicle is not as autonomous as all that since it is guided remotely. You do get the slight impression of being driven by ET himself! Ivobility, or how to transform a human behind the wheel into a human behind a remote control…. has yet to find its way…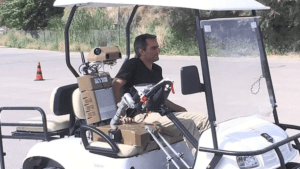 It was American-style show time for another innovation: the unique REE chassis. Secretly developed for six years, according to Daniel Barel, CEO and co-founder of the Israeli start-up Softbank, it adapts to all types of electric vehicles – from vans to SUVs and saloons. "Completely flat, it saves a lot of space, is 33% lighter and has a footprint two-thirds smaller than other chassis," promised Mr Barel.
REE stands for REthink, REdesign, REstructure and REinvent the automotive industry
Softwheel has already established partnerships with automakers, including Mitsubishi.  A small revolution among equipment manufacturers or a highly effective communications campaign? Only time will tell…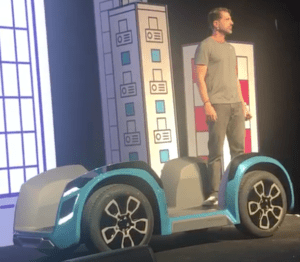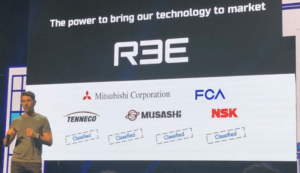 La fée électricité
As for those companies clearly ahead of the global curve, ElectReon is definitely worth a mention. Its contactless electric charging system is ready for roll-out: at 40km/hr, a specially equipped electric car can be recharged while driving over a lane, itself equipped with components developed in partnership with Hutchinson.
Israel and Sweden are waiting in the wings to test this innovation at full scale and speed. Germany and France have also shown interest in the technology.
To install the system on a road, Oren Ezer, CEO and co-founder of ElectReon,  spoke about "one line, one team, one kilometre, one night".
The target for this 'electric highway' is, as a first step, to install the system on enough major roads in an urban area so that fleets operating here, such as buses, taxis, ride hailing or other shared cars, can be equipped to use it. Consequently, these vehicles will no longer need many batteries on board since they will be recharged 'on the go'.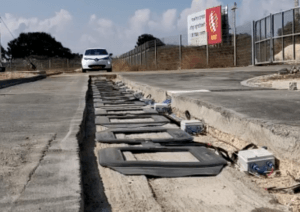 In the field of energy, Chakratech is another start-up well worth mentioning. Its engineers have developed a solution that stores electricity as kinetic energy in a fast-rotating flywheel. The technology can be deployed at charge stations anywhere, including locations with a weak grid, to enable fast charging.
According to Nir Zohar, co-founder and VP business development, "the materials used for the components can be recycled and no chemical processes are involved." Chakratec claims more than 200,000 possible charge and discharge cycles, thereby allowing for 'infinite' use. With this innovation, the start-up is therefore promising to facilitate fast charging for EVs.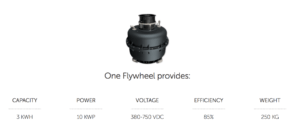 Reach for the sky
During an Ecomotion tie-in event, we met Thomas Curran, CEO and co-founder of skyTran. He spoke about his project with Saint-Quentin-en-Yvelines (a new town and agglomeration community west of Paris) to introduce a skyTran system for local transport needs.
With two- or four-seat capsules speeding along at 70km/hr, one lane equates to "six lanes on a motorway", according to Mr Curran.  With a minimal ground footprint and much lower installation costs than rail ($25 million, including the capsules and stations), he believes this system could revolutionise transport in dense and outlying urban areas.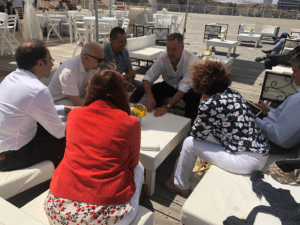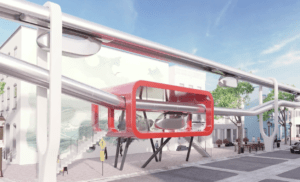 Another little revolution on the horizon, Alice is an all-electric, nine-seater aircraft by the Israeli Eviation.
Based on an innovative propulsion system positioned on the tips of the wings, it carries 3.6 tonnes of batteries for an 800km range. Initially designed for business travellers, founder Avi Tzidon envisions transforming Alice into a plane for linking remote cities at reasonable cost: $200/hour instead of the current $2,000.
Unveiled on the tarmac at the Paris Air Show in June 2019, Alice should make her maiden flight this coming winter to become the largest electric aircraft in the world.