Paris Air Show 2019 – flying with Futura-Mobility
Paris Air Show 2019 – flying with Futura-Mobility
Groupe ADP, Air Liquide, and Safran, all members of Futura-Mobility, were among the 2,000+ exhibitors at this year's Paris Air Show in June.
Speaking at a Groupe ADP press conference during the week, deputy CEO Edward Arkwright gave an overview of the company's main achievements over the past year, as well as highlighting development priorities and investment plans going forward. Three mobility tech start-ups also made short presentations.
In addition to its first Innovation Hub, up and running since 2017 at Paris-Charles de Gaulle airport, the Group is planning to open two more – at the airports of Orly (south of Paris) and Istanbul. Their role is to 'develop a powerful ecosystem for imagining and designing the airport of tomorrow', according to Mr Arkwright.
For the past 18 months at Paris-Charles de Gaulle, drones have been used to calibrate the PAPI systems (Precision Approach Path Indicator), i.e. runway approach lights. This technology, using equipment on a drone developed by the Spanish start-up Canard costs less, is quicker and more precise than the traditional method using nacelles.
Night ALS inspection at Charles de Gaulle airport
"Our two priorities are the smart airport and new mobility, and it's important we foster both," said Mr Arkwright. To support this commitment, the Group has earmarked €180 million for its 'Smart Airport' project up to 2025. The goal being to enhance the passenger experience, e.g.  how to remove physical barriers to create seamless flow, how to boost operational efficiency.
"Automation, which has already been introduced, represents the first building block," said Mr Arkwright. "Then there's facial recognition, with trials ongoing with two companies, and plans for biometrics in 2020."
Groupe ADP is counting on data, among other solutions, to optimise passenger flow at its terminals. "The start-up Xovis has deployed 1,700 sensors in our airports to provide the police and operational teams with an impressive amount of information, especially relating to waiting times," explained Mr Arkwright. "For us, operational excellence means flow management."
To gain an even better understanding of the way passengers move around in airports, the Group will also be testing other technologies like laser radars and AI-enhanced video analysis.
The importance of new mobility
"We need new mobility to cope with passenger growth in the coming years," said Mr Arkwright. "We have tested ride-sharing [for passengers travelling to and from airports] but it didn't prove a great success. In the autumn of 2019, it will be scaled up to include the whole airport community. Here's hoping this will make a difference."
Self-driving vehicles are also on the cards. "We've already tested an autonomous shuttle on an 800-metre route," said Mr Arkwright, adding that this form of new mobility could help improve accessibility and movements across airport terminals.
As part of this new mobility vision, the Group has invested in Bestmile, the platform provider for managing autonomous and human-driven vehicles and services. Adding to its portfolio, the Swiss start-up has developed a 'fleet orchestration platform' for autonomous and human-driven mobility services. According to director Luc Texier, this solution is based on two future-forward observations, namely:
that shared and autonomous electric vehicles (SAEV) are set to reshape mobility;
that mobility providers (operators, transport authorities) will have to manage hybrid fleets of autonomous and human-driven vehicles that may well be mixed brand fleets.
"These are the issues we wish to resolve," said Mr Texier. "The platform is like a control tower for vehicles and designed for fixed route or on-demand services."
Another type of 'new mobility' very much on Groupe ADP's radar is vertical take-off and landing (VTOL) craft. With a view to the future, it is currently working on two types of tech-agnostic vertiports.
one of average capacity, with a mobile platform around 50 metres in diameter. The aircraft land here then the platform is moved to the passengers;
a second model, based on the same mobile platform operation, but designed for the further future and higher capacity.
"VTOL is a new expression of airport activity worldwide," said Mr Arkwright. "To make this new kind of service possible, we have just unveiled our vertiport [VTOL landing area] model with a mobile platform. It will be tested within 18 months at one of our aerodromes in the Paris region."
Flying taxi start-up Ascendance Flight Technologies has been working alongside Group ADP for the past 17 months. The priorities are investigating key aspects such as certification, costs, and the technology, as well as establishing a business model.
"In terms of certification, the level of reliability required [for flying taxis] is equivalent to that of a commercial plane," said CEO Jean-Christophe Lambert. "Then, when it comes to costs, the services must be affordable for as many people as possible."
On the technology side, there are plenty of challenges. Like perfecting the electric or hybrid propulsion. Then there's the question of air traffic control and how these new aircraft are going to fit into the skies. The passenger experience, e.g. work/leisure activities during flights and seamless transfers is yet another avenue to be explored.
Will VTOL services take off for 2024 Paris Olympics?
Investment matters
Group ADP's current investment priorities are robotics and drones, new mobility, and the 'smart airport'.
"We also have start-up investment capacity thanks to our dedicated internal fund, 'ADP Invest', established [in March 2017] with €16 million," said Mr Arkwright. "It offers us the possibility of taking minority shares in young innovative companies to be able to build a long-term relationship" – source: On Board With Edward Arkwright, March 2018.
Safran today, and tomorrow
Recapping on Safran's business deals during the show, CEO Philippe Petitcolin also announced a recruitment drive for the group worldwide: "We will be hiring around 14,000 people annually over the next four years, which amounts to between 3,000 and 4,000 people in France." To support this expansion, in September 2019 a new training centre will open in Essonne, southeast of Paris.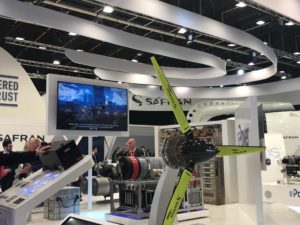 The environment is high on Safran's agenda. "We need to make it clear that commercial aviation as a whole represents only 2.5 of C02 emissions," said Mr Petitcolin. "That's already a lot but it's only 2.5% and we have extremely ambitious objectives to do better. We aim to half the 2005 level of aircraft emissions by 2050. Since the aviation sector is seeing strong growth, in terms of efficiency, this means that by 2050 planes must be 90% less polluting than they were in 2005."
To achieve this goal, in addition to new forms of propulsion, namely electric, and the development of biofuels – "will we be using hydrogen, other gases, or cryogenic products?" –  the Group is aware that aircraft design may well change, too. "I'm not sure by 2050 we'll still have planes designed as a tube with two wings and engines underneath," said Mr Petitcolin.
Air Liquide in space
The Group presented its innovative solutions for space and aerospace, such as the use of hydrogen as a viable energy alternative for aircraft. It also showcased new technologies developed for the future Ariane 6 launcher, or for electric propulsion for satellites and projects in connection with space exploration.
"We have been in the space industry for more than 50 years," said Benoit Hilbert, CEO, Air Liquid Advanced Technologies. "Today we have over 300 people working in this segment. We have supplied over 700 tanks for the Ariane European rocket and partnered with 11 space programmes."
Air Liquide will take part in the ExoMars mission in 2020, in partnership with the European Space Agency (ESA) and Russian Space Agency Roscosmos. This expedition will involve sending a rover to the red planet to analyse the composition of its subsoil.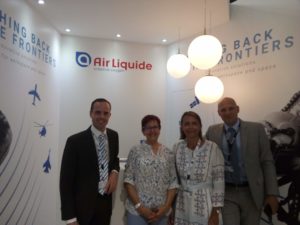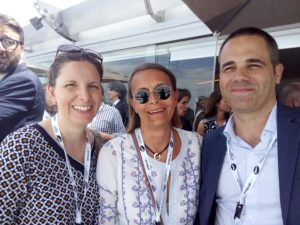 Cover photo ©SIAE 2017 – Anthony Guerra & Alex Marc