Edward Arkwright: aviation – March 2018
Edward Arkwright: aviation – March 2018
Futura-Mobility catches up with Edward Arkwright, deputy CEO of Groupe ADP and president, TAV Airports.
Groupe ADP handled over 100 million passengers in 2017 at its Paris-Charles de Gaulle, Paris-Orly and Paris-Le Bourget (+4.5 %) airports, and about 127 million passengers across the globe at others it manages – either directly (Santiago de Chile, Zagreb…) or through the Turkish TAV Airports (Istanbul, Ankara…).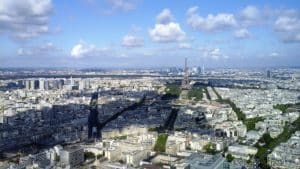 The number one objective for the Group is developing its Paris traffic. "Our raison d'être, our history, our strongest added value is Paris," says Mr Arkwright. "Air traffic is rising and we have key advantages over our international competitors Heathrow, Frankfurt, Amsterdam and Madrid. Our goal is to handle the ever-increasing volumes of passengers better and in the best possible conditions, including for our partners, local inhabitants, and the environment."
In terms of air passenger volumes, with 228 million passengers in 2017, Groupe ADP ranks number two after the Spanish Aena – 249 million in 2017.
"We are also in second place after Aena in terms of turnover [€4,000 million (Aena); €3,617 million (ADP)]," adds Mr Arkwright. "And with regards innovation, the goal is to develop new technologies and services that will help differentiate our airports in this competitive industry."
Innovation to the fore
Live since March 2017, Groupe ADP's Innovation Hub seeks to 'develop a powerful ecosystem for imagining and designing the airport of tomorrow'. "It's a fantastic driver for transforming our in-house culture and accelerating the marketing of new technologies and services," said Mr Arkwright at the launch.
The Group has invested significantly in innovation over the past three years, with a focus on three priority areas: robotics and drones; new mobility; the 'smart airport'.
"We also have a start-up investment capacity thanks to our dedicated internal fund, 'ADP Invest', established [in March 2017] with €16 million. It offers us the possibility of taking minority shares in young innovative companies to be able to build a long-term relationship."
"We are experimenting with 12 use cases for drones, which look at improving operational efficiency and security: to monitor infrastructure, e.g. to inspect a glass wall at Charles de Gaulle's train station, runways, and for fire detection, to scare off birds and perform indoor inspections," explains Mr Arkwright. "We are also working on drone detection with civil aviation."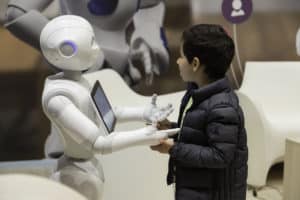 Regarding robotics, "today we are mainly testing in the field of passenger relations." For example, luggage handling or in commercial use cases like reception, information, and new services.
Gares & Connexions tests robots at Aix-en-Provence rail station
Airports are typically constrained spaces that tend to dedicate what precious turf they have to planes and aviation-related activities. But as air traffic soars, they now face the challenge of handling more planes and passengers in zones that aren't gaining ground.
"Autonomous car technologies can be one of the solutions to improve the quality of service and regularity of the different transport modes on the airport platform, and at the same time for decongestion," says Mr Arkwright.
Innovation to create the 'smart airport' aims to channel its 'intelligence' for the benefit of passengers. Tackling wait time (queues, check-ins, controls, etc.) is a priority. How to reduce it? Or if impossible, how to 'conceal' it?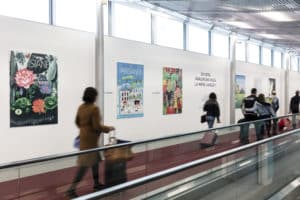 Mr Arkwright suggests a future scenario: "It's not in the realm of fantasy to imagine a day when passengers might enter the airport and be recognised automatically, with all the subsequent controls, like passport, ID confirmation, the right to fly, and plane ticket, taking place as they walk around.
"Since all the necessary technologies already exist, it's up to Groupe ADP to bring them together while, at the same time, playing the role of integrator to ensure all the diverse airport organisations working in parallel agree to pool their procedures for the benefit of passengers."
Amazon Go – no check-out required
Opening up, reaching out
"Already 10% of passengers travelling to Paris-Charles de Gaulle to catch a flight come by TGV [high-speed train]." According to Mr Arkwright, Groupe ADP has already taken intermodality on board. At the same time, he agrees further design efforts are needed for its platforms to accommodate all the different transport modes on offer.
"For a long time, probably due to organisational, administrative and sociological issues, air travel remained a 'closed space' with no thoughts of creating links with rail, cities, and other territories" he says.
"Over the past five years, since Augustin de Romanet, chairman & CEO of Groupe ADP, flagged up intermodality, we have made huge efforts to open up our airports and get them to reach across their natural borders – e.g. plans for the CDG-Express link, improving access to trains, tackling issues over traffic rights – so the whole of the sector can develop."
People living in France outside Ile-de-France (Paris and its region) often complain they are obliged to come to the capital to catch an international flight. "This impression isn't entirely true," counters Mr Arkwright.
"Air traffic is also developing massively at other airports across France, plus we have signed the open sky agreement, which means if an air company wants to open a route like say Toulouse-New York, Lyon-New York, they are free to do so."
Flying today, and tomorrow
The international performance of Groupe ADP is crucial for:
– seizing new growth opportunities, within the framework of its ambitions to become a global leader in the design and operation of airports; and
– preparing the future and responding to traffic growth.
"In the coming five years we will be spending €4.6 billion, of which €3bn on maintaining and optimising our existing infrastructure for Paris," says Mr Arkwright, adding: "And don't forget the employment this will create! One million air passengers mean 4,000 to 5,000 jobs. Today our Paris airports handle over 100 million passengers."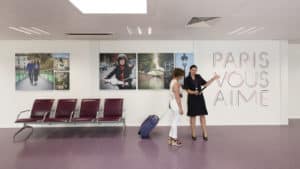 "We are very much involved in partnerships with government, public authorities, and the profession to boost the appeal of Paris and France as popular destinations," adds Mr Arkwright. "If our airports are user-friendly, pleasant places to be, and generate positive experiences, people will be happy to come, and to come back."