William Elong: drones – July 2018
no comments
Categories:
Tags:
William Elong: drones – July 2018
Cameroon-based Drone Africa, launched in 2015, is using drones, data, algorithms, cameras and artificial intelligence (AI) to tackle economic and environmental issues faced by the country's population.
Remotely controlled at heights up to 500 metres, the 'flying eyes' are equipped with, high resolution cameras, four propellers, and a power system for 25 minutes of flight time.
"We are selling services and data analysis"
"We've gradually realised that civilian drones are becoming a niche market with an increasing number of applications specific to different industries," William Elong, founder and CEO, Drone Africa, told Futura-Mobility. "For instance, a farmer will pay for our cartography services depending on the number of hectares he wants us to cover. Whereas institutions are more interested in our product offering."
Thanks to the data and imagery captured by the drones, farmers can establish the size of their estates and see if anyone is living on them or whether any other activites are going on – "often they don't have this kind of information because the acreage is so vast it's difficult to map, plus the roads are so bad travelling around is difficult," pointed out Mr Elong. "Right now, by way of example, we are already reworking 6,000 hectares for a private customer in agriculture, who is growing products like bananas."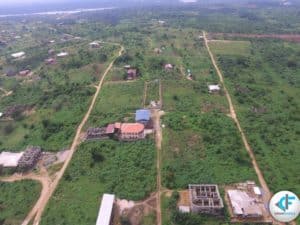 But surely such high-tech services are too expensive for small landholders? "Right now, one of our main challenges is the work we do with farmers," added Mr Elong. "They want to be able to map their lands and do monitoring at an affordable cost. We are making some adjustments to address this issue correctly." By offering packages of services for agricultural cooperatives, for instance.
When it comes to introducing drones into commercial service, he flags up two observations:
– 70% of the manufacturing or operating costs of drones are down to man/woman hours: "the cost of manufacturing is all about human ressources. When it comes to fixing a drone, an engineer from MIT [Massachusetts Institute of Technology] is no more skilled than his/her peer in the Cameroon; the difference lies in the salary to do the job; the huge disparity impacts the final prices set by foreign drone companies"
– process as a barrier: the traditional approach to innovation is process-bound, reckons Mr Elong, and as such  delays making projects happen. "At Drone Africa, it's all about fast execution of ideas and projects; more execution, less processing.
"By avoiding processes, I mean I don't seek out the complexity of a problem just to look smart. If it's simple, it's simple. For example, some people spend months on data analysis before entering a new market or country. Whereas  I might simply see who can do the job in my network and make a quick deal, with low risk at an early stage for both parties. At least we can start and move forward."
"The big corporations have the money; we have the speed; soon we will have the capital, too"
"Fast innovation changes everything; it also means fast prototyping. While a big corporation will take months to fully switch to a design previously validated by the board, we can do it with a 10-minute team call. The big corporations have the money; we have the speed; and soon we will have the capital, too. This is why at Drone Africa we started a second fundraising operation. To fight with the same cash flow tools and improve our R&D. The risks are real, but we have a coping strategy."
"Google has spent millions of dollars on Project Maven [controversial work providing artificial intelligence to the US Department of Defense for analysing drone footage]  while at Drone Africa we created the same kind of algorithms with a team of five in just seven days. This proves the importance of eliminating the process approach – we have the same skills as a giant corporation like Google"
Money, modesty, and "moving in the right direction"
Following the first round of funding in 2015, which gave the company US$200,000 to work with, today's next step is scaling up: "we have a waiting list… we can't build drones fast enough.
"We still face technical challenges so the future of our company depends very much on R&D. No one is training us; we taught ourselves on the Web, so it might take time. But today we are able to do our own deep learning algorithms  for drone image analysis."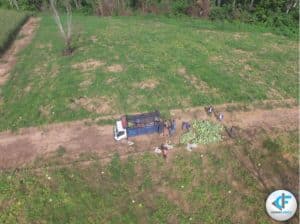 In its  first year, Drone Africa  made zero profit, then US$10,000 dollars in 2016, and today its annual turnover is upwards of US$200,000. "Our target is to generate even more in 2018," said Mr Elong. "As I said earlier, we are not perfect, we are still a young company with all the issues you can imagine. Nevertheless I'm confident we're moving in the right direction. Today we have an office in Germany and a holding called Algo Drone GmbH."
By 2022, the commercial drone market in the Middle East and Africa is expected to generate just under US$220 million  in revenue, compared to US$32 million in 2018
Change in the air
Over the three years since Drone Africa began business, mentalities in Africa have massively changed in terms of services in general. As a result, demand for drones is now exploding. "A few years ago I had zero calls about our services; I was talking alone on social media about how useful they could be," said Mr Elong. "Today we have unsollicited requests coming in."
The types of request have evolved too. Farmers initially wanted to use drones to show foreign and local partners the size and quality of their operations. Then they discovered precision agriculture through drones, thanks to an event, a conference that brought together tech start-ups and large farming cooperatives in Cameroon, organised by the National Agency for Information & Communication Technologies (ANTIC).
Also in Africa, opportunities are opening up for flying taxis (taxi drones) – largely due to the relatively uncluttered air space, poor road infrastructure, and less stringent legislation than in say Europe – "so it's easier to test drone ideas out," points out Mr Elong.
"In Ghana, legislation for drones is clear for anyone willing to invest in the field. In Rwanda, drone deliveries are already a reality"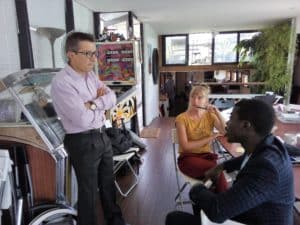 At home and abroad 
Why don't more African companies head for Europe or the US to do business and gain market share? Confident that Africans are just as skilled as anyone else, Mr Elong, for one, wants to play a part in turning this tide.
Yet he admits  that without a dedicated ecosystem in place, supporting local talent is difficult. Insufficient or a lack of marketing is another reason, he believes, why few African companies go international – "even if people don't want to admit it! Take my company for example. When we decided to move into European markets, its name, Drone Africa, was an issue because it conveyed a reductive vision. So we created another – Algo Drone – to sound more 'open'.
"[…] without a dedicated ecosystem in place, supporting local talent is a challenge"
Another point of interest: "when you are an African company abroad, most European companies want to see you as a reseller for the African market, instead of a local partner for European markets." In reponse, Mr Elong is taking the opposite tack, telling potential partners his business is open for cooperation over Africa as far as they are over Europe. A win-win approach? "If the potential partner can't see added value in what we are doing in Africa for the international market, then we simply don't have to work together."
In 2018, both at home and in the European and US markets, Drone Africa / Algo Drone is focusing on expanding its activities  by building strategic partnerships, raising capital, gaining traction out of the African market, and attending B2B events. Mr Elong's plans for the coming years? "To become the leading drone company in Africa. The leader in Africa will be the global leader. There's an empty space up for grabs!"
About William Elong: after passing his baccalauréat (le bac, French school diploma) at the tender age of 15, five years later he become the youngest ever graduate from Ecole de Guerre Economique. After completing his studies in 2013, he worked for groups including Thales and Oracle before setting up Will&Brothers Consulting, then Drone Africa in July 2015
Cover photo: In Paris, June 2018 – William with Gérard Feldzer, founder & vice-president, Futura-Mobility