Hamburg: how to create urban innovation? – 21 February
no comments
Categories:
Tags:
Hamburg: how to create urban innovation? – 21 February
'Gateway to the world' (Tor zur Welt): Hamburg has built its fortune upon its openness and cosmopolitanism, which has always formed an integral aspect of its identity.
Today, the city-State has to face a dual challenge: strong urban development and the modernization of its harbor installations, across a territory limited heavily by its administrative and geographical borders.
How respond to these challenges without sacrificing the high quality of life that contributes to its attractiveness or the port's efficiency, which gives it an international rank, nor lastly the environmental ambitions that shape a strategical dimension in this flood-prone city?
Innovation is the answer.
To better understand the city-State' strategies taken into action, La Fabrique de la Cité just published a report which highlights the answers to these socio-economical and urban issues.
This report will be presented to you during this conference-debate bringing together the main actors of the urban policy of Hamburg. This evening will also be an opportunity to question, beyond the case of Hamburg and in a Franco-German view, the differents ways to create urban innovation nowadays.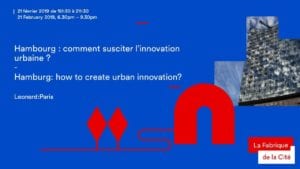 Cover photo: Flickr/cc – Carsten Frenzl