Pascal Boulanger: innovation – May 2018
no comments
Categories:
Tags:
Pascal Boulanger: innovation – May 2018
Faster battery recharging and longer life cycles, instead of focusing on autonomy – this is the idea behind NAWA Technologies, a French start-up created in 2013. President and founder Pascal Boulanger presented his concept at the 20 April 2018 session of Futura-Mobility.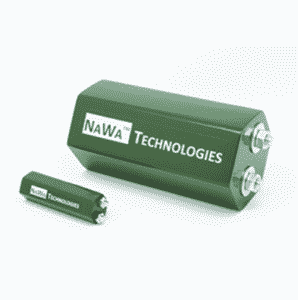 "We are working on new nanocarbonated materials," he said. "What's special is that we're arranging the material on a nanometric scale, with a cladding and carbon tubes.
"Each tube has a diameter 50 times smaller than that of a single human hair; we can pack 10 billion of these tubes into one square centimetre. And since the resulting structure is like a spiky sponge, the electric charge enters and exits much faster.
"This technology speeds up recharging, extends the battery life, and, the icing on the cake, can improve safety."
Although less effective in terms of autonomy, speed is definitely of the essence: the impressive charging and discharging rate is 1,000 times faster than a Lithium battery!
The ultracapacitors can function at temperatures from minus 40 up to 120 degrees C and have a life 1,000 times longer than a Lithium battery: "ten years for one million cycles, depending on the use case," clarifies Mr Boulanger.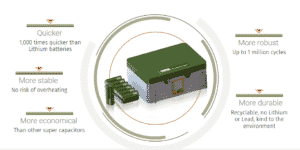 And pricewise? "They will cost more or less the same as standard batteries when we reach industrial scale since we have reappropriated existing solar panel technology."
Comprising carbon, aluminum and electrolytes, these ultracapacitors don't contain any rare earth metals like Lithium and Cobalt.  An attribute set to give them a further edge in the coming years, given the tension already building over global sources of these elements.
Today, NAWA is starting to develop its electrode materials for special types of batteries, e.g. for automated, electric forklift trucks used in warehouses for moving stock.
"These trucks work well except when it comes to recharging," pointed out Mr Boulanger. "On average it takes two hours for eight hours autonomy. With our solution it means more frequent yet much faster charging, and the trucks being used to a maximum."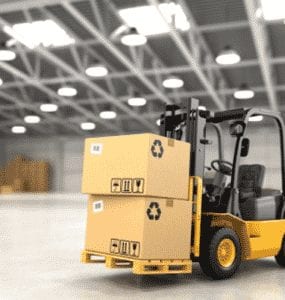 Of course given its nature, NAWA's technology is shifting the issue of battery autonomy onto infrastructure, i.e. charging points/stations. A fact Mr Boulanger openly admits. Nevertheless he is confident the benefits of his solution will, given time, win over sectors such as logistics, the tool industry, shipping, outer space, and public transport (electric bikes and buses) in particular.
"The business models for buses are starting to shift," he said. "Especially in China, with recharging during services in the day or overnight at depots. New technologies are enabling new use cases and new business models.
"Whatever tomorrow's mobility – be it powered by hydrogen, batteries, or with roads charging up vehicles on the move – there will always be a need for fast charging batteries."
To conclude, he referred to insects and their ability to store energy in their carapaces for flight autonomy – another source of inspiration for the creative minds at NAWA.
"We're also working on a concept battery that can be integrated into a structure – a car body, for instance  – and which, thanks to its performance and service life, fully integrates the vehicle use. We anticipate potential for this innovation in aeronautics, the automotive sectors, and for the roads."
The Start-up Energy Transition (SET) Awards 2018 ranked NAWA Technologies among its TOP 100 start-ups working in favour of Europe's energy transition
Photos & illustrations: NAWA Technologies & Futura-Mobility