Polar Kid: aviation – October 2018
no comments
Categories:
Tags:
Polar Kid: aviation – October 2018
by Charlotte Marrecau
"A good pilot knows how to react in an emergency: he doesn't panic, he finds solutions." And it was as a pilot that Loïc Blaise reacted to the diagnosis he had multiple sclerosis, which, contrary to what the doctors told him in 2012, didn't leave him grounded for very long.
Just as he would have done for a broken-down plane, he applied his method of crisis management to his body:
1. Understand what one is going through
2. Name what you see to be able to communicate on it
3. Set up projects / find solutions
4. Seek help
5. Forge ahead
Two years after his diagnosis, Loïc Blaise was struck by the parallel between the irremediable impact of climate change on sea ice and the effects of the illness on his body. Above all driven by the desire to move forward and live, he developed the Polar Kid project: to circumnavigate the Arctic by plane, the last air route to be opened up.
Mission accomplished in the summer of 2018: Loïc became the first European pilot to fly over the Arctic, including its Russian portion.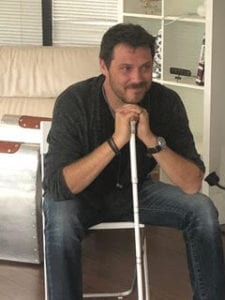 In the face of this sclerosis of the Arctic, Loïc Blaise stayed the course and remained proactive, not wanting to give up but instead to make headway, since "we must reach out towards life, not death." He consequently decided to give up flying aircraft with internal combustion engines. But the enthusiast in him was still determined to continue flying! So he sought assistance to develop an electric drive plane, fuelled for example by hydrogen produced from renewable energies.
He completed this trip not only to reveal the state of the sea ice, but also to restore hope to adolescents and young people with multiple sclerosis. Because he believes the best way to a cure is looking after others. He thus transformed Polar Kid into a type of association similar to an incubator, to help people with disabilities developing social action projects – always with the aim of proving that "it is possible and we can find solutions."
"It's not the plane that makes the pilot; we are a pilot even when our feet are on the ground" … Loïc Blaise indeed remains one great pilot!
Cover photo: polarkid.org