Rail freight in France
Organised by Objectif OFP under the banner 'And now, let's dare the future!', the 7th edition of Journée Fret Ferroviaire et OFP took place in Paris on 15 November.
"We're seeing the end of the line for legacy operators. Look what's happening in Germany!" In his opening speech, Jacques Chauvineau, president, Objectif OFP, didn't mince his words when addressing the packed audience of 300+. "We need to densify the network and go seek traffic in the territories. We mustn't wait until China gives France a wake-up call!"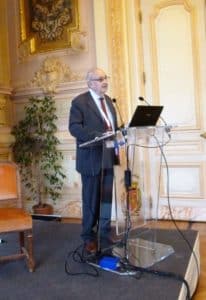 Futura-Mobility  attended the opening session – 'What urgent reforms to release the potential of rail freight?'
Key messages:
The sector is paying the price for its infrastructure (track access charges), unlike other modes
"Road haulage pays a fraction of the costs of its activity compared to rail," said Eric Debrauwere, president, RegioRail.
"Why hasn't France enforced its ecotax? I don't get it!" exclaimed Gottfried Eymer, president, Euro Cargo Rail (ECR). "The economic context for the sector in France is not encouraging its success."
Solutions for recovery do exist
M. Debrauwere suggested implementing real government policy to support French rail. As for M. Eymer, he insisted on the importance of managing relations between SNCF Réseau (rail infrastructure manager) and the various authories, e.g. the Transport Ministry for addressing observations on how to transform the sector, or the Autorité de la concurrence for exercising caution over cartels and sector agreements. Meanwhile the Association Française du Rail (AFRA) recommends pushing the governance of capillary hubs further.
"At our end, we must reinvent ourselves, in part through digital innovation, to up the efficiency of operations and propose new offers and services," said Philippe Bihouix, Directeur Internationale, Fret SNCF.
"But for this reinvention to succeed, Fret SNCF also needs a legible and stable context." Here he referred to issues such as grants, standardisation, language barriers, and border crossings. "The corridors don't work very well and, let's be honest, the problems with ERTMS hardly help." Above all, he insisted on the need to "take in hand all the externalities of the different cargo transport modes."
International projects could give the flagging sector a welcome boost 
The 'Let's RAIL together' enterprise, led by United Transport and Logistics Company (UTLC), a subsidiary of Russian Railways (RZD), is putting into action its plans to establish a 'rail bridge' between China and Europe, border to border. "We aim to carry 170,000 TEU in 2017," said UTLC president Alexey Grom.
And what about the 'Belt and Road' or 'One Belt, One Road' initiative? Launched in 2013 by Chinese president Xi Jinping, this ambitious plan aims to restore the ancient Silk Road network of trade routes across land and sea,  including rail freight between the Far East and Europe. Great Britain came on board right from the start, and more recently (November 2017), Morocco signed a memorandum of understanding with China to join in.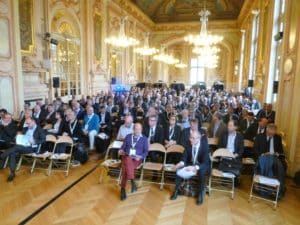 Time to change tack?
Fret à la française is not in a good place. During this morning session it also became apparent that SNCF Réseau is bearing much of the cargo of blame for past strategic mistakes.
But it's not all doom and gloom. There appears to be consensus on the reasons for the market decline – surely a good basis for change? Furthermore, innovation (the digital railway, connectivity) surely offers a window of opportunity.
The fact so many people from all walks of the sector attended this conference must mean something, too. In the audience were decision-makers directly involved in launching or managing local freight operators (opérateurs ferroviaires de proximité, OFP); economic actors such as shippers, logistics experts, rail companies already active in freight, infrastructure managers, ports, product suppliers and service providers; representatives from professional and consular organisations; territorial executives; and State agencies.
For the rail freight to really pick up in France, everyone involved – from the ground to the desk – must roll up their sleeves and play an active role. As Mr Bizien pointed out: "We [SNCF Réseau] are not the only actors involved. There are also the transport transport organising authorities for TERs [regional express trains], the State for TETs [trains d'équilibre du territoire], and Arafer [Autorité de régulation des activités ferroviaires et routières] for aspects such as the pricing system."
Click here to read (in French) the November 2017 issue of La Lettre Ferroviaire dedicated to freight.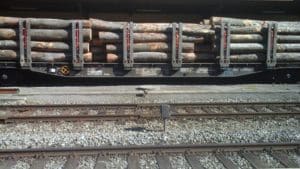 All conference photos in this post ©Objectif OFP