Serge Conesa: innovation – March 2018
no comments
Categories:
Tags:
Serge Conesa: innovation – March 2018
"Imagine a data centre where you don't need high ceilings, infrastructure, or ventilation equipment; welcome to my world."
Serge Conesa, founder and CEO of Immersion4, wrapped up Futura-Mobility's meeting on 16 February 2017 by presenting  his innovative concept for the data centre 2.0.
Based on the principle of submerging servers in a coolant fluid, his solution (see video) offers an alternative for storing data locally that uses drastically less energy and water.

Who wins and how?
By rethinking the design and functioning of the data centre as we know it, Mr Conesa's invention brings significant benefits to businesses, the public, and the planet:
– no gargantuan (Google style) infrastructure needed to hous data
– re-use of heat dispersed by servers
– rcompelling decrease in electricity consumption
– digital energy transformed into an economy
– no CO2 or other greenhouse gas (GHG) emissions; no water consumed
– fewer landgrab/footprint impacts and return on Investment (ROI) in under 12 months (90% of cases)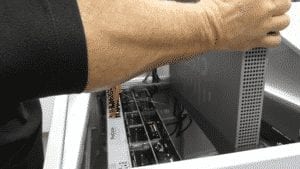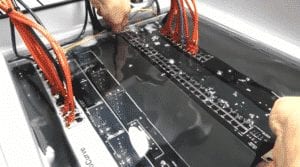 The new spectrum of digital waste is encompassing water, air and energy that are used to power and cool a datacenter and everything inside," wrote Xavier Poisson Gouyou Beauchamps, Hewlett Packard France, in February 2018 ('Waste not, want not: The downside of digital').
"Huge consumption of these elements plus the inability to recycle the heat produced by these centres is creating disastrous snowball effect on our collective carbon footprint; one we certainly need to stop before it's too late."
Immersion4, an energy revolution for data centres?