The new rail explorers – 1 December
no comments
Categories:
Tags:
The new rail explorers – 1 December
Organised by Schoolab, this conference will explore new mobility models in a debate chaired by  Pierre de Milly, a partner at Schoolab.
Alexandra de Debaisieux, CEO of Railcoop, is the guest for this event.
Railcoop, the first rail cooperative in France, aims to boost this transport mode by getting all the parties involved – general public, railway workers, companies and local authorities – to play active roles. On the ground, it is looking to run passenger, night and freight trains on existing infrastructure.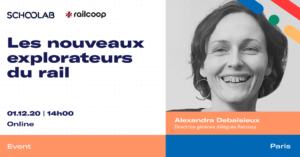 >>> Join the event (in French)
Cover photo : StockSnap from Pixabay