Transport and mobility in the Arab world
no comments
Categories:
Tags:
Transport and mobility in the Arab world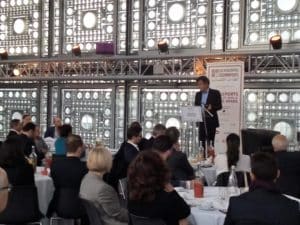 Paris, 27 November 2018: introducing this latest meeting of the Arab World Economic Forum, Jack Lang, president of the Paris World Institute, spoke of the many transport projects planned, ongoing, or completed in Arab countries.
One milestone is the recently opened Tanger-Casablanca high-speed line (HSL) – a rail first in October 2018 for both Morocco and the African continent. "Major projects like these are opening up a wealth of opportunities for French companies, whose expertise in the fields of engineering, construction, and management of transport infrastructure is widely recognised," said Mr Lang.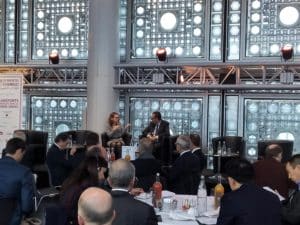 In a keynote speech, Mohamed Mezghani, secretary general of UITP (International Association of Public Transport), gave his views on topics ranging from governance structure and the image of public transport to making the most of new technologies, meeting the safety needs of women, and what the future might hold.
Many of these themes were subsequently expanded during a round table discussion with speakers:
Lise Breuil, director of the Transport and Mobility Division, French Development Agency (FDA)
Abdulrahman Alshalan, transport director, Riyadh Development Authority (RDA)
Adil Bahi, director of strategy, programmes, and transport coordination, Moroccan Ministry of Equipment and Transport
Rémi Cunin, deputy managing director, Egis
Agnes Romatet-Espagne, deputy international managing director, SNCF Mobilités
Peter Landuyt, museum services director and project director, Riyadh Public Transport Visitors Center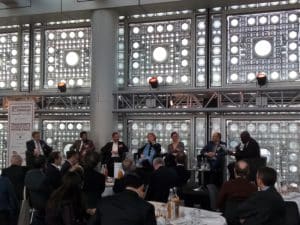 Infrastructure, strategy, and partnerships
Adil Bahi explained how the Tanger-Casablanca HSL, offering a journey time of two hours and 10 minutes instead of four hours and 45 minutes, forms part of Morocco's 2040 Rail Strategy, a roadmap for developing the country's national rail network over the coming decades. The new, high-speed passenger rail link is expected to support further economic growth in the region, already largely driven by the port of Tanger Med.
Continuing the discussion around the impacts of this HSL, Agnès Romatet-Espagne, deputy director of SNCF Mobilités, a branch of French Railways, highlighted structuring projects such as the Railway Training Institute (Institut de Formation Ferroviaire, IFF) in Rabat.
A joint venture funded 50/50 by SNCF and its Moroccan counterpart ONCF (National Office of Railways), the IFF opened its doors in March 2015. Since then its primary aim has been to train workers from both railway companies to run the new HSL. Going forward, it will help bridge the railway skills gap in Africa with an eye to future projects on the continent.
Another Franco-Moroccan milestone, funded 40/60 by SNCF and ONCF respectively, is a state-of-the-art, high-speed maintenance centre in Tanger, inaugurated in September 2015.
France and SNCF certainly appear keen to strengthen their ties with Morocco, no doubt because the country represents a gateway to the rest of the Africa and plenty of rail opportunities for French companies. But rail isn't the only transport mode in their sights…. "Exciting and extremely diverse" is how Rémi Cunin from Egis views the sector. "Projects like the development of tramways in Algeria or the Riyadh Metro [new build, automatic system under construction with six lines covering 300km] are serving as showcases of modernity."
At the same time, Mr Cunin insisted on the vital importance of every transport project forming part of overall urban development plans for the city in question. "Failure to do so encourages urban sprawl, he warned, "which is public transport's enemy number one since it only encourages greater car use."
"Transport infrastructure is one part of the jigsaw," agreed Lise Bréuil from the FDA. "It must be closely linked to public policies governing aspects such as planning, the sharing of public space, the promotion of soft mobility, user-orientated services, and sustainable mobility."
Money matters
Mr Mezghani pointed out that obtaining international funding for transport projects, or building the infrastructure, is not a major issue. Furthermore there are other initiatives, like Morocco's Structural Fund, which is financed by internal taxes (TVA and other contributions) and used to finance public transport projects in dedicated lanes (tramways and bus rapid transit (BRT) services).
Other mechanisms include selling the naming rights to stations to generate revenue, as per Dubai Metro, or public private partnerships (PPP) whereby property developers partly finance the transport infrastructure that will, when built, serve their housing developments.
Urban growth and congestion – the price to pay
Arab countries are more urbanised than the world average – 75% compared to 50% – and their urban populations are expected to double by 2050. Excepting countries in the Gulf, walking is the main way people get around. Overall, the car ownership ratio is low – 120 cars per 1,000 inhabitants compared to 500/1,000 inhabitants in Europe – except in the Gulf countries and Lebanon, where the ratios surpass those of Europe.
Morocco, Tunisia, Algeria, and Egypt have a tradition of public transport, whereas in the Gulf states it is relatively new, "driven by awareness that basing mobility solely on car use is unsustainable," said Mr Mezghani. Where public transport gaps exist there is generally a lot of informal transport, which includes private taxis, motorised three-wheelers (tuk-tuks), and minibuses.
In an ideal world, planning public transport would precede anticipated population growth. Yet as urban sprawl and traffic congestion demonstrate in cities across the globe, this is rarely, if ever, the case.
"In Egypt, 6% of the GDP is swallowed up by traffic jams." Mr Mezghani believes travel time savings is the only lure that will get people to fall out of love with the car. "Part of making this shift happen depends on taking buses, which suffer [appeal and efficiency] from being trapped in jams, out of the mainstream road traffic to operate in dedicated lanes."
Sounding the alarm bells, Gérard Wolf; president of the Sustainable City Task Force at MEDEF International, said urban population growth is the big challenge. "By 2050 there will be 2.5 billion extra people living in cities worldwide. Cairo's urban population of around 20 million is increasing by one million extra inhabitants every two years. In Tunisia, a 'small' country home to under 12 million people, between 2000 and 2018 the number of inhabitants in its cities grew by an extra 2.2 million. If we don't pay attention to urban issues, we are done for!"
Action in a sustainable direction
With a population of six million and rising rapidly, Riyadh is one of the fastest growing cities in the world.  Due to a lack of alternative transport modes, the car has become king and is currently used for around 89% of all trips. The resulting traffic congestion is now a major issue.
To take the situation in hand, in early 2000 the Government charged its Riyadh Development Authority (RDA), with finding sustainable, rather than quick fix solutions to keep the Saudi capital on the move.
Abdulrahman Alshalan, RDA's transport director, explained how the first response to this request involved a comprehensive process of consultations and workshops. The findings were then used to draw up the Metropolitan Development Strategy for Arriyadh Region (MEDSTAR), approved by government in 2003.
A strategic roadmap for regulating future development of the Saudi capital and its surroundings over the next two decades, MEDSTAR takes all the influencing factors on board – from economic considerations, transport, facilities and housing to public services, land use and regulations. Focus points include advanced traffic management (parking, road signalling, speed controls), urban infrastructure planning, sustainable economic models like the PPP, and governance of public transport.
"It's not enough to design a very good transport system," pointed out Mr Alshalan, who frames the future of cities in a triangle, with its three tips being transport, the economy, and the environment. "All three go together," he said. Absolutely, Mr Alshalan, but there's something missing. What about the car-dominated mindset? Surely encouraging different thinking is equally crucial?
Fast forward to 2018 and Riyadh is investing in its future – €20 billion to be precise – and fast! In 2017, the Saudi capital started building its brand-new automatic metro system, six lines covering a total of 330km, scheduled to start running between 2019 and 2021.
In parallel, a Public Transport Visitors Center, opened in 2017, is designed to 'educate, inform and entertain the citizens of Riyadh about the huge public transport development project underway in the Saudi capital city'. One hopes (the car is king in Riyadh) this facility is also marketing the appeal of public transport and encouraging people to reassess their mobility decisions.
#MeToo
In Arab states, public transport represents an opportunity for women to achieve greater gender and economic equality. Yet one downside is verbal and sexual harassment. Fortunately this issue is shifting to the fore today, perhaps driven in part by social media and the #MeToo movement, which has created a sea change for victims of sexual harassment and assault in all walks of life across the globe.
"There is growing awareness among system operators of the safety issue for women in public transport. Plus there are citizen-driven initiatives, like Harass Tracker," said Mr Mezghani.
Launched in 2016 by three Lebanese women, Harass Tracker is an online tool where victims and witnesses can report and map incidents of sexual harassment in public spaces in Beirut. The idea being that the information collected can then be used to raise awareness and create public debate on the issue among both the public and authorities.
Some Arab cities, like Cairo ('Special cars for Ladies') and Dubai ('There are cabins designated for only women and children'), provide dedicated spaces in their metro systems to try and ensure a safe public transport ride for women. Ms Breuil from the FDA agreed this approach may well prove effective in certain cases, adding that good practices that "work well" include having female staff on the spot, dedicated hotlines, and running campaigns to spotlight sexual harassment. "The FDA supports the development of mobility systems that tackle the insecurity of women in public transport and spaces," she said.
"Other solutions to improve safety in transport are better lighting design in stations and introducing more CCTV," added Mr Alshalan. 
Eye on the environment – local and global
To reduce emissions generated by public transport at local level, Riyadh has introduced Euro 5 buses – "a big step ahead for us", said Abdulrahman Alshalan.
The European Euro 5 emissions standard significantly reduces the level of Nitrogen oxide (NOx) gases (known to have direct and indirect effects on human health) vehicles can emit – from 3.5grammes/kWh for Euro 4 down to 2.0 g/kWh. Yet why didn't the city authorities opt for even 'cleaner' (local emissions) electric or hybrid buses instead?
"Because our hot climate is not good for batteries and when we replaced the fleet the battery technologies weren't sufficiently advanced in terms of heat resistance," explained Mr Alshalan "Since then they have improved, so we shall see for the next tender."
For the FDA, reducing the carbon footprint of transport is another of its priorities. To help deliver results in this direction, the Agency supports Mobilise Your City (MYC), part of an international initiative launched at COP21 (December 2015) and supported by the French and the German governments. The MYC move seeks to back 100 cities engaged in sustainable urban mobility planning to reduce greenhouse gas emissions worldwide.
From among the current MYC partnership of 39 cities and 9 countries, 13 of the cities are in Morocco.
"MYC encourages initiatives like building compact cities, improving the energy efficiency of all the transport modes, and encouraging more people to travel by public transport," said Ms Bréuil.
In the bigger picture, resilience is another concern. In 2014, extreme rainfall caused flash flooding in southern Morocco that damaged much of the country's critical infrastructure, i.e. water; road, electricity and rail. If changing weather patterns are due to climate change, Adil Bahi from the Moroccan Ministry of Equipment and Transport warned of the price to pay. "We all have another vested interest in reducing emissions because in the years to come the cost of transport infrastructure is going to rise since we will be obliged to design, equip and build with resilience in mind."
Looking to the future
Mr Mezghani believes key steps towards further advancing public transport in Arab states include harnessing the power of digital technologies (digitalisation) and training up a skilled (including in the digital field) home-grown workforce. Building brand appeal should also be prioritised – "to further overcome the perception of public transport being the transport mode for people who have no choice, although this attitude is changing in Morocco and the Gulf states."
With approaches to regulating public transport, when it exists, differing from country to country, governance of transport is another challenging area.
To ensure the development of sustainable and coherent transport infrastructure and services, Mr Mezghani is in favour of integrated rather than multiple entities along the lines of Transport for London (TfL) or Singapore's Land Transport Authority (LTA). "The lack of a single transport organising authority in Arab states is one factor impeding development of their public transport systems," he said. "Morocco tried to establish one since in theory it has all the competencies, but a lack of funding meant it never took off. Tunisia passed a bill in 2004 to establish one but has yet to be implemented."
There are exceptions, like in Qatar and Dubai, which both have single government entities responsible for all the travel modes, including taxis and school transport, and infrastructure. Mr Mezghani appears particularly impressed with Dubai's Road and Transport Authority (RTA), describing it as "a major strength of the city and an example of how to get things done."
"When the governance task is divided between various entities it becomes more complicated. Hence a single body is a good thing," said Mr Cunin, who is also in favour of more public service concessions as adopted by Lebanon, Morocco, and Tunisia.
Click here for audio (in French) of the whole conference