Yazid Chir: connectivity – November 2018
no comments
Categories:
Tags:
Yazid Chir: connectivity – November 2018
"Our objective is to increase connectivity to increase business for our partners," Yazid Chir, president and co-founder of Be-Bound, told Futura-Mobility.
To achieve its goal means overcoming pockets or expanses of poor/blank internet connectivity. Hence this French start-up has developed a cloud technology using a low bandwidth (2G) as a transport layer to exchange information between the web and smartphones.
"The solution [Augmented Connectivity] works without any infrastructure investment and with any phone carrier in the world," said Mr Chir.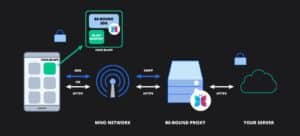 "Our business model is based on our partners and B2B centric," he explained. "From the start, the idea was to provide all B2B actors with open technology deployed worldwide. We believe that everyone should be able to use this technology. Our partners are offerd an SDK (software development kit) framework, together with use cases."
Real-time data collection: the company has worked with French Railways (SNCF) to help boost data coverage across its 30,000km-wide network.
The task? Via professional apps, to send technical data between trains, as well as information to and from drivers, in order to improve traffic flow, track the GPS position of trains, monitor delays and technical incidents in real time.
The problem? A lack of or poor internet coverage in certain areas reduces efficiency.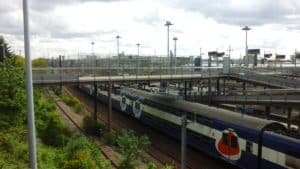 SNCF used Be-Bound's SDK framework to develop professional apps to capture all this data in real time via the smartphones of train drivers.
Results? Coverage of all smartphone requests increased to 100%, with 75% passing via data networks and the other 25% over the SMS network, improving upon SNCF's previous success rate of 50%.
Mobile payment: Be-Bound is working a mobile banking project in Africa with Société Générale, which wants to expand to 20 countries across the continent but is hindered by the limited connectivity. Baptised YUP, the mobile money solution provides customers with access transactional and financial services even if they don't have a bank account. "It's all about inclusivity, offering the services to everyone, everywhere," pointed out Mr Chir.
E-commerce and deliveries: for the past two years, Be-Bound has also been working on another project, this time with the government of Côte d'Ivoire: the Dor2Dor initiative aims create a delivery system at La Poste (post office) based on mobile payment.
Many people in this West African country live in remote areas without internet access; hence they are unable to benefit from e-commerce (as customers and/or businesses). Dor2Dor seeks to redress the balance, and by so doing is also delivering an additional, and unexpected, benefit – local job creation.
"Sixty percent of the population in Côte d'Ivoire are under the age of 20 and unemployment figures are extremely high," said Mr Chir. "Taking these realities into account, over time 100,000 drivers should be employed and 10,000 pick-up/drop-off points set up. The drivers have a delivery app, an order app, plus blockchain to track the transactions. Key delivery goods right now are medical supplies, fertilizers for farming, and birth certificates, but the range will increase over time."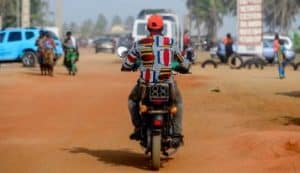 The project is expected to prove a game changer beyond enabling more people to buy and sell via the Web. Deloitte estimates it could create half a million direct and indirect jobs, as well as making a +5% impact on the country's GDP.
The blockchain technology Stellar is being used to secure and manage the Dor2Dor transactions. Why choose Stellar from among all the blockchains on the market today? According to Mr Chir, because it is the most powerful blockchain technology in terms of upscaling capacity, as well as being the cheapest and fastest in the world. It is also incredibly energy efficient, unlike other, better-known blockchains.
"Stellar was co-founded by Jed McCaleb – the American programmer and entrepreneur behind file-sharing network eDonkey and Ripple (platform and currency) – to reduce poverty through financial inclusion," he added.
As Be-Bound shifts into the realm of smart transactions, where developing trust without third parties leads to reduced costs, Mr Chir is confident its technology will increase the use of blockchain across the globe. All the partners have a vested interest in increasing the volumes of transactions because the process is based on the logic of the ecosystem, whereby everyone benefits – including Be-Bound, which takes a commission on every extra transaction generated.
"Our wildest dream is to decentralise our technology and create the biggest global ecosystem with tech hubs all over the world," concluded Mr Chir. "We want to develop a model opposite to that of the GAFAs: one that is fully inclusive, transparent, reliable, and immutable."