Zhilin Sim: Singapore and mobility – July 2019
no comments
Categories:
Tags:
Zhilin Sim: Singapore and mobility – July 2019
Zhilin Sim, regional director Europe at the Singapore Economic Development Board, was one of the speakers at Futura-Mobility's meeting on 'mobility and territories', held in Paris on 3 July 2019.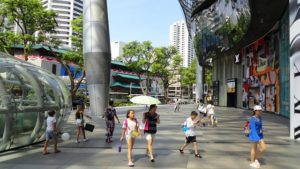 Futura-Mobility: Could you tell us more about the Singapore Economic Development Board (EDB) and its role in mobility?
Zhilin Sim: Founded in 1961, the EDB is responsible for planning and implementing economic and industrial development strategies for the city state. A government body, it performs various functions ranging from financing research, trials and testing, and start-ups to working with businesses and on regulations. In the field of mobility, under the umbrella of Urban Solutions & Sustainability, we are currently exploring autonomous vehicles [AVs], mobility on demand, robo-taxis, and driverless trucks.
FM: What mobility challenges does Singapore face and how is government and the EDB responding?
ZS: In terms of developing urban mobility for the future, we can't ignore that Singapore is one of the world's most densely populated cities: its current population of around 5.6 million is growing, but as an island state our total land area of 710 square kilometres isn't! It might sound incredible, but 12% of our land space is covered by roads, and 14% is used for housing. We can't possibly build any more roads.
In response, government wants to achieve the highest possible proportion of public, shared and active transport modes without increasing land-take and manpower. It also wants to move freight in the most resource efficient manner. The plan is to make the metro network the backbone of the transport system, supported by innovations like digital, new business models, and autonomous technologies.
In the bigger picture, Singapore is a member state of the ASEAN [Association of Southeast Asian Nations], which represents a region currently ranked the 7th biggest economy in the world. Driven by favourable demographics and increasing urbanisation, this economy is projected to grow an average of 5% p.a. for the next five to ten years to become the world's 4th biggest by 2030.  This prospect, which will see the population in this region of around 647 million increase dramatically, means cities are going to become bigger and denser in the coming decades. A development that is already raising concerns over how urban mobility is going to cope.
FM: How would you describe Singapore's mobility ecosystem?
ZS: To sum up, I would say it is growing, has many different stakeholders – from OEMs, service providers and logistics companies to start-ups, operators, government, and universities – and is innovation friendly.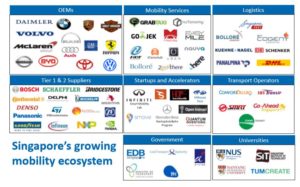 The environment is conducive to innovation in mobility for various reasons. Singapore is digitally competitive and attracts talent. This is in part thanks to a robust research ecosystem with 31,900 scientists & S$19 billion [€12.6 billion] in research investments, spread across the digital and engineering domains. In addition, 80 of the world's top 100 tech firms call Singapore home, with their research HQs and innovation teams based here.
Another strength, the country is ranked the 10th best global start-up ecosystem worldwide, and the number one in Asia.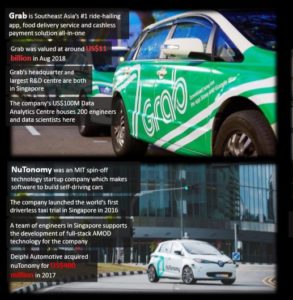 Mobility start-ups based here include Grab, Southeast Asia's all-in-one ride-hailing app, food delivery service and cashless payment solution provider. There is NuTonomy, an MIT spin-off tech firm that develops software to build self-driving cars. Then we have the French start-up Easymile, which provides tech for driverless shuttles. It found a German partner in Singapore and in November 2018 established a joint research team here.
Dyson, which has built motors and parts for its vacuum cleaners in Singapore for the past 20 to 25 years, will build its first electric vehicle manufacturing facility here. This decision makes sense since the company already has a research centre with us, plus, another reason for deciding to build its first e-cars in Singapore is the appeal of its strong intellectual protection laws.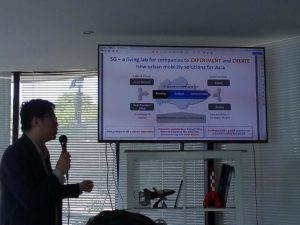 FM: Could you tell us more about the ongoing testbed initiatives for mobility?
ZS: There is strong government support for developing and deploying AVs, with one cornerstone being the Centre of Excellence for Testing and Research of Autonomous Vehicles – NTU (CETRAN). This research initiative is working on advancing standards and practices to facilitate AV use cases in urban contexts in Singapore. Demarcated routes totalling 12km have been used to test AVs since July 2015, plus an extra 55km are planned. It is one of the biggest AV projects in Asia.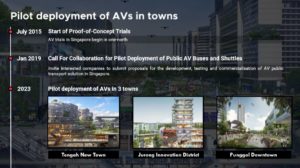 With its focus on legislation and infrastructure, Singapore is widely considered to be leading the path towards driverless car innovation.
In parallel, public research and development on AVs is also being carried out by Nanyang Technological University [NTU], the Singapore-MIT Alliance for Research and Technology [SMART], and the TUM Campus for Research Excellence and Technological Enterprise [CREATE].
Furthermore, testing and deployment of mobility-on-demand is underway, together with other approaches to urban mobility like the ERP 2.0. This GNSS [Global Navigation Satellite System] -based tool is designed to reduce traffic jams by automatically tracking equipped cars and charging them tolls based on their actual road usage in congested areas. It provides drivers with information and route options during their drive to help them chose the best journey paths in terms of time and money, e.g. to avoid the congest hotspots where the tolls are highest. For the public authorities, this tool represents a valuable means of directing traffic flow in real time. The system should officially go public in 2020.
Another area of interest is unmanned aerial vehicles [UAVs]. Here the EDB is working with industry to develop solutions and improve regulatory conditions. Singapore's Urban Air Mobility initiatives include a 200-hectare business park for test-bedding innovative unmanned aerial systems [UAS]. Furthermore, the German start-up Volocopter will conduct a series of urban flight tests of its air taxis in Singapore in the second half of 2019. It is also basing a product design and engineering team here to support its expansion plans.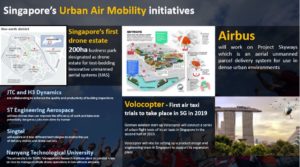 FM: In parallel to these actions, Singapore appears keen to foster collaboration and exchange…
ZS: Absolutely! Take the Committee on Autonomous Road Transport [CARTS], a partnership between government, industry, and academics to chart the future for AV-enabled land mobility concepts. Its members, which include public sector agencies, international experts, academia, and industry stakeholders, have adopted a proactive approach that seeks to drive coordination across various agencies for AV-related initiatives.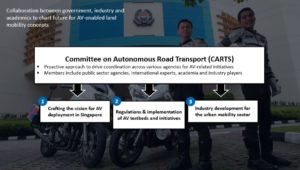 Then we have the Startup SG Network [SSN], a national directory and community designed to improve local and foreign access to Singapore's tech start-up ecosystem. It aims to provide comprehensive information on the start-up ecosystem and facilitate searches and contacts between interested parties.
Competitions and events represent further ways to foster this collaboration. The Singapore Mobility Challenge, which ran from June to August 2019, was an open innovation initiative for ideas or technology to benefit the public transport industry and commuters. This October we are hosting the  2019 ITS World Congress then in November the SSN is holding Slingshot 2019 – Singapore's international competition for promising start-ups to showcase themselves to investors, corporates and potential partners.
To keep informed of mobility industry developments, business insights, and events, both in Singapore and the Asia-Pacific region at large, I would encourage you to sign up for the EDB's e-newsletter.