Alstom – 16 May
The French transport group wants to become a global mobility supplier and reach out beyond its rail comfort zone. So said CEO Hénri Poupart-Lafarge on 16 May in Paris, while presenting the 2017/18 results.
The focus on signalling, systems and services is reflected in the figures. Turnover for these activities increased from 47% in 2014/15 to 57% in 2017/18.
Mr Poupart also  insisted on the group's client-orientated approach to business. To meet growing demand to establish a local presence, it has invested around 500 million euros since 2015 to build new plants in South Africa, Kazakhstan, Sri City and Madhepura (India).
In April 2018, the Alstom-led consortium with SNC-Lavalin, won the contract to deliver a complete automatic and driverless light metro system, including rolling stock and signalling, operation and maintenance services, for the Réseau express métropolitain (REM) project in Montréal, Canada.
Innovation strategy
Main programmes over 2017/18 were renewal of rolling stock ranges, smart mobility and predictive maintenance.
Investment in R&D will increase from 3.4% of the turnover for 2016/17, i.e. 248 million euros, to 3.5% (278 million euros) for 2017/18.
Alstom is particularly proud of its Coradia iLint hydrogen train and the electric Aptis bus-but-better. "We had a bit of luck because these innovations coincided with the beginning of the end of the road for diesel in cities and in public transport," said Mr Poupart-Lafarge.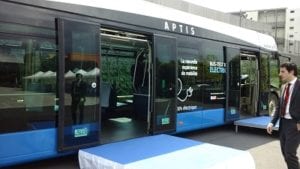 He insisted on the importance of innovating in the group's core business, i.e. rolling stock – from trams, metro and regional trains to high-speed and locomotives – for reasons of competitiveness and performance.
The contract with US rail infrastructure manager Amtrak to build high-speed trains for the Washington-New York-Boston corridor, is a high. "It's an extremely advanced tech project," said Alstom's number one. "Thanks to our high-speed pendular technology, we were the only constructor capable of providing guaranteed journey times for this route."
Joining forces
The merger with Siemens Mobility, expected to close by the end of 2018, "is a bit special," said Mr Poupart-Lafarge. "Those in telecoms and energy took place in difficult markets. This isn't the case for us."
He explained the companies are teaming up for two main reasons:
1) beacuse they share a vision of the future where  mobility is important worldwide; where being close to clients and staying competitive (as well as ahead of the game) through innovation (particularly digital) are musts;
2) to anticipate the mobility revolution and changes, not for 2020 but for the much longer term: "we need to find mobility solutions to satisfy everyone."
Gender matters
Twenty percent of Alstom's management staff are women; a figure expected to rise to 25% by 2020. Also, five of the 11 people nominated to form Siemens Alstom's future board of directors are women.
Transport to the future
"I came away from COP21 really frustrated… it was a case of preaching in the desert," said Mr Poupart-Lafarge. "But since COP23, awareness of issues like local/global pollution and public health have grown and put transport at the heart of policy-making."
On mobility of the future, he forees electricity (including hydrogen in the chain), sharing, and comfort for users, e.g. through connectivity and robust systems.