Buses, trucks and vans – where are they heading?
no comments
Categories:
Tags:
Buses, trucks and vans – where are they heading?
September 2018: Daimler pulled out all the stops at the IAA in Hannover, occupying a vast hall to showcase its latest trucks, vans and buses, technologies, digital solutions, services, and thinking for tomorrow's mobility.
"We are very busy these days. Our orders were up 38% for the first half of 2018, compared to the same period in 2017," announced Martin Daum, member of the board of management, Daimler.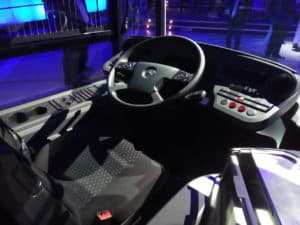 Keeping up with the times
The energy transition and sustainability were on the minds and strategies of manufacturers exhibiting at the fair. With the combustion fuel engine falling out of favour in cities and pressure on the transport industry to reach global climate targets, how will the future be fuelled? Which alternative(s) (electric, hybrid, fuel cell…) will dominate, or will a mix of options co-exist depending on the type of vehicle and journey?
Long distance haulage, for instance, is unlikely to switch to battery powered mobility any time soon due to range limitations, if ever. Yet electric is generally considered the way ahead for local emission-free and quieter driving in urban areas.
"When we talk about alternatives, we should always bear in mind that diesel will continue to play an important role in the world of commercial vehicles for the foreseeable future, including urban buses and distribution vehicles," said Mr Daum. "It is, however, impossible to predict which alternatives will finally become established and to what extent, as the technical and economic issues are simply too complex to foresee."
"Everyone is talking electric, but in a town or city diesel buses can really make a difference[local air quality] in just three months with Euro 6 [most recent European emissions standard] buses, which require less investment," said Ulrich Bastert, head of marketing, sales & after sales, Daimler Buses.
Electric avenue
In this uncertain transitional period, Daimler is hedging its bets. While still supporting the internal combustion engine, the group is nevertheless working on the all-electric drivetrain with an eye to a longer-term future.
The end of 2018, for example, will see the start of series production of its all-electric, Mercedes-Benz (a Daimler business unit) eCitaro city bus; the big sell here being emission-free mobility at local level.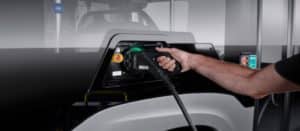 Yet given the rapid pace of developments in battery technologies and uncertainty over which charging methods (opportunity or depot) will prevail tomorrow, the engineering for this eCitaro has been future proofed.
Provision has already been made for transitioning its Lithium-ion batteries to the next generation, like higher performance NMC (nickel-manganese-cobalt) technology by Blue Solutions, for instance. For charging, the vehicle will have a socket for a Combo-2-plug (for depots) at the start of series production. However, if any client wants to extend the range (which debuts at 150km), opportunity charging will be needed and possible via a pantograph.
This modular approach means in the future Mercedes-Benz can configure the eCitaro precisely to the individual requirements of transport operator clients – across their whole network or route by route.
All the range
Also part of its electric line-up, the eSprinter all-electric van (maximum ranges of 150km or 115km) will come to market in 2019. With this vehicle, a smart, pre-entry climate control solution will be offered to help drivers overcome range anxiety (fear of running out of power and being stranded), which may lead them to forgo comfort in favour of reaching their destination.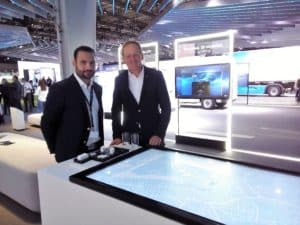 When charging the eSprinter's high-voltage batteries off the grid, depending on the outside temperature, the energy intensive air conditioning / heating system cools or warms up the vehicle interior before switching on the motor. Not only does this increase driver and passenger comfort, it also reduces the energy required for climate control while driving, thus effectively avoiding load peaks.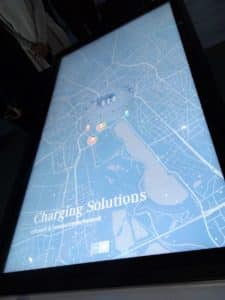 Hybrid – fuel cell – hydrogen
Hybrid technology, whereby an electric motor acts as a generator when the bus decelerates, transforming braking energy into electric power, Daimler considers a good parallel solution to the eCitaro. "There is still a good future for this technology for urban buses," reckons Gustav Tuschen, head of R&D world, Daimler Buses, "at least for the next 10 years, by which time we will see a shift in favour of electric."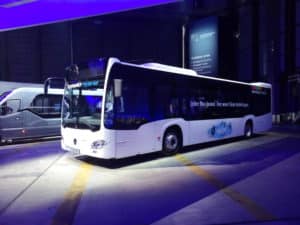 The hybrid Citaro U (unveiled at Busworld Europe in 2017) won the IAA's Sustainable Bus Award 2019 for rural-service buses, based on criteria that included safety, comfort, noise emissions, recyclability of components, and the general approach of the bus manufacturer to environmental friendliness. This model, says Daimler, can help reduce fuel consumption by up to 8.5% compared to its combustion fuel counterpart.
The group also believes in the potential of fuel cell technology and hydrogen for energy storage. Said Christian Mohrdieck, head of fuel cell drive system development, at the group's R&D unit: "The advantages of fuel cell technology, an integral part of our powertrain strategy, are very clear to us: zero emissions, long ranges and short tanking times, plus a wide range of applications from cars to buses to other large commercial vehicles."
Through the H2 Mobility action plan, running since 2015, six industry groups – Air Liquide, Daimler, Linde, OMV, Shell, Total – and the German transport ministry plan to invest around €400 million in the coming years to build out hydrogen refuelling stations across Germany
Buses – all eyes on safety
Heavy braking is one of the most common causes of personal injury to bus passengers. Bus accident claims are on the rise. More cyclists are on the roads. Distracted walking by pedestrians on their cell phones is becoming a safety concern.
Daimler views safety through two lenses: passive (after an accident) and active (avoidance), and has adopted a four-point approach to the issue centred around:
prevention
reaction
protection, and
rescue
For accident-free driving new safety features have been developed, such as the group's new Preventive Brake Assist for city buses.
"If there is a critical risk of collision, the system warns the driver and initiates partial braking at the same time. It doesn't execute full emergency braking because passengers don't have seat belts or are standing, so could be seriously injured. Instead, partial braking reduces this risk," explained Till Oberworder, head of Daimler Buses. "It will be introduced to our buses in February 2019 as an industry first [for this vehicle category]."
From manufacturer to holistic mobility provider
Greater vehicle connectivity, advances in autonomous driving, the development of digital mobility and transport services, and electric mobility…. Such developments explain why Daimler is today looking to reposition itself as a 'holistic mobility provider'. This strategy to diversify from its core activities is one shared by other segments (public transport operators, car rental firms, maintenance service providers…) of the transport industry, all keenly aware of the disruption nibbling away at their existing business models.
ViaVan, a joint venture between Mercedes-Benz Vans (a Daimler business unit) and the US/Israeli start-up Via, forms part of this new mobility order.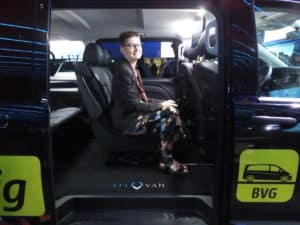 An on-demand, minibus rideshare service, ViaVan is currently operating on the streets of London, Amsterdam, and most recently Berlin – launched in September 2018 through a partnership with the city's public transport authority Berliner Verkehrsbetriebe (BVG).

The mainly electric, six-seater ViaVan vehicles for Berlin are equipped with nifty features like power sockets for charging up mobile devices, an information screen inside and another displayed on the outside of the window to reassure customers they are picking up the right ride. The company is also testing a bar code-type entry system for doors instead of handles – for security and to speed up pick-up/drop-off flow.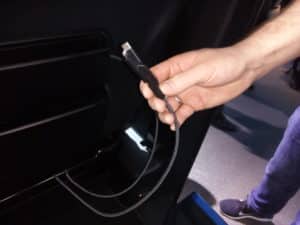 Other mobility services provided by Daimler include:
the free-floating carsharing offer car2go
mytaxi app for ordering and paying for cabs in Europe, and
moovel, a one-stop mobile app for mobility
Talking strategy
During a round conference with French journalists at the IAA, Mr Bastert spoke about the challenges ahead. "We've reached a point today with urban transport where we pretty much need to inverse the model whereby individual transport dominates. But here the question is how to make public transport more appealing for getting from A to B? How to link up the different modes for a seamless journey? How to improve the performance of systems?"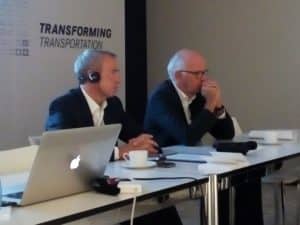 With these concerns in mind, one area the group is working on is vehicle capacity. "Cities will always need high capacity buses, especially for peak travel times," said Mr Tuschen. "But what about night buses, for example, which may carry just two or three people? Is a 12-metre-long vehicle the right fit for this kind of service? And how will autonomous driving impact vehicle passenger capacity requirements going forward?"
Questioned on energy and emissions, Mr Tuschen acknowledges the need for manufacturers to go one step further. "Today the vehicle industry is talking about tank-to-wheel, but I think everyone now needs to come to the table to discuss the best approach for well-to-wheel."
Batteries and recycling were also broached. As a new ecosystem emerges, care must surely be taken to ensure tomorrow's mobility is built on sustainable foundations; to avoid repeating mistakes from our fossil-fuel past.
"Recycling batteries is a big focus for the group, which is talking with suppliers about planning for end of life, 2nd and 3rd lives," said Mr Tuschen. "Our battery strategy is not just about performance but also the durability of the materials used, impacts on the environment, and the use of rare earth metals. We are also interested in having completely closed cycles," he added.
Energy and mobility: life cycles