no comments
Categories:
Tags:
CAPSULES INTEMPORELLES
What if tomorrow quotas limited our travel? Or if we had limitless free energy that was non-polluting? Or how about cities as stadiums? What if we went around the world in eight hours? Or could take a space lift to go to the Moon?
Capsules Intemporelles, published (in French 🇫🇷) in January 2018, paints a picture of the future of mobility in 20 short stories. From road to rail, drones to multimodality, energy and the city, the tales depict possible tomorrows based on already existing innovations, experiments and research.
The stories were co-imagined in 2018 with members of the Futura-Mobility think tank: SNCF Réseau, Airbus, Air Liquide, Bouygues, Keolis, Safran and Valeo. "To imagine these futures for mobility, [with Capsules Intemporelles] we wanted to move away from the linear extrapolation of our innovation programmes," explains Jean-Jacques Thomas, director of innovation and digital, SNCF Réseau and president of Futura-Mobility.
During creative workshops the innovation managers imagined various scenarios and use cases. This wealth of information and ideas was then worked on and formatted by the talented writer and futurist Anne-Caroline Paucot and illustrated by Olivier Fontvieille.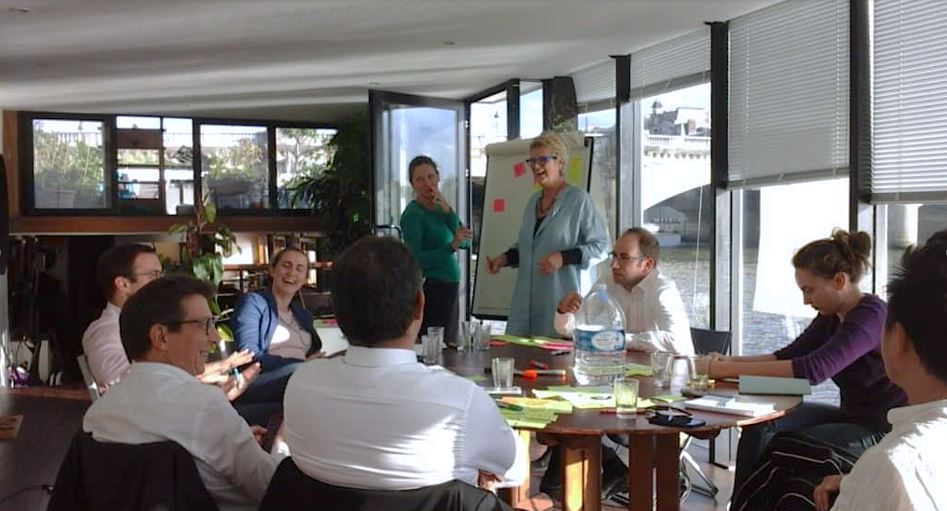 Since publication, Capsules Intemporelles seeks to stimulate debate. The playful and sometimes offbeat tales are building blocks for discussion on subjects usually dealt with by experts. "Don't take these stories as predictions, but as challenges," suggests Jean-Jacques Thomas. "Offer them to your colleagues and let them extract the possible, probable, or perhaps even the parts already emerging today. Make them the starting point for thinking innovation… Or simply escape for a while. It is up to you what you do with them!"
The book is also used as a support for workshops within companies and events spearheaded by Joëlle Touré, Futura-Mobility's delegate general. "There is something magical about these short stories! Reading them breaks the ice and immediately fires the participants' imaginations.  It's an easy way to get teams thinking about the underlying trends in mobility, as well as the associated challenges."
"The members of Futura-Mobility are inventing, discussing, sharing and investing in today and tomorrow," comments Gérard Feldzer, founding vice-president of Futura-Mobility. "For after tomorrow, they are venturing into fictions that make us think about a better world. This is the purpose of Capsules Intemporelles, which takes the quote by Rabelais – 'science without conscience is but ruin the soul' – in the literal sense."
Buy the book (in French 🇫🇷) here
Enjoy our selection below…