Cutting carbon – how low can French rail go?
no comments
Categories:
Tags:
Cutting carbon – how low can French rail go?
Through its Innovation Breakfast Meetings, SNCF Réseau (manager of the French rail network), is looking to 'gather stakeholders and inspiring personalities to share their views on digital, innovation, and mobility topics'. The theme of the first edition, held on 8 October in Paris, was low carbon by design.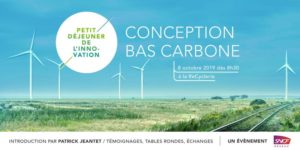 "One of our 10 innovation goals is to 'put environmental performance at the heart of all the company processes'," said Jean-Jacques Thomas, innovation & digital director, SNCF Réseau, in his introduction.
In France, the transport sector as a whole generates around 27% of the country's C02 emissions, of which rail is responsible for just 1.4%. Nevertheless, Patrick Jeantet, chairman and CEO, SNCF Réseau, insisted his mode cannot afford to rest on these low carbon laurels but must "go further", namely by "revolutionising its technologies and systems, while also taking human resources and financing into account."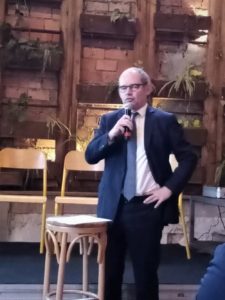 Putting words into action, SNCF Réseau has adopted an 'identify-measure-reduce' approach to tackling the CO2 emissions generated by its activities across the board – from day-to-day administration and travel by employees, to maintaining and improving the network infrastructure nationwide, to running rail services. Actions include using a carbon calculator for every project from 2020 on and favouring renovation works on existing infrastructure over building new. "After renovation, a line achieves carbon neutrality after four years," pointed out Mr Jeantet.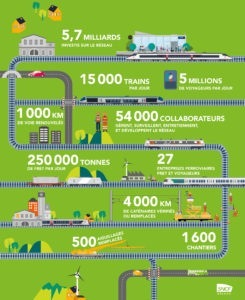 Modal shift, the main driver for decarbonising mobility, means running more trains.  To do this, "we are using existing infrastructure more efficiently thanks to technical innovations," explained Bernard Torrin, sustainable development director, SNCF Réseau. One such example being the Eole project in Paris – see Pathways to carbon-free mobility – which is implementing state-of-the-art technology to significantly decrease train headways.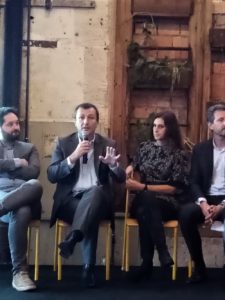 Up until now, French rail has been best known for being a high speed (HS) pioneer, opening its first HS line back in 1981, between Paris and Lyon. SNCF subsequently set the world record of 574km/hr, for a commercial train on steel wheels, in 2007.
Today, SNCF Réseau is looking to establish itself as a leader in another domain: "the eco-design of components, systems and projects is a strategic project for us, as well as contributing to the circular economy at large," said Benoit Aliadière, head of eco-design projects, SNCF Réseau. "We want to boost the sustainable performance of rail systems and projects by reducing their carbon impacts and improving the way we manage primary materials and energy."
Talking of primary materials, French rail network has 500,000 wooden sleepers in service across the network. In addition to their high technical performance, they render another service – one tonne of wood locks up one tonne of CO2. "So using these 500,000 wooden sleepers is equivalent to absorbing the carbon emissions of 10,000 cars in France," said Patrizia Gatti Gregori, head of environmental performance and regulations at SNCF Réseau. "In comparison, one tonne of C02 is emitted when producing one tonne of concrete [for concrete sleepers]."
These observations led to the creation of Plancher Bois, in 2015. An open innovation initiative involving foresters and chemists committed to environmental protection, "it includes working with NGOs to avoid deforestation and ensure the timber for sleepers is being supplied from sustainably managed forests," said project leader Ms Gatti Gregori.
Eyeing the bigger picture
Providing insight on how our 'high-carbon' society is impacting life on earth, the French pilot and explorer Loïc Blaise spoke of the lessons learned during his 'Polar Kid' expeditions to the Arctic in 2017 and 2018 (see Polar Kid – an amazing adventure). His message to the audience of this breakfast meeting? "Let's stop being afraid and give ourselves the means to take action, like the Inuit people, who adapt, recycle and innovate day in, day out, whilst remaining a supportive and united community."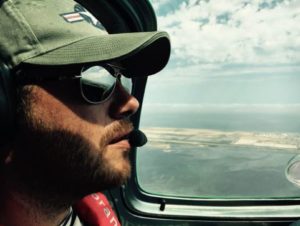 Mr Blaise approved SNCF's plans to purchase 15 hydrogen trains, annonced in August 2019, as part of the company's commitment to eliminate all diesel rolling stock from its fleet by 2035. Nevertheless, the explorer/adventurer insisted on the need for further efforts in this direction. "These trains need to run on 100% green hydrogen," he said. "This will send a strong message about rail in France, where it is heading, and that it really is taking decarbonisation seriously." At the same time, he acknowledged that going low(er) carbon isn't so simple – "It's easier for me as an adventurer to make concessions than for industrials."
Despite the challenges, what steps can and is industry taking to cut carbon emissions between now and 2050? This is the question posed by Benjamin Tincq  co-founder of the Good Tech Lab and co-author of the study The Frontiers of Impact Tech – an analysis of 180 areas of innovation contributing to the United Nations' (UN) 17 sustainable development goals.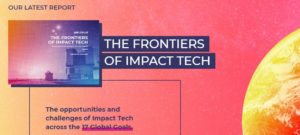 After giving an overview of 'low carbon drivers' – from energy storage technologies and redesigning nuclear reactors to capturing and re-using atmospheric carbon to produce primary materials – Mr Tincq delivered three key messages. Firstly, that to address the systemic issues of decarbonisation, industry must converge technology, policy, and changes in working practices. Secondly, that it is vital companies integrate the notion of low carbon at the start of projects – "it must be part of their mission statement." Thirdly, that decarbonisation is a true innovation, and as such, must be viewed in the global context, i.e. taking onboard movements like Extinction Rebellion and the rejection of capitalism, the popularity of Greta Thunberg, why 'flight shaming' (flygskam) is taking off, and so forth…
Wrapping up the meeting, Mr Jeantet insisted on the importance of rail as one solution to the climate crisis. "We [SNCF Réseau] are investing in a decarbonised economy. Our actions are driven by the desire to give everyone the chance to travel freely while preserving the planet."
More from Mr Jeantet in this On Board With interview (March 2019).