Electric mobility – let's discuss charging, surge, and the grid
Electric mobility – let's discuss charging, surge, and the grid
With fossil fuel vehicles on the way out and electric on the way in, developing mobility for the 21st century is posing urban challenges. How to develop reliable and efficient charging networks? City authorities or governments – who is paving the way, and how?
During a round table in Paris, organised by La Fabrique de la Cité on 10 October, speakers from France, the Netherlands, and Norway presented and debated the issues at stake.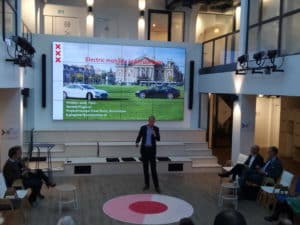 "We started steps to clean up the city air around 10 years ago, with a focus on transport because it has the biggest influence on emissions," said Bertold Plugboer, project manager, Amsterdam Elektrisch. "The initial batch of 100 electric charging points has since grown to 2,800 today, and we are recording 17,000 unique users and 80,000 charging sessions monthly."
The electric vehicle (EV) charging network in Amsterdam is spread across both public and private space, e.g. car parks in the basements of apartment buildings. It also currently includes 30 fast charging points available primarily for taxi drivers, but which the public can pay to use too.
"To grow the network, roll-out of the infrastructure is demand-driven based on charging data, which is collected then analysed by Amsterdam University of Applied Sciences; this helps us tailor our strategies," said Mr Plugboer.
Carrots and sticks – the power of incentives
In a bid to reduce local air pollution, many European cities have set cut-off dates for banning diesel and petrol vehicles from their centres. At the same time, incentives are needed to bring EVs to market in their stead and encourage people to use public transport.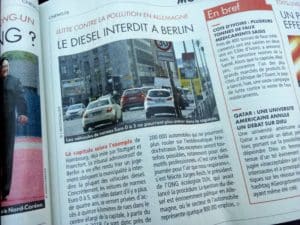 The Clean Air for Amsterdam strategy, which covers all the different transport modes, includes measures for both stimulating and regulating change. One goal is to have emission-free taxis by 2025.
"Taxi firms want a clear policy from government on this," said Mr Plugboer. "Right now, only Euro 5 or Euro 6 [emission standards established by the European Commission] cabs can enter the city. We also have a 'clean' taxi rank at Amsterdam Central station, which is helping stimulate the market too."
To induce cab firms to go electric, for a period the city offered a €5,000 subsidy for every e-taxi purchased. "You have to be clear with the market about how much subsidy there is and that when it's finished, it's finished," pointed out Mr Plugboer.
Facilitating pay-as-you-go charging with a single dedicated card valid nationwide, as is the case in the Netherlands, is another way of encouraging uptake.
In Norway, Oslo started introducing EV incentives back in 1990 with a range of measures coming from government, like tax breaks, or from the city authorities, like free parking or access to bus lanes. Jenny Skagestad, advisor for urban transport at ZERO (Zero Emission Resource Organisation), insisted that cities are the prime movers behind the electric mobility shift. "After a few years, free toll roads and access to bus lanes for EVs became national policy."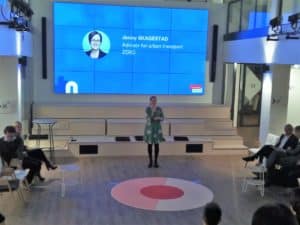 She also pointed out that incentives, while essential, shouldn't last forever – "they serve to kickstart the market, but are costly, so the question is when to step them down?" Free charging, free parking, reduced annual tax… Norway has a timeline for its EV catalysts running from 2014-2025.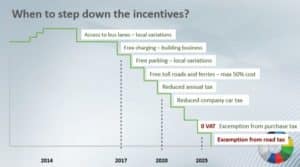 e-Norway
Up to 30 June, 2018, there were 168,000 fully electric cars registered
Up to 31 May 2018, 28% of cars sold nationwide and 41% in Oslo were electric
The government wants all the cars sold in the country from 2025 to be electric
Source: Jenny Skagestad, ZERO
Plug in, or out?
Without charging infrastructure that is reliable, affordable and easy to use, EVs won't take off. But if cities do invest in building out charging systems that meet these needs, will everyone then buy an electric car? Not necessarily. The models currently on the market are still priced out of the reach of ordinary mortals. Furthermore, people also are hesitating to drive electric for other reasons. One is range anxiety – the fear a vehicle will run out of battery and leave its occupants stranded. Another is another is stress over the time it will take to charge up the vehicle.
During a field trip to the US in May 2018, members of Futura-Mobility met Alex Gruzen, CEO of WiTricity, a Boston-based firm at the cutting edge of research on electric power transmission.
One thing's for sure: with EVs already coming onstream and sales expected to lift off in 2022 (according to Bloomberg New Energy Finance), power grid companies are afraid of the 'kettle effect'. This phenomenon refers to those moments in the day when electricity demand peaks, typically when peope put on the kettle on in the morning before work and when getting home at the end of the day.
National grids obviously want to avoid EVs creating such surges because of the serious potential implications – blackouts or even 'brownouts', whereby drops in voltage risk damaging electric equipment.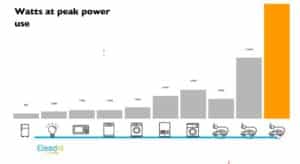 With EVs on the horizon, the main preoccupation is not how often people will be charging their EVs but how to avoid them all charging at the same time. This is one reason why Dutch grid operators created ElaadNL, a knowledge and innovation centre dedicated to smart charging infrastructure in the Netherlands.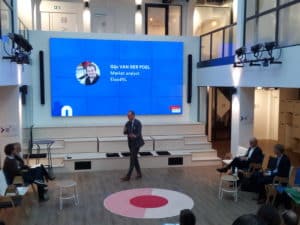 "Smart charging means that when you plug in the car the system finds the appropriate time to recharge, instead of starting to power up instantaneously," said Gijs van der Poel, a market analyst with ElaadNL.
E-mobility in the City of Lights
In France, the first electric charging station appeared in Paris in 1898. Today, there are 4,000 e-charging points across the capital and strong political desire, spearheaded by mayor Anne Hidalgo, to tackle air pollution by reducing vehicle tailpipe emissions.
If targets are met, all diesel then all petrol vehicles will be outlawed from the city centre by 2024 and 2030 respectively. This strategy should help pave the way for developing e-mobility, not just cars, but for buses, delivery trucks and vans, boats, bikes, and kick scooters (trottinettes) too.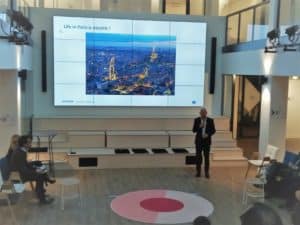 Very much part of this shift in fuel focus, French power grid company Enedis sees itself as "a trusted advisor and enabler… helping develop and facilitate electric mobility," according to Eric Salomon, regional director, Enedis Paris.
"We don't want to impede development, yet at the same time want to be sure the network develops as it should. Take, for instance, the location of charging points and their type, i.e. fast or normal speed. It's important to establish the right kind of infrastructure for the right need, which depends in part on anticipating future needs."
Countdown to an EV future
For cities to breathe easier, the sooner EVs take off the better. "I think we have five years before the EV market takes off," said Mr Van der Poel.
"In Norway, where there is a long waiting list to buy electric cars, demand is outstripping supply," pointed out Ms Skagestad. "We are also waiting for bigger electric van models and more of them. In the meantime, companies are taking matters into their own hands. Deutsche Post is building their own vehicles and Norwegian Post is buying from China."